Brazil Inflation Speeds Up With More Key Rate Hikes in Sight
(Bloomberg) -- Brazil's consumer prices rose more than expected as the central bank readies its fifth straight interest rate hike in efforts to tame above-target inflation.
Prices rose 0.89% in mid-August from a month prior, more than all estimates in a Bloomberg survey that had a 0.83% median forecast. It was the highest mid-month print for August since 2002, the national statistics institute reported on Wednesday. Annual inflation sped up to 9.30%.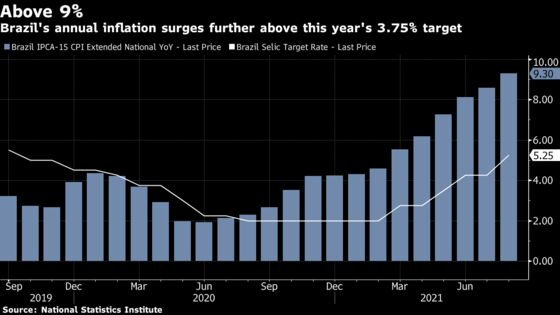 The central bank has lifted borrowing costs by 325 basis points this year and signaled it will do so again in September. Consumer prices have been propelled by commodity costs, rising electricity bills and a reopening economy. Recent political tensions are also helping keep 2022 inflation forecasts above target.
Read more: Nothing Holds Back Brazil's Inflation Expectations: Chart  
What Bloomberg Economics Says:

With headline inflation flirting with double-digits and underlying inflation running hot, Brazil's central bank remains under pressure to accelerate its move to a tight policy. For now we project it will deliver the 100bps hike pledged in its latest communication, but another upside surprise in the full August inflation print or an unconvincing 2022 budget proposal could prompt the monetary authority to raise the Selic by more and increase the tone in its communication.

-- Adriana Dupita, Latin America economist
Swap rates on the contract due on January 2023, which indicate investors expectations for monetary policy, rose three basis point to 8.45%. It was the most traded in Sao Paulo on Wednesday. The real gained 0.7% to 5.2098 per dollar in late afternoon trading.
Higher housing costs, due to a 5% surge in electricity, represented the main driver of this month's print, rising 1.97% from mid-July. Brazil's regulated energy price rate has been at its highest level since July due to the most severe drought in decades. 
Transportation rose 1.11% due to higher fuel and gas prices, while food increased 1.02%, according to the statistics institute. On the other hand, airplane tickets, which had surged over 35% in the prior month, decreased 10.9%.
Analysts surveyed by the monetary authority have raised both their 2021 and 2022 inflation forecasts for five straight weeks. The central bank targets annual inflation of 3.75% and 3.5% for this year and next, respectively.
President Jair Bolsonaro is growing uneasy about Brazil's inflation in the run-up to general elections next year, but his complaints about rising prices don't mean he plans to interfere with the central bank, according to five people close to him including cabinet members.