Brazil's Far-Right Candidate Gains Support in Election-Eve Polls
Brazil's Far-Right Candidate Gains Support in Election-Eve Poll
(Bloomberg) -- Former Army Captain Jair Bolsonaro widened his lead in polls published a day before voters cast their ballots in the first round of Brazil's presidential election.
Bolsonaro would garner 36.7 percent of first-round votes, followed by Workers' Party candidate Fernando Haddad with 24 percent, according to the MDA/CNT poll. Bolsonaro had 28.2 percent in a previous MDA/CNT poll published on Sept. 30, while Haddad had 25.2 percent. Later on Saturday, surveys from Ibope and Datafolha pollsters also showed Bolsonaro consolidating his lead, with 36 percent of votes in the first round.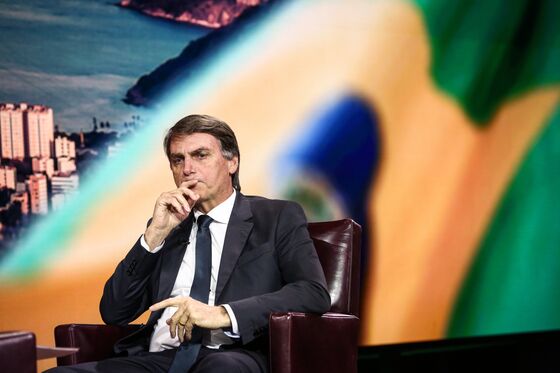 In a runoff election between the top two candidates, Bolsonaro would get 45.2 percent of vote intentions, while Haddad would obtain 38.7 percent, the MDA/CNT poll show.
The numbers offer the final glimpse of voter sentiment in what's been a chaotic presidential race in Latin America's largest economy. Citizens head to the polls Sunday after a campaign that saw a leftist icon banned from running, front-runner Bolsonaro stabbed during a rally, and numerous displays of rage at corruption and sluggish growth plaguing the country.
If no candidate wins a majority of valid votes on Sunday -- which seems the most likely outcome -- there will be a runoff on Oct. 28. The latest poll is consistent with other surveys that indicate a runoff between Bolsonaro on the right and Haddad on the left.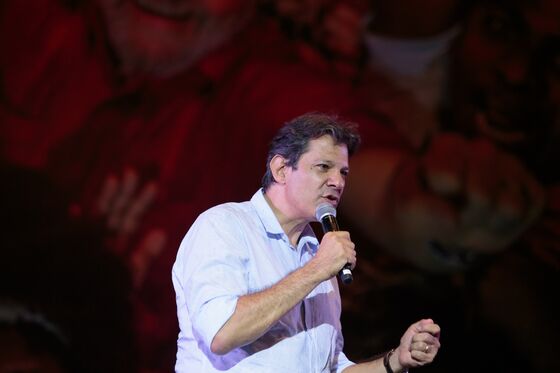 Brazil's stocks, currency and bonds have all surged on bets of greater chances of victory for Bolsonaro, whose top economic adviser backs free markets and small government. Domestic assets outperformed all major peers this week as the conservative lawmaker gained in polls while Haddad stalled after several strong advances.
To contact the reporter on this story: Fabiana Batista in Sao Paulo at fbatista6@bloomberg.net
To contact the editors responsible for this story: Vivianne Rodrigues at vrodrigues3@bloomberg.net, Bernard Kohn