Brazil's Doria Says Time, Economy Favor Him in Presidential Run
(Bloomberg) -- Joao Doria, a long-time businessman turned politician who runs Brazil's richest state, said Sao Paulo's fast economic recovery will help him bolster his credentials with voters next year in a presidential race that so far sees him polling far below the front-runners.
"In politics you cannot be anxious," he said during an interview at the governor's palace in Sao Paulo. "There's time for people to better understand what I've done."
The governor, who began his political career about six years ago, has a tough path ahead to grow a viable centrist candidacy in a race that has so far been dominated by a charismatic former leftist president and the far-right incumbent. An Ipec poll released Tuesday showed Doria with just 3% of voter intention, well behind front-runners Luiz Inacio Lula da Silva and Jair Bolsonaro, and also trailing former judge Sergio Moro and ex-minister Ciro Gomes.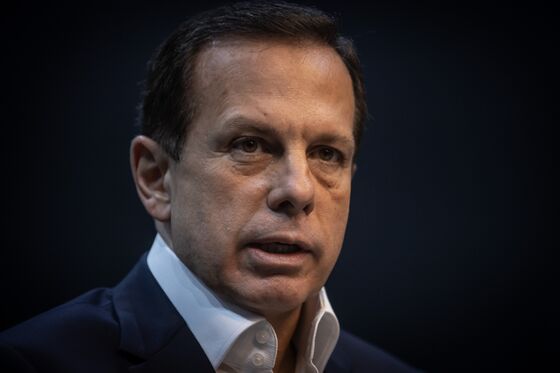 Doria, 63, is undaunted. Sao Paulo, which generates about a third of Brazil's gross domestic product, is expected to grow about 6% this year, well ahead of estimates for the national economy. That momentum will likely extend into next year, with the state's economic team forecasting a 1.8% advance. 
While Sao Paulo's forecasts are higher than some economists expect -- Thais Zara, senior economist at LCA Consultores, says the state will likely expand 5.3% this year and 0.7% the next -- it's still ahead of the national pace. Analysts expect Brazil to grow 4.65% in 2021 and just 0.5% in 2022, or even stagnate. 
The economic legacy, which the governor considers his best asset, is also Bolsonaro's biggest problem. Brazil's economy fell in recession, cutting short its post-pandemic recovery.
"When there's distrust, instability and irresponsibility, like the Bolsonaro government, that translates into inflation and lack of control," Doria said. "The economy will be at the core of next year's campaign and that's where Bolsonaro will suffer because he's not doing well. Those who ate meat no longer eat meat, those who were still traveling no longer travel, those who bought new clothes no longer do."
The presidential hopeful said Brazil needs to show commitment to fiscal rules, including the spending cap that limits the growth of public expenditures, while also attending to its neediest. He defined his economic policy as "social liberalism." 
Doria won't commit to keeping the social welfare program launched by Bolsonaro in its current format, saying benefits will be tied to employment and children's education. Those who don't work, he said, won't get anything. 
On Thursday, Doria will announce his economic team that will define the guidelines of his would-be administration, which will be led by former Central Bank president and current state Finance Secretary Henrique Meirelles. The group, one of many that will set his government plans, will begin working on proposals on Jan. 3. 
Elected governor in 2018 as part of the same anti-left wave that swept Bolsonaro into power, Doria later parted ways with the president to become a strident voice against the federal government's erratic approach to the pandemic. During the hour-long interview he referred to Bolsonaro as a "denialist," "authoritarian" and "unprepared."
He's betting on the early preparations leaving him well placed to be the so-called "third way" candidate that will break the left-right polarization. While he's in talk with most of the presidential hopefuls, aside from Bolsonaro and Lula, with whom "dialogue isn't an option," a decision on candidacies and presidential tickets will be made in April or early May, he said. 
Trailing in polls isn't exactly a new thing for Doria. When he ran in 2016 to be mayor of Sao Paulo, the state's capital, he had 1% in early surveys -- and ended up winning in the first round. 
"I've never started down a path without intending to get to the finish line," he said.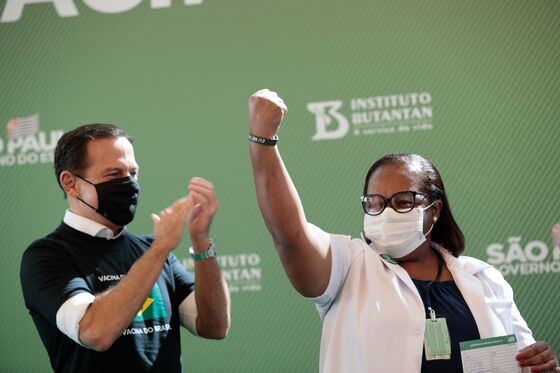 The governor is also hoping another achievement will propel him forward: vaccines. Doria reached national prominence in early 2021 by leading efforts to procure shots against coronavirus, which Bolsonaro continues to question. Under Doria's watch, the state of Sao Paulo closed a deal with China's Sinovac Biotech Ltd. to bring the first Covid-19 shots into the country, forcing the government to react by rushing to close deals and begin vaccinations at the same time.
Though some of Bolsonaro's attacks during the pandemic -- namely, that stay-at-home orders from governors plunged the economy into crisis -- have tainted his popularity, Doria says there's time ahead of the October vote to reverse the perception. He's been closely monitoring the results of group opinion sessions to understand why his rejection rate remain high. 
"Time helps to reduce the animosity and make people understand the reality," he said. "You need patience, resilience and understanding, even if what I want to say is: I saved your life."