Brazil Foreign Minister Asked to Resign Over Virus Diplomacy
(Bloomberg) -- Brazilian lawmakers are demanding the ouster of Foreign Minister Ernesto Araujo, who they blame for poor diplomatic relations with key vaccine producers amid a rampant coronavirus pandemic.
Relations with other countries on matters related to the virus and vaccine negotiations must be improved, Senate President Rodrigo Pacheco told journalists on Thursday, following similar remarks made by Lower House Speaker Arthur Lira and calls from several senators for the minister to resign.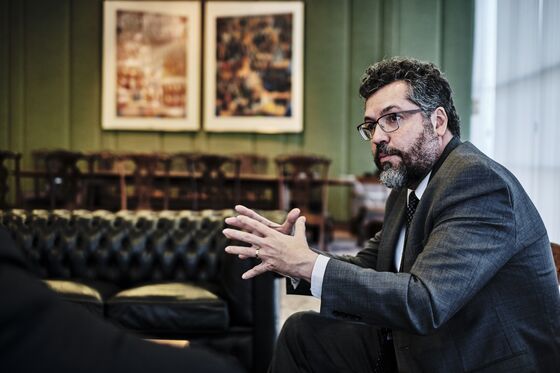 "There have been many errors in confronting the pandemic, and a lack of diplomacy," Pacheco said. "It falls on the president to decide whether to maintain or change the minister."
Araujo, a close ideological ally of Bolsonaro, contributed to frictions with China last year when he wrote in a personal blog entitled "the communavirus has arrived" that there was a plan in motion to spread the communist ideology through international bodies including the World Health Organization. This year, Brazil was among the last countries to recognize the victory of U.S. President Joe Biden.
The senate has decided to block the appointment of new ambassadors and diplomats by President Jair Bolsonaro until Araujo is removed from office, according to Senator Humberto Costa, a member of the chamber's foreign committee.
"The senate understands that Araujo does more harm than good to the country, particularly during a crisis that's spiraling out of control," Costa said in an interview.
Bolsonaro is considering firing one of Araujo's close aides in an attempt to deflect pressure on the minister to step down, according to newspaper O Estado de S.Paulo.
Araujo appeared in the senate on Wednesday to explain what the country has achieved in terms of diplomacy and global vaccine contracts. Instead, he was heckled by members of the chamber who demanded his ouster over the poor handling of the crisis.
"Please resign, minister! That's enough," Senator Mara Gabrilli said during the hearing. "You're making Brazil waste time."
A visibly embarrassed Araujo replied that he's been committed to a project of "deep transformation" of the country, which he is sure has the support of most Brazilians.
Brazil has fallen behind regional peers in the race for doses, with little more than 6% of the population inoculated so far. Meanwhile, the number of Covid-19 cases has topped 12 million, and more than 300,000 people have died from the virus thus far.