Bolivia's Ex-President Morales Granted Asylum in Argentina
(Bloomberg) -- Argentina's foreign ministry has granted asylum to Bolivia's former president Evo Morales, along with four other members of his cabinet, according to a statement from the ministry.
Morales landed in Buenos Aires on Thursday morning with his former health minister, Lilli Gabriela Montano Viana. The Bolivian asylum seekers will obtain refugee status, the foreign ministry note stated, a process that will take place under the supervision of the National Commission for Refugees.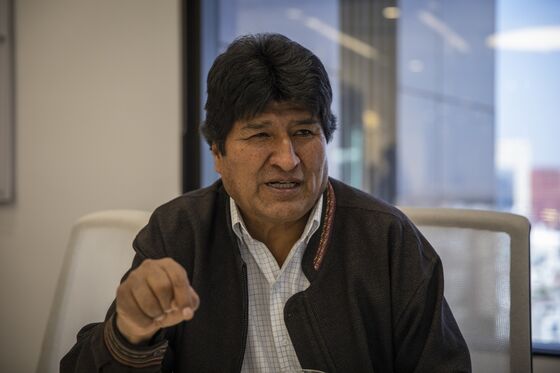 Morales' arrival follows a month-long stay in Mexico and several days in Cuba. In mid-November Argentina's then president-elect, Alberto Fernandez, said that the former Bolivian leader could seek asylum in the country after he became president on Dec. 10.
Morales resigned the presidency of the Andean country on Nov. 11 following civil unrest in the wake of a contested election. He fled to Mexico after the government of President Andres Manuel Lopez Obrador granted him asylum.
Recent opinion polls, however, showed the decision was a net negative for the administration, with 44% of Mexicans describing the decision as bad or very bad in a poll published in El Financiero.
In comments to local radio on Thursday, Argentine Foreign Minister Felipe Sola said that as refugees Morales and his former ministers would not be allowed to engage in politics. ``They can see whoever they want to, but they cannot make public statements and cause problems for Argentina,'' he said.
To contact the reporter on this story: Jorgelina do Rosario in Buenos Aires at jdorosario@bloomberg.net
To contact the editors responsible for this story: Juan Pablo Spinetto at jspinetto@bloomberg.net, Bruce Douglas