Biden-Manchin Call Seen Possibly Reviving Talks on Economic Plan
(Bloomberg) -- President Joe Biden and Senator Joe Manchin spoke Sunday night after Manchin torpedoed Biden's roughly $2 trillion economic agenda, a conversation that the White House believes left the door open to revive talks on the package, according to a person familiar with the matter. 
Their call came hours after Manchin abruptly announced on "Fox News Sunday" that he wouldn't back the Build Back Better plan. The West Virginia Democrat's rejection triggered a sharp rebuke from White House Press Secretary Jen Psaki and opened a public feud among Democrats over Biden's policy priorities.
Whether Biden can salvage parts of his signature legislation depends now on reviving talks and mending any wounds with Manchin. In a 50-50 Senate where Republicans uniformly oppose the plan, the president can't afford to lose a single vote from his party, effectively giving Manchin and every other Democrat a veto.
Manchin had privately proposed his own version of the plan to Biden five days earlier, with overhauled revenue measures and 10 years of nationwide pre-Kindergarten funding -- but without an extension of an expanded child tax credit that's a priority for the president, the person said.
The person asked not to be identified describing the private discussions.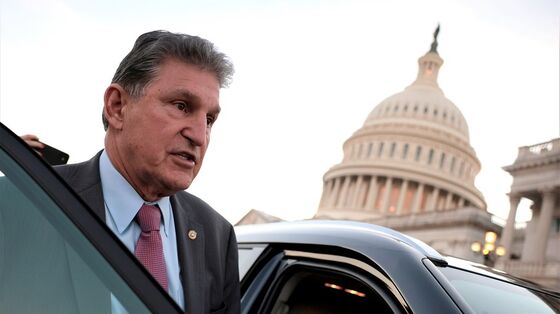 Manchin's proposed revenues would not have been supported by all other Democratic senators, the person said. It's not clear how Manchin proposed to pay for his version, but he has previously called for reversing former President Donald Trump's tax cuts -- a move that Arizona Senator Kyrsten Sinema opposes.
White House officials viewed Manchin's counter-proposal as a viable starting point to continue talks, saying in a statement Thursday that the West Virginia senator continued to back a plan of the same size and scope as Biden's. But Manchin was angered that the statement named him personally, according to a report by Politico, which cited people it didn't identify.
Manchin initially described his opposition as ideological, saying negotiators hadn't done enough to address his concern about long-term costs and making sure new social programs didn't benefit the wealthy.
But there were also signals the move was personal. Manchin had an aide inform the White House only minutes before his appearance on Fox News, a network widely reviled within the West Wing. And in a radio interview on Monday, Manchin suggested the fate of the bill was sealed by a dispute with some of the president's staff.
"They know the real reason what happened," Manchin said, adding that his objection was not with the president. "It's the staff. And they drove some things and they put some things out that were absolutely inexcusable."
Despite the latest setback, Biden will continue pushing for his vision to address climate change, child-care, health-care costs and other priorities, Psaki told reporters on Monday.
"He's no stranger to legislative challenges, so we're going to continue to take steps, work like hell to get it done," Psaki said.
Psaki declined to discuss the relationship between Manchin and Biden or preview any conversations they might have. 
"I can't speak for Senator Manchin on what has upset him, I'll let him speak to that himself," she said. "All I can convey is that we continue to focus on how we're going to get this done."
For a White House reeling from a fresh wave of coronavirus infections threatening the nation's health systems and economic recovery, Manchin's defection on the bill hit particularly hard.  
Psaki -- who for months described the senator as operating in good faith -- issued a blistering statement saying his about-face represented "a sudden and inexplicable reversal in his position, and a breach of his commitments to the president and the senator's colleagues in the House and Senate."
Even after the Biden-Manchin call, the path forward for the White House remains unclear. While Senate Majority Leader Chuck Schumer said his chamber would vote early next year on the package regardless of Manchin's announcement, the gambit is not expected to pay dividends beyond satisfying progressive lawmakers who have demanded Manchin be forced to officially record his opposition.
"What's most on the president's mind is the risk of inaction," Psaki said. "And if we do not act to get this legislation done, and the components in it, not only will costs and prices go up for the American people, but also we see a trajectory of economic growth that is not where we want it to be."
She noted that Goldman Sachs had revised downward its estimates of U.S. economic growth next year after Manchin's Sunday announcement.
White House officials on Sunday indicated support for an effort by some House members to redraft the package hewing closer to Manchin's preferences, with fewer programs fully funded over 10 years. But Manchin on Monday indicated he now wants any legislation to proceed through normal Senate order, meaning new spending would need support from at least 10 Republicans -- an unlikely scenario.
Even before Manchin's announcement, White House efforts to refocus Senate attention on issues where Democrats have agreement -- including voting rights -- appeared to languish as Manchin and other senators indicated they wouldn't support significant changes to the upper chamber's filibuster rules.
Republicans have used the filibuster to block straight up-or-down votes on many Democratic priorities, including expansions of ballot access.