Biden Tells Elite Donors He Doesn't Want to 'Demonize' the Rich
(Bloomberg) -- Former Vice President Joe Biden told affluent donors Tuesday that he wanted their support and -- perhaps unlike some other Democratic presidential candidates -- wouldn't be making them political targets because of their wealth.
"Remember, I got in trouble with some of the people on my team, on the Democratic side, because I said, you know, what I've found is rich people are just as patriotic as poor people. Not a joke. I mean, we may not want to demonize anybody who's made money," Biden told about 100 well-dressed donors at the Carlyle Hotel on New York's Upper East Side, where the hors d'oeuvres included lobster, chicken satay and crudites.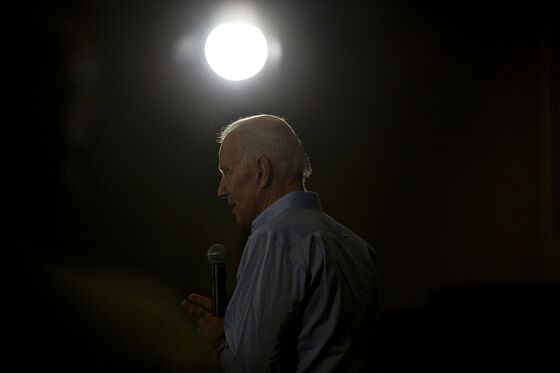 "Truth of the matter is, you all know, you all know in your gut what has to be done," Biden said. "We can disagree in the margins. But the truth of the matter is, it's all within our wheelhouse and nobody has to be punished. No one's standard of living would change. Nothing would fundamentally change," he said.
Former Clinton Treasury Secretary Robert Rubin and former Deputy Treasury Secretary Roger Altman, both of whom spent decades on Wall Street, were among the attendees at the event.
Invoking Vermont Senator Bernie Sanders's goal of political "revolution," Biden suggested that he would be the antidote by making marginal changes that would improve the lives of working and middle class Americans without slapping onerous taxes on the rich.
"When you have income inequality as large as we have in the United States today, it brews and ferments political discord and basic revolution," he said. Also perhaps hinting at President Donald Trump he continued: "It allows demagogues to step in" and blame what's wrong in voters' lives on "the other."
"You're not the other," Biden told the assembled group, most of whom were wearing suits. "I need you very badly."
To contact the reporter on this story: Jennifer Epstein in Washington at jepstein32@bloomberg.net
To contact the editors responsible for this story: Michael Shepard at mshepard7@bloomberg.net, John Harney, Max Berley