State Department Slammed Over Kabul Staffing: Afghanistan Update
Biden Says Troops Stay Til Americans Leave: Afghanistan Update
(Bloomberg) -- President Joe Biden said the Taliban are in the midst of an "existential crisis" about their role on the international stage but that he didn't believe the group had fundamentally changed its course.
Biden also told George Stephanopoulos of ABC News in an interview that aired Thursday morning U.S. troops would remain in Afghanistan until all Americans are able to leave -- even if it takes longer than his Aug. 31 deadline to withdraw. 
Taliban fighters set up checkpoints around the international airport in Kabul, raising concerns the group may prevent citizens from fleeing after the U.S.-backed government collapsed. Biden cautioned that chaos was unavoidable as troops withdrew.
The United Arab Emirates, meanwhile, announced it was hosting Ashraf Ghani after the exiled president of Afghanistan fled the country. 
Key stories and developments:
Moulton Knocks State Department Over Kabul Staffing (4:22 p.m.)
Democratic Representative Seth Moulton, a former Marine who served four tours in Iraq, called the Biden administration's efforts to evacuate U.S. citizens and Afghan allies out of the country "absurd," and said the State Department should drop "bureaucracy" and sort out visa issues later.
The Massachusetts lawmaker said the department urgently needs to send more consular officers to the Kabul airport to help. The State Department has said that it would double the number of officers at the airport by Friday. Moulton said he was told by the agency that the number would rise to 40 from 20, which he said was "absurd."
"This is the greatest foreign policy disaster that we've seen in a very long time and they're sending 40 people to deal with it?," Moulton said. "I mean, that's absurd. We've got 6,000 troops on the ground, we need a little bit more effort than 40 consular officers from the United States State Department." --Daniel Flatley
Biden, Top Aides Discuss Terror Threats (1:12 p.m.)
Biden met Thursday morning with top U.S. national security officials for a briefing on evacuation efforts and potential terrorist threats emanating from Afghanistan, an official familiar with the matter said.
The president -- who was joined by Vice President Kamala Harris -- was told that the U.S. still maintained control over the Kabul airport where they were staging flights out of the country. 
They also discussed efforts to monitor the Khorasan group that self-affiliates with the Islamic State terror organization, as well as any other emerging terrorist threats, according to a White House official. -- Justin Sink
U.S. Has 5,200 Troops at Kabul Airport (11:33 a.m.)
The U.S. has 5,200 troops at the airport in Kabul and evacuated another 2,000 people in the past day, Pentagon officials said. About 7,000 people -- a mix of Americans, Afghan allies and others -- have been flown out by the U.S. since Aug. 14. 
Spokesman John Kirby said the U.S. has the ability to fly 5,000 to 9,000 people out per day. Additional gates have been opened around the Kabul airport to expand access, but reports continue to say that some people are being hindered from getting to the airport by the Taliban, and many are assumed to be afraid to venture out. --Travis Tritten 
Italy to Call G-20 Leaders Meeting, Ansa Reports (11:16 a.m.)
Italy, which holds the rotating presidency of the Group of 20 bloc of nations, will convene a meeting at the leaders' level for an in-depth discussion of the situation in Afghanistan. Foreign Minister Luigi Di Maio announced the move during a teleconference of G-7 foreign ministers, according to the news agency Ansa. --Alessandro Speciale
Denmark Evacuates 320 People: Official (10:31 a.m.)
Denmark evacuated about 320 people from Kabul via several flights out of the airport on Thursday, Foreign Affairs Minister Jeppe Kofod told reporters in Copenhagen. The evacuees include translators, people working at NGO's, human rights activists and their families. --Morten Buttler 
 
Afghans Protest Taliban Rule in Several Cities (9:00 a.m.)
Men and women held demonstrations against the fundamentalist group in several cities, including Kabul and Jalalabad in the east, where a number of people were shot dead while they were trying to raise the previous government's flag, local media reported, citing witnesses.
Vice President Amrullah Saleh, who declared himself caretaker president after his boss fled to the UAE, cheered the rallies on Twitter as he seeks support for his movement against the Taliban.
The early sign of resistance come as the Taliban celebrate the 102nd anniversary of the country's independence from British rule.  -- Eltaf Najafizada
Key House Panel to Get Afghanistan Briefing Monday (8:15 a.m.)
The House Intelligence Committee is to receive a classified briefing on Afghanistan on Monday from representatives of several intelligence agencies, according to an official familiar with the plans. Administration officials will discuss the situation on the ground in Afghanistan, how circumstances evolved in advance of Kabul's fall and what might lie ahead, the person said. 
The Monday session will follow an unclassified briefing scheduled for Friday for all House members. Members of Congress have requested further briefings. -- Billy House
More Afghans Arrive in Europe (7:20 a.m.)
German defense minister Annegret Kramp-Karrenbauer said in a briefing that German planes have so far flown 901 people out of Afghanistan. She was joined from Kabul airport by General Jens Arlt. 
Shots could be heard in the background as Arlt spoke. He said Taliban fighters on the outer ring of the facility were trying to keep control of a huge crowd, and that co-workers with papers attempting to flee the country aren't able to get past the large numbers of people. -- Arne Delfs
Biden Defends Decision to Leave Afghanistan (7:15 a.m.)
President Joe Biden said "there was no consensus" among U.S. intelligence officials about how quickly the Taliban would take control of Kabul. Biden told George Stephanopoulos of ABC News in an interview that aired Thursday morning that U.S. forces maintained control Kabul's international airport and "no one's being killed right now."
Biden said his advisers didn't urge him to keep 2,500 troops in the country. 
Read from from the interview here. -- Jennifer Jacobs
Girls Are Still Going to School, Taliban Says (7:05 a.m.)
Taliban spokesman Mohammad Naeem tweeted a video he said showed girls wearing black robes and white veils going to school in Herat province, as fears mount that the fundamentalist group will roll back the rights that activists have worked so hard to secure. -- Eltaf Najafizada
Taliban Says it Wants Good Ties With All Countries (5:00 a.m.) 
"The Islamic Emirate wants good diplomatic and trade relations with all countries. We have not talked about not doing trade/business with any country. We reject all published rumors in this regard," Taliban spokesman Zabihullah Mujahed said in a Tweet. -- Eltaf Najafizada
Spanish Citizens, Afghans Arrive in Madrid (4:00 a.m.)
The first group of Spanish citizens and Afghan allies landed at the military base of Torrejon de Ardoz, near Madrid. The plane was carrying 53 people, including 32 children, Spain's minister for Inclusion, Social Security and Migrations Jose Luis Escriva said. 
About 380 or 400 Afghans who worked with EU institutions and are now requesting asylum are also set to arrive in Spain, and will be resettled in other countries in the bloc, he said. -- Laura Millan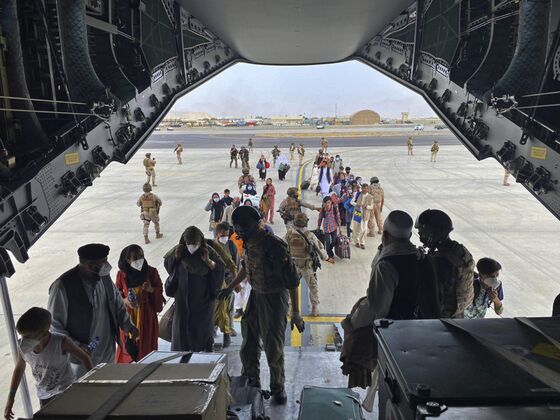 France Won't Recognize Taliban Govt (2:56 a.m. ET)
France won't recognize the Taliban as Afghanistan's government, European Affairs Minister Clement Beaune said in an interview on France Info TV and radio. "There is no political contact, there will be no deference, no complicity of any sort with the Taliban regime," Beaune said. -- Phil Serafino
Many Afghan Officials Fled to Turkey (1:26 a.m. ET)
Among the passengers on a Turkish Airlines flight from Kabul to Istanbul on Monday were many Afghan government officials, the Hurriyet newspaper reported. This included Foreign Minister Mohammed Hanif Atmar, intelligence chief Ahmad Zia Saraj, presidential chief of staff Abdul Matin Bek, as well as Mohammed Sarver Danis, second vice president. -- Taylan Bilgic
FAA Restricts U.S. Airlines (11:11 p.m. ET)
U.S. airlines will have to get special permission to fly over Afghanistan because there are no longer air-traffic controllers overseeing the skies under the new Taliban leadership, aviation regulators said late Wednesday. 
The Federal Aviation Administration issued a legally binding notice to U.S.-licensed operators requiring that they notify the agency before flying over Afghan territory. The Pentagon and State Department earlier this week said they would be taking over air-traffic control at Kabul's main airport. -- Alan Levin
GOP Congressional Leaders Seek Brief (9:27 p.m. ET)
Senate Republican Leader Mitch McConnell and House Republican Leader Kevin McCarthy asked Biden for a classified briefing among top congressional leaders next week on the number of Americans still in Afghanistan and how the government will evacuate them. -- Maria Luiza Rabello
U.S. Troops May Remain Past Deadline (6:07 p.m. ET)
President Joe Biden says U.S. troops will stay in Afghanistan until all Americans are evacuated out of the country, even if they must remain past the Aug. 31 deadline previously set.
"If there are American citizens left, we're going to stay to get them all out," Biden told ABC's George Stephanopoulos in an interview. -- Se Young Lee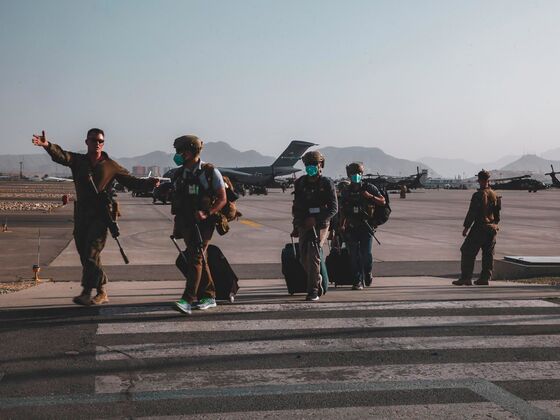 Biden Says Chaos Was Unavoidable (5:07 p.m. ET)
U.S. President Joe Biden said chaos in Afghanistan was unavoidable after the U.S. withdrew troops from the country.
Asked by George Stephanopoulos of ABC News if the U.S. exit could have been handled better, Biden said no.
"The idea that somehow, there's a way to have gotten out without chaos ensuing, I don't know how that happens," he told Stephanopoulos in an interview.
Biden repeated in the interview that he stood by his decision to withdraw.
Intelligence Didn't Expect Rapid Fall (3:40 p.m. ET)
U.S. intelligence didn't foresee such a rapid collapse of the Afghan military before American troops were withdrawn from the country, according to the head of the Joint Chiefs of Staff. 
"There are not reports that I am aware of that predicted a security force of 300,000 would evaporate in 11 days from 6 August to 16 August with the capture of 34 provinces and the capital city of Kabul," General Mark Milley said Wednesday at a news conference.
Milley said the situation in Kabul, where about 4,500 U.S. troops are at the airport, remains dangerous and fluid. -- Peter Martin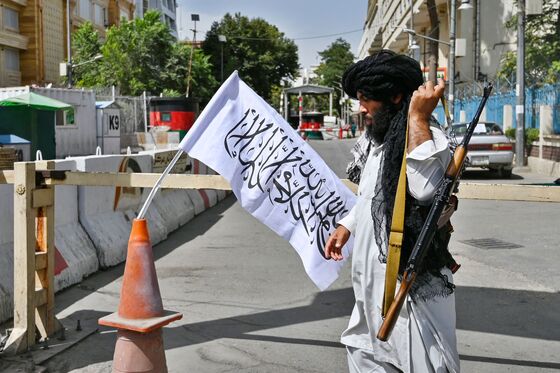 Ghani in Talks to Return (1:40 p.m. ET)
Ghani, speaking on Facebook from the UAE, said he left Afghanistan to prevent bloodshed and that he is in talks to return to his country.
"I am currently in the Emirates so that might have already stopped the bloodshed and chaos, and currently, I am in talks to return to Afghanistan," he said.
He also said the Taliban should work on building an inclusive government. -- Eltaf Najafizada
Ghani Says He'll Address Nation (12:58 p.m. ET)
Ghani said on Twitter that he'll address Afghanistan at 9:30 p.m. Kabul time to discuss the latest developments in the country. -- Malak Saleh
U.S. Troops Fired Shots at Airport (11:30 a.m. ET)
U.S. Troops fired shots in an effort to control crowds at or near the Kabul airport overnight, Pentagon spokesman John Kirby told reporters while saying that the airport facility remains "secure."
The U.S. has about 4,500 troops on the ground at the airport and 18 planes carrying about 2,000 people departed over the previous 24 hours, Kirby said. That included 325 Americans.
Defense Secretary Lloyd Austin and General Mark Milley, chairman of the Joint Chiefs of Staff, will brief reporters on the latest situation at 3 p.m. Washington time. -- Travis Tritten