Biden Reasserts Warning as Putin Signals Satisfaction With Call
Russia expressed satisfaction with the outcome of Thursday's phone call between Presidents Joe Biden and Vladimir Putin.
(Bloomberg) -- President Joe Biden repeated his warning to Moscow to de-escalate the month-long standoff over Ukraine, a day after he and Vladimir Putin discussed the issue during a call the Russian leader expressed his satisfaction with. 
"I made it clear to President Putin that if he makes any more moves, goes into Ukraine, we will have severe sanctions," Biden told reporters in Wilmington, Delaware, on Friday. "We'll increase our presence in Europe with our NATO allies and it will just be a heavy price to pay for him."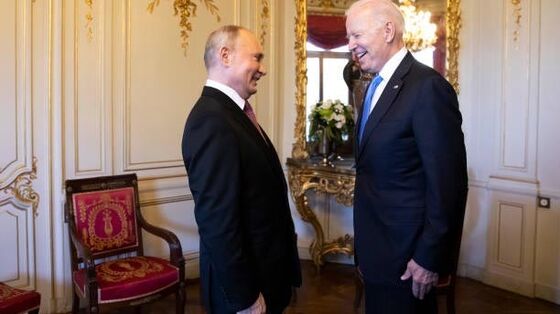 Ahead of Biden's remarks, Kremlin foreign policy aide Yuri Ushakov said Putin was pleased with the conversation between the two leaders on Thursday, setting the stage for three sets of negotiations on European security next month.  
"This is what we are working for and for this our presidents reached an agreement, which is why we are happy and satisfied," Ushakov told reporters following the phone call. "Today's conversation was good, constructive, frank, and it seems to me that it provides not a bad, even in fact a good, basis for the start of negotiations."
Biden, too, said he expects the talks to "make progress." 
The softer rhetoric, coupled with the prospect of further talks next month, represents a dialing down of regional stresses that worsened when Russia began massing troops along the border with Ukraine earlier this year. Both sides "have partially drawn a line under further escalation of tensions," the Tass news agency cited Leonid Slutsky, head of the State Duma's committee on foreign affairs, as saying Friday.
Biden plans to speak by phone with Ukraine President Volodymyr Zelenskiy on Sunday to reaffirm U.S. support for his nation's sovereignty and territorial integrity, discuss Russia's military build-up and review preparations for the upcoming talks, according to a White House official. 
Bilateral U.S.-Russia talks will take place in Geneva Jan. 9-10, followed by a Russia-NATO Council meeting in Brussels two days later and negotiations in Vienna within the OSCE framework on Jan. 13, Ushakov told reporters. Biden and Putin agreed to keep in regular contact during the negotiations and to oversee the bilateral talks directly, he said.
Diplomacy or Consequences
That 50-minute conversation began at 3:35 p.m. Washington time, or 11:35 p.m. in Moscow, according to the White House. Putin requested the talks -- the second such conversation the two leaders have held this month -- and by successfully persuading his U.S. counterpart to do so, may have been seeking to bolster his standing both at home and abroad, according to analysts.     
Biden took the call from his home in Wilmington, Delaware, where he's vacationing -- as a prelude to the negotiations on European security at the start of the year, the Kremlin said.
Biden laid out two possible paths during the call: diplomacy or serious consequences, according to a U.S. official who briefed reporters on condition of anonymity. The consequences likely include augmentation of NATO forces and sweeping economic repercussions, the person said. The U.S. plans to closely monitor troop movements at Russia's border with Ukraine, the person added.
"President Biden also expressed support for diplomacy, starting early next year with the bilateral Strategic Stability Dialogue, at NATO through the NATO-Russia Council, and at the Organization for Security and Cooperation in Europe," White House Press Secretary Jen Psaki said in a statement. "President Biden reiterated that substantive progress in these dialogues can occur only in an environment of de-escalation rather than escalation."
After Biden's warning that Russia faced huge sanctions if it attacks Ukraine, Putin responded that further large-scale penalties would lead to a severing of relations between Moscow and the West, Ushakov said.
"It will be a colossal mistake which could lead to the most serious consequences," Ushakov said. That could have implications for talks on arms control, cybersecurity, climate change and other topics the U.S. wants to pursue with Russia.
The White House plans to consult with allies ahead of the dialogues next month and will brief partners on Thursday's call between Biden and Putin.
As part of that process, Secretary of State Antony Blinken spoke with NATO's secretary general, Canadian Foreign Minister Melanie Joly and Italian Foreign Minister Luigi Di Maio about the Russia-Ukraine situation on Friday. 
The talks followed a Dec. 7 Biden-Putin video call in which the American president affirmed a commitment to Ukraine's sovereignty and territorial integrity and warned that Russian aggression would be met with unprecedented economic penalties.
The U.S. has told European allies that the massive Russian military presence near Ukraine might be preparation for an invasion as early as next month before the frozen terrain turns to mud in spring. 
The Kremlin denies any intention to invade its neighbor, while also demanding security guarantees from the West that include a ban on eventual expansion of the North Atlantic Treaty Organization to encompass former Soviet states such as Ukraine and Georgia and the withdrawal of NATO forces in Europe to positions they held in 1997. American officials and NATO allies have described those conditions as non-starters.
European leaders have been largely reduced to spectators so far as the U.S. and Russia have bargained over the parameters of talks on the continent's security. 
The U.S. and its allies have threatened Moscow with harsh economic reprisals if its troops march into Ukraine, but those warnings show that the West, at this point, is only willing to go so far. There's no talk of sending their own troops into Ukraine.
For it's part, Ukraine sees little danger of "open aggression" from Russia at present or any large increase in the number of Russian troops near its border, National Security and Defense Council chief Oleksiy Danilov said at a briefing in Kyiv Thursday, according to Pravda news wire. 
Despite the U.S. decision to engage in one-on-one talks between Biden and Putin, American officials have repeatedly insisted they will make no deals that short-change the concerns of Ukraine and the European allies. 
State Department spokesman Ned Price repeated on Tuesday what's becoming the standard U.S. response to concern that the Biden administration may cut its own deal with Russia while shortchanging the concerns of Ukraine and European allies. "The principle is inviolable -- nothing about them without them," he said. 
The crisis is a repeat of one in the spring, when Putin also massed forces near the border with Ukraine before backing down in April after Biden in a call offered a summit meeting that took place in June.
It's not yet clear what compromise can be reached during the coming talks, Ushakov said after the Biden-Putin call, though Russia will "naturally" take account of some concerns of the U.S. and its allies. "For us the main thing is not a compromise, but to get security guarantees, which we urgently need," he said.