Biden Names Top Democratic Donor to Become U.S. Envoy to U.K.
(Bloomberg) -- President Joe Biden plans to nominate Jane Hartley as the U.S. ambassador to the U.K., continuing a bipartisan tradition of selecting party donors and loyalists to help oversee the two nations' "special relationship" in one of the world's most prestigious diplomatic posts. 
Hartley, who served as U.S. ambassador to France during the Obama administration, was a "bundler" for the Biden campaign as she was for Barack Obama's, soliciting checks from a broad swath of donors. If confirmed, the 71-year-old former Democratic aide and consultant will move into historic Winfield House, a sprawling 12-acre estate in London's Regent's Park.
She's the first woman in 45 years to hold the position, one that has never gone to a career diplomat.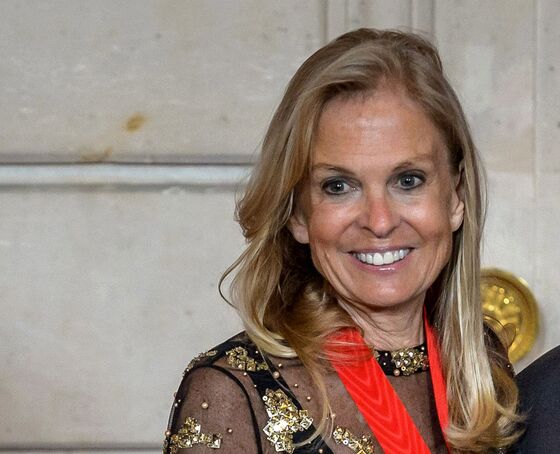 Hartley's selection fits with a longtime pattern by presidents of both political parties of naming deep-pocketed donors to serve in countries that have close ties with the U.S. but don't require complex diplomacy. In many cases, the well-heeled diplomats pay for the frequent parties and receptions they're expected to host rather than relying on the State Department's limited budget.
The White House announced Hartley's pick Wednesday along with several others. Two other top donors -- Elizabeth Bagley and Alan Leventhal -- are among those the president selected Wednesday to serve as ambassadors. 
Bagley, the 69-year-old widow of R.J. Reynolds tobacco heir Smith Bagley, will be nominated as U.S. envoy to Brazil. Bagley served as the ambassador to Portugal during the Clinton administration and was a major fundraiser for the Biden campaign.
The president chose Leventhal, the founder of Beacon Capital Partners, as ambassador to Denmark. A career diplomat, Alexander Laskaris, will be nominated to serve as U.S. ambassador to Chad.
Biden has come under fire for his slow pace in picking ambassador nominees, and the problem has been compounded by delays in the Senate, which must approve them. Some Republican senators -- chiefly Ted Cruz of Texas -- have delayed votes to get the administration to meet their policy demands.
That logjam eased in recent weeks after the State Department reached a deal with Cruz to approve some 40 nominees in exchange for a vote on his bill seeking to sanction the Nord Stream 2 pipeline from Russia to Germany, which failed to get the required 60 votes. But many key jobs remain either unfilled or stuck in the confirmation process.
The last U.S. ambassador to the U.K. was Woody Johnson, the owner of the New York Jets football team and an ardent supporter of President Donald Trump. Johnson got in hot water with embassy staff for making "inappropriate or insensitive comments" on topics such as race and sex, according to a State Department inspector general's report during his time in the post.
Like other political appointees, Hartley will hew closely to Biden's views on key issues such as Brexit and trade, leaving the nitty-gritty of discussions over those and other issues to career diplomats. Most contacts between the U.S. and the U.K. are routed through the British embassy in Washington, where career civil servants have fostered close ties to the National Security Council and the State Department's European bureau.
Despite both sides' frequent praise for the "special relationship," Hartley's nomination comes at a tricky time in U.S.-U.K. ties. Biden and British Prime Minister Boris Johnson don't have an especially warm rapport, and Biden has been candid that as a self-declared Irishman he was troubled by Brexit and the risks it poses to the 1998 Good Friday agreement for Northern Ireland.
Similarly, there's no sense of urgency on the U.S. side to get a free-trade agreement with the U.K., though talks on lifting steel and aluminum tariffs are likely to start this week just as a new enjoy to London has been announced.
Nonetheless, the U.K. remains closely aligned with the U.S. on issues such as supporting Ukraine in the face of a potential Russian invasion and in countering China. The U.K. was involved in -- and kept secret -- a deal to sell nuclear submarines to Australia, much to the fury of French President Emmanuel Macron, whose nation's prior sub deal was scrapped.
Hartley's nomination rounds out Biden's picks for the three most prestigious ambassador jobs in Europe. His ambassador in Paris is Denise Bauer, a longtime Democratic donor. His nominee for ambassador in Berlin, University of Pennsylvania President Amy Gutmann, oversaw the creation of the Penn Biden Center for Diplomacy and Global Engagement. She once called Biden "one of the greatest statesmen of our times."