Democratic Rift Persists Ahead of Showdown on Biden Agenda
(Bloomberg) -- Democrats remained deeply divided late Monday as they struggled to close an intra-party split that threatens this week to blow up President Joe Biden's economic agenda.
House Speaker Nancy Pelosi and Biden have been calling lawmakers to resolve differences between moderates and progressives that are stalling votes on a $550 billion bipartisan infrastructure bill and a much larger tax and social spending measure. 
The larger bill, with a price tag of as much as $3.5 trillion is proving particularly vexing for Democrats amid demands from moderates to narrow the size and scope of the measure. Party leaders were examining ways to shrink the price tag.
"They will continue their close coordination over the coming days," the White House said in an account of a Biden telephone call with Pelosi and Senate Majority Leader Chuck Schumer.
On Monday evening, Pelosi told her members in a closed-door meeting that leaders are still working on a final bill and prefer to reach an agreement with the Senate and White House before the House votes on the larger package, according to a lawmaker who attended the session. 
The speaker, the lawmaker said, doesn't want the legislation to go through a series of changes as it ping-pongs from chamber to chamber. Another lawmaker said Pelosi told them that Biden is negotiating a top-line number for the bill with Senate Democrats.
Democrats are pushing the legislation through using a reconciliation process, which requires a simple majority in  the Senate. But with narrow majorities and no GOP support in both chambers, party leaders must rally the rank-and-file.  
"Ten times as complicated as the ACA in one-tenth the time," Representative Peter Welch, a Vermont Democrat, said Monday evening, referring to President Barack Obama's Affordable Care Act.
Asked after the meeting if the House would vote on the infrastructure measure on Thursday, even if the reconciliation bill is not complete, Steny Hoyer, the majority leader, said "That is fair to say." 
Pelosi called the gathering "a beautiful meeting" and said the infrastructure vote would go forward on Thursday.
Representative Stephanie Murphy, a moderate from Florida, said "It's a lot of work that needs to be done. I'm committed to doing that work."
And Representative Dan Kildee of Michigan said Democrats were discussing a number of ways to lower the price tag, including shortening the timeline of the new or expanded social programs in the reconciliation package. He added that party leaders had no idea at the moment whether the infrastructure bill would pass without action on the reconciliation legislation. 
"It's hard to tell right now how many people would vote to tank and how many Republicans would vote for it, and whether that math works," Kildee said.
Henry Cuellar, a Texas moderate, predicted the infrastructure bill would clear the House on Thursday. The reconciliation measure, however, is another story. 
"We have to have means-testing to bring the cost down," he said, highlighting one of the many sources of contention within the party. 
Still, Democrats attempted to forge head-long into perhaps the most consequential week for the party before the 2022 mid-term elections.
Pelosi assured Democrats the House won't pass a bill that's dead in the evenly divided upper chamber, the lawmaker added.  
Individual Democrats also attempted side negotiations, with Representative Pramila Jayapal of Washington State, the chair of the House Progressive Caucus, met privately with Arizona Senator Kyrsten Sinema, a moderate who has opposed the $3.5 trillion price tag on the larger of the two bills. 
Jayapal and fellow progressives have threatened to block the infrastructure bill this week if Congress doesn't first pass the tax and spending measure. On Monday, she suggested there could be some time before Democrats negotiate a final tax and spending bill. 
"What we have said is we need the entire reconciliation bill, you know, some framework that can still take another several months to get done," Jayapal said. "That the Senate hasn't agreed to that, hasn't been voted on is not going to do it for us."
Still, Biden projected optimism earlier Monday. 
"I think these are going to go well, I think we're going to get it done," Biden said at the White House. "But I have meetings tonight, tomorrow, and for the next little bit."
Biden's direct involvement is a sign of the high stakes for Democratic leaders and the debate consuming Congress and the White House just days before a possible Oct. 1 government shutdown and a payments default by the Treasury later in October if the federal debt limit isn't raised. Senate Republicans on Monday blocked a bill that would suspend the debt ceiling into December 2022 and keep the government operating past Sept. 30, forcing Democrats to come up with a strategy, and quickly.   
For now, Pelosi has scheduled the Thursday vote on the infrastructure bill while she, Biden and Schumer work to find some manner of agreement between the party's two factions on taxes and spending for the other piece of their agenda.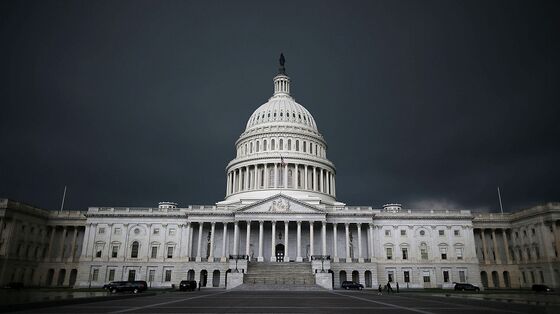 The problem for Democrats is not the substance of the infrastructure bill, which has broad support, but the factional battle for influence over the second, larger bill, which the party is pursuing on its own.
One moderate Democratic lawmaker said further delays on the infrastructure bill would threaten the entire agenda. The lawmaker, who spoke on condition of anonymity because discussion are private, said there had been some progress in talks to advance the reconciliation bill. 
That would involve assurances about what level of spending would be accepted by moderate Democrats in the Senate, primarily Sinema and Joe Manchin of West Virginia.
"We're just negotiating against ourselves" until it's clear what Manchin's and Sinema's positions are, said another moderate, House Democrat Ann Kuster of New Hampshire.
Manchin and Sinema have said that they won't back the House's current $3.5 trillion draft. Representative Jim Costa, a California Democrat, said on Friday that Manchin has told him he is comfortable with $1.5 trillion in spending and that a top-line level must be figured out quickly. 
Pelosi said that it "seems self-evident" that the bigger measure would be less than the $3.5 trillion allowed in the budget resolution that Democrats are working with.
There have been few signs of progress in recent days on several matters, including a drug-pricing plan and measures to address climate change. On one of the sticking points, Representative Tom Suozzi of New York said a detailed, final agreement to expand the federal deduction for state and local taxes, or SALT, could be reached this week
As for the infrastructure bill, with Republicans estimating it will get fewer than 20 GOP votes, it appears on track to be voted down if progressive Democrats withhold support.