Biden Says Hopes to Win by Undeniable Margin: Campaign Update
(Bloomberg) -- Democratic presidential nominee Joe Biden says he wants to win the election by a margin that cannot be denied. Biden raised $12 million during the vice presidential debate. And more than 6.6 million people already have cast ballots in the U.S. election.
There are 26 days until the election and 67 days until the Electoral College meets.
Biden Says He Needs to Win By Large Margin
Biden wants to win the presidential election by a margin that Trump supporters can't deny, he said Thursday.
"We can't just win by a vote," the Democratic presidential nominee told supporters during a campaign stop in Phoenix.
"We've got to all turn out. We can be better than we've seen. We can be what we are -- at our best -- if we all get out and vote," he said. He also urged voters to send in their mail-in ballots as early as possible.
Biden had just invoked allegations of a far-right plot to kidnap Michigan Governor Gretchen Whitmer as well as President Donald Trump's words from last week's debate seen as support for the Proud Boys, a White supremacist group, to say a lot is at stake in the Nov. 3 election.
"Your voice, through your vote, can overcome every one of the challenges we face," Biden said. "You know what they are setting up? They're setting up the argument these votes aren't going to matter."
Democrats Pour Money Into Biden Coffers During Debate (6:45 p.m.)
Democratic donors poured $12 million into Biden's campaign as his running mate Kamala Harris faced off against Vice President Mike Pence in their sole debate on Wednesday.
The total tops the nearly $10 million that Biden raised during and after his debate with Trump on Sept. 29, according to a Biden campaign official, who asked not to be identified because he doesn't speak for the organization. Wednesday's surge was first reported by Politico.
It also continues the breakneck pace of Biden's fundraising in the final months of the campaign. Biden and the Democratic National Committee raised a record $364.5 million in August, and then exceeded that amount in September. The Biden campaign has not yet released its September total. Trump's campaign hasn't released fundraising numbers around either debate or the size if its September haul.
One of the strangest moments of the debate also helped fuel the surge in donations. After a fly landed on Pence's head, the campaign offered branded fly swatters as a premium for a $10 donation and 35,000 of them went fast.
Millions Have Already Cast Ballots (6:08 p.m.)
More than 6.6 million people have cast ballots in the U.S. election, with Wisconsin, Virginia and South Dakota already exceeding 20% of their vote total from four years ago.
In Florida, where voters are accustomed to voting by mail, about 1.2 million ballots have been cast, or about 12% of the 2016 total, according to data gathered by Michael McDonald, a University of Florida professor who tracks early voting.
"The number of people who have voted is staggering," McDonald said in an interview. "It's just unprecedented, that level of interest."
Democrats have requested and returned ballots at roughly twice the rate of Republicans. Results won't be available until at least Election Day.
Nationally, voters have cast 4.6% of the total votes counted in the 2016 general election, according to McDonald's research, which he updates on a rolling basis at a website called U.S. Elections Project. McDonald gathers data for mail ballots returned or in-person early votes reported by states. -- Todd Shields
Agriculture Secretary Perdue Rebuked for Campaigning on the Job (5:18 p.m.)
The U.S. government office responsible for ethics enforcement reprimanded Agriculture Secretary Sonny Perdue on Thursday for violating the federal Hatch Act by using an official event to urge Trump's re-election.
The U.S. Office of Special Counsel ordered Perdue to reimburse taxpayers for his travel expenses and other costs associated with his attendance at the Aug. 24 event in North Carolina, in which he and Trump announced an additional $1 billion of funding for the Farmers to Families food distribution program.
"We've never seen an outpouring of compassion like that," Perdue said at the event. "That's what's going to continue to happen—four more years—if America gets out and votes for this man, Donald J. Trump."
The Hatch Act bars federal employees, except the president and vice president, from engaging in partisan campaigning while on the job or using official resources.
"While Secretary Perdue has an unquestioned First Amendment right to campaign for the president on his own time and in his personal capacity, he has no such right to do so in his official capacity and at taxpayer expense," Ana Galindo-Marrone, chief of the agency's Hatch Act unit, wrote in a letter reporting the findings.
The agency said it would take no further action if Perdue complies with the reimbursement order. U.S. Agriculture Department spokesmen didn't immediately respond to a request for comment. -- Mike Dorning
Biden Won't Reveal Stance on Court Seats Until After Election (4:51 p.m.)
Biden said Thursday he will share his view on adding additional seats to the Supreme Court if he wins the presidential election.
"They'll know my opinion on court packing when the election's over," he told reporters in Phoenix.
Biden added that if he revealed his opinion, "the headline in every one of your papers will be about that rather than focusing on what's happening now."
The Democratic presidential nominee made the comments while appearing with running mate Kamala Harris, who ducked Vice President Mike Pence's efforts to get her to answer the same question during Wednesday's debate.
Biden is avoiding taking a stance on the issue for a variety of reasons. If he were to endorse court packing, he'd please many progressives but could also scare many more moderate voters. And agreeing to adding seats to the Supreme Court would also be an implicit acknowledgment that nominee Amy Coney Barrett will be confirmed. -- Jennifer Epstein
Luntz Says Trump's Refusal to Debate Will Cost Him the Election (3:13 p.m.)
Veteran Republican pollster Frank Luntz said Thursday that President Donald Trump would not be able to close the gap with Joe Biden without participating in another presidential debate.
Luntz said in an interview with Bloomberg TV that Trump needs another face off with the Democratic presidential nominee to contrast his vision for the country and clearly present his case for re-election. Trump is 9.7 percentage points behind Biden in the RealClearPolitics average of national polls.
The Trump campaign withdrew from an Oct. 15 town hall-style forum on Thursday after the Commission on Presidential debates announced that it would be virtual in response to the coronavirus pandemic.
"Without that debate, I can't do the math to take him to where he needs to be if he expects to win this election," Luntz said. "I am honestly privately expecting him to reverse that decision as he himself does the math as he's trying to pressure the debate committee which will not be pressured."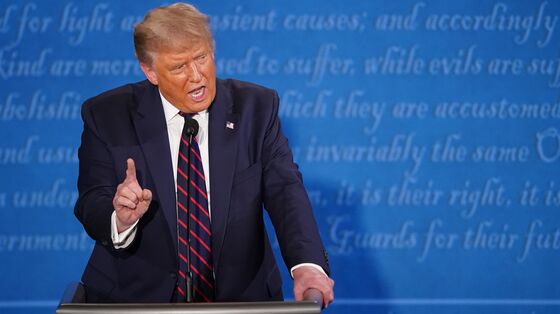 But he said that if Trump sticks with his refusal to debate, he will have "just determined who wins the election in 2020."
Luntz previously did messaging for the Republican Party but has been critical of the direction it has taken under Trump. He watched the vice-presidential debate on Wednesday with a group of voters from eight swing states. -- Emma Kinery
Lincoln Project Gets Involved in Texas Lawsuit (1:44 p.m.)
In a shift from its strategy of taunting Trump online, the Lincoln Project has filed a legal brief in a Texas voting-rights case.
A group of Republicans and conservatives working to defeat the president in November, the Lincoln Project is best known for viral videos and ads that they say are designed to distract him.
But in a legal brief, they backed a challenge to Texas Governor Greg Abbott's plan to limit each county in the state to one ballot drop box for the November election, regardless of size or population. The limit would undermine the organization's $2 million effort to identify Texas Republicans against Trump and persuade them to vote, the group said in its filing on Wednesday.
The governor's plan is "blatant voter suppression," the group said in a statement on Thursday, adding that Abbott "is scared, as he should be," by the president's "ineptitude in handling the Covid-19 pandemic and the resulting chaos."
The lawsuit was brought by groups including the Texas League of United Latin American Citizens, which alleges that Abbott's plan amounts to illegal voter suppression in counties with larger populations where election officials were planning to have multiple drop box sites. In the state's sprawling urban counties, which lean Democratic, the plan could force voters to drive long distances to reach the single drop box.
The Lincoln Project has spent almost $1 million in Texas and plans to spend another $1 million, it said. A lawyer for the organization didn't immediately return a message seeking comment on the brief. -- Erik Larson
Trump Suggests He Might Not Have Caught Coronavirus at Barrett Event (12:03 p.m.)
With more than a dozen attendees of a Sept. 26 Rose Garden event for Supreme Court nominee Amy Coney Barrett coming down with coronavirus, public health experts say it's the most likely source of the virus's spread through the White House. Trump says he isn't so sure.
In an interview with Fox Business News on Thursday, the president suggested he could have contracted the virus at other events with the public, including a gathering for the families of fallen troops held the day after the Barrett event. Members of the public, he said, "want to hug me and they want to kiss me."
"I can't back up, Maria, and say 'give me room, I want room, give me 12 feet,'" he told host Maria Bartiromo. "They come within an inch of my face sometimes. They want to hug me and kiss me and they do, and frankly, I'm not telling them to back up."
In any case, the White House isn't doing much to investigate the source of the outbreak, which led to Trump being hospitalized over the weekend. No effort has been made to conduct contact tracing of the people who attended the Barrett event.
Biden Leads by 10 Points in Fox News Poll (10:47 a.m.)
Biden is ahead of Trump by 10 points in the latest national poll as the president seems on track to lose the popular vote again.
In a Fox News poll released Wednesday evening, 53% of likely voters backed Biden, while 43% supported Trump.
That's in line with other polls taken this month, which show Biden ahead among likely voters nationally by 8 to 16 points.
The poll also showed high levels of concern about the U.S. political system. Seventy percent of respondents said they believe that "our democracy is in danger" in the presidential election, while only 24% said they did not.
The poll of 1,012 likely voters nationwide was conducted Oct. 3-6. It has a margin of error of 3 percentage points. -- Emma Kinery
Trump Calls Harris 'Unlikeable, a 'Communist' and a 'Monster' (10:11 a.m.)
Trump called Senator Kamala Harris "unlikeable," a "communist" and a "monster" Thursday, comments that may not help as he struggles to win over women.
In an interview with Fox Business News, Trump made multiple disparaging references to Harris that could be noticed by female voters, who back Biden by a wide margin in most polls.
"This monster that was on stage with Mike Pence, who destroyed her last night by the way, but this monster she says 'no, no, there won't be fracking, there won't be this,'" he said. "Everything she said is a lie."
Trump also said that Harris was "well beyond a socialist," calling her a "communist" to the left of Vermont Senator Bernie Sanders and "totally unlikeable." The debate, he said, "wasn't even a contest."
Biden, meanwhile, praised his running mate's performance. "I thought Kamala did a great job last night," he said at the airport in New Castle, Delaware, as he prepared to travel to Phoenix. "I was really proud of her."
A CNN/SSRS poll taken right after the debate found women overwhelmingly thought Harris won, 69% to 30%, while men were evenly split. The Democratic vice-presidential candidate's favorability rating also went up a few points among both men and women in the poll. The CNN poll of 609 registered voters who watched the debate had a margin of error of plus or minus 5.3 percentage points. -- Emma Kinery
Trump's Latest Unlikely Battleground: New York (9:22 a.m.)
Trump continued his run of suggesting he'll win in states where he's down by double digits.
A day after arguing that he could win in California, where he's down by 27 points, Trump said in a Fox Business News interview that New York might also be up for grabs.
"I'm making actually a play for the whole state," he told host Maria Bartiromo. "I did well there."
There's no evidence his campaign is trying to win in New York, where a Siena poll in late September showed 61% of likely voters backing Biden and 29% backing Trump -- a 32-point margin that is among the widest in the country.
Trump also didn't do well in California, which last supported a Republican presidential candidate in 1988. His share of the vote in 2016 was just 32%, a six-point drop from Republican nominee Mitt Romney's 2012 showing.
Biden Campaign's Fly Swatters Sell Out (7:12 a.m.)
The Biden campaign's turnaround time for jokey merchandise has sped up, unveiling a fly swatter roughly an hour after Wednesday's debate.
After a fly that landed on Vice President Mike Pence's head went viral during the debate, the Biden campaign quickly put together a blue fly swatter with the phrase "Truth Over Flies" on it.
By midnight, a Biden staffer tweeted that the campaign had already sold 15,000 of the $10 fly swatters. By morning, they were sold out.
Though mocking merchandise has been more of a Trump campaign specialty, the Biden campaign has upped its game recently, turning around "I Paid More Taxes Than Donald Trump" buttons the same day the New York Times reported he had paid just $750 in taxes some years and none in others.
Maine Democrats Put Up Trump-Collins Signs to Taunt Senator
Maine Democrats are putting up campaign signs for Collins, a Republican senator. The catch? They also have Trump's name on them.
The yard signs mimic the Trump campaign's, but instead of Pence, they say Collins underneath.
It's an unusual move, and one that may only work in fiercely independent Maine, where Biden is currently beating Trump by nearly 13 points in the RealClearPolitics average of polls.
Democrats have targeted Collins' claims of being an independent voice in the Senate by tying her to Trump and noting key times she supported him, such as voting for Supreme Court Justice Brett Kavanaugh.
Recent polls show state House Speaker Sara Gideon narrowly beating Collins, who has represented Maine in the Senate since 1997.
On Thursday, Pence is in Nevada and Biden and Harris both travel to Arizona. Biden travels to Las Vegas on Friday.