Barbados Leader Mia Mottley Re-Elected in Another Landslide
Barbados Prime Minister Wins Second Term as Opposition Concedes
(Bloomberg) -- Barbados Prime Minister Mia Mottley won a second term in office by a landslide after pulling the island's economy back from the brink and restoring economic stability during her first government. 
Preliminary results from Wednesday's election showed Mottley's Barbados Labour Party winning all 30 seats in parliament and shutting out the rival Democratic Labour Party, the Nation newspaper reported.
DLP leader Verla De Peiza conceded, saying it had been a "reckless" time to call a snap election amid a surge in Covid-19 cases.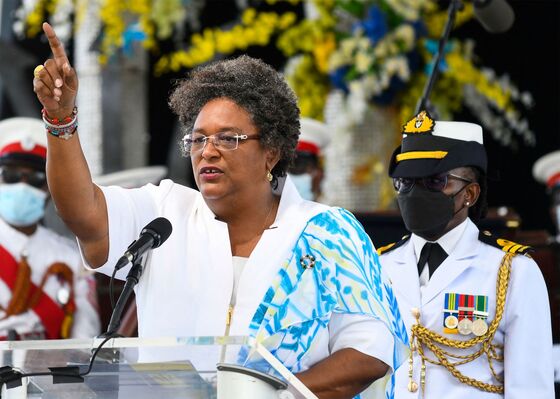 "The people of this nation have spoken with one voice, decisively, unanimously and clearly," Mottley said in her victory speech early Thursday, adding that she now has a mandate to confront "the serious challenges we will face in the next 10-15 years."
If the results are confirmed, it will be the second consecutive election in which Mottley's party has won all 30 seats.
Already one of the most recognizable and popular leaders in the Caribbean, the vote gives Mottley up to an additional five years in power. She called the snap election Dec. 27 -- less than four years into her first term -- saying opposition bickering was undermining her ability to make decisions.
Mottley has pledged to create thousands of jobs in construction, technology and renewable energy to help the palm-fringed island emerge from the economic slump caused by the pandemic.
During her first term, in 2018, she restructured the national debt and boosted international reserves sixfold, restoring confidence in the currency peg with the U.S. dollar. But economic growth remains elusive. Output stagnated for a decade and a half even before the Covid-19 pandemic triggered an 18% slump in 2020.