Austria Braces for Third Leader in Weeks After Political Storm
(Bloomberg) -- Austria was thrust into political turmoil after former Chancellor Sebastian Kurz quit his party and politics, prompting his hand-picked successor and finance minister to also resign.
The day of commotion in Vienna started with Kurz's decision on Thursday to leave his most recent role as leader of the People's Party amid a corruption probe. 
With a new party chairman looming, Chancellor Alexander Schallenberg said he was ready to step aside just two months after succeeding the former leader. 
Interior Minister Karl Nehammer is the most likely candidate to take over and may be nominated as soon as Friday, according to a person familiar with the discussions.
In a late announcement citing Kurz's decision, Finance Minister Gernot Bluemel also said he was also leaving politics.
The upheaval may herald the end to the Kurz era in Austria, whose brand of polite populism drew voters. But it ultimately collapsed under a deluge of leaked messages revealing a toxic culture of back-stabbing and potential corruption within his closest ranks.
Nehammer, a 49-year-old career politician and former communications trainer, made a name for himself by shutting borders during the pandemic and promoting a hard line on immigration. 
If appointed, he faces the challenges of reversing tumbling popularity for his party in the wake of the corruption investigations, and navigating the country out of its fourth lockdown since the start of the pandemic.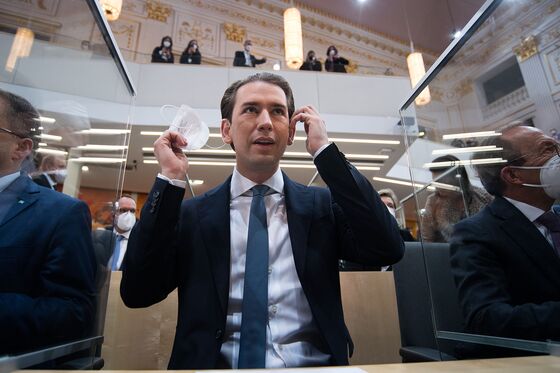 Kurz's departure caps the downfall of a tumultuous career that saw the erstwhile conservative prodigy become Europe's youngest political leader and a standard-bearer for the center-right with his brand of politics.
The 35-year-old had moved to a position in parliament after being forced to resign as chancellor in October, while maintaining his role as party chief. That came after prosecutors raided the offices of several close associates. 
Kurz faces multiple investigations from state prosecutors, including allegations of false statements made to lawmakers and using public funds to plant forged opinion polls in newspapers to help him rise to power in 2017. He has denied any wrongdoing.
"I look forward to the day when I can prove the allegations against me are false," Kurz said in a press statement on Thursday, repeating claims of a climate of political witch-hunt.
His exit may allow the People's Party to start a new chapter after the corruption probe dented its popularity. It has lost about 10 percentage points of public backing and was overtaken by the Socialists for the first time since 2017. 
Like Schallenberg, the next chancellor's stint in power may prove to be short-lived if the Green Party decides to end a coalition government. While pledging to stay on for now, they may ultimately pull the plug in favor of the third snap elections since 2017, and the prospect of a German-style coalition with the social democrats and liberals.