Austria Extends Lockdown With New Virus Cases Edging Lower
Austria Extends Lockdown With New Virus Cases Edging Lower
(Bloomberg) -- Austrian lawmakers extended a nationwide lockdown for a second 10-day period to suppress the latest wave of coronavirus infections before the Christmas holiday period.
While daily virus cases have edged lower since the new restrictions were introduced, hospitalizations have continued to rise. Deputies from the governing People's Party and Greens, as well as the opposition Socialist Party, supported the motion in the National Council's Main Committee.
The government has pledged to end the tight restrictions from Dec. 12 for people who have been vaccinated or have recently recovered from the virus. It's still discussing legal avenues for mandatory vaccinations from February.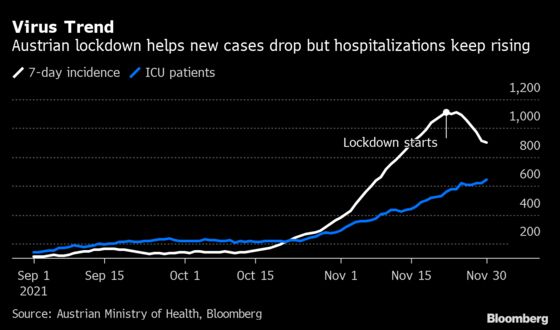 New infections over the last seven days have fallen to 900 per 100,000 inhabitants, down from more than 1,100 a week ago. Austria has 642 coronavirus patients in intensive-care units, more than the 600 level that experts see as an excessive burden for hospitals.
Austria, which has one of the lowest vaccination rates in Europe, became the first western European nation to return to lockdown measures in the latest wave of the pandemic.