Australia's Morrison Wants Pensions to Fund Company Bailouts
Australia's Morrison Wants Pensions to Fund Company Bailouts
(Bloomberg) -- Australia's Prime Minister Scott Morrison wants the nation's pension funds to take more action to cushion the blow from the coronavirus crisis.
In an interview with the Australian Broadcasting Corporation's 7:30 program Thursday night, Morrison said the nation's A$2.95 trillion ($1.9 trillion) pension pot should be used to bail out companies as the government "is not the only economic actor in this event."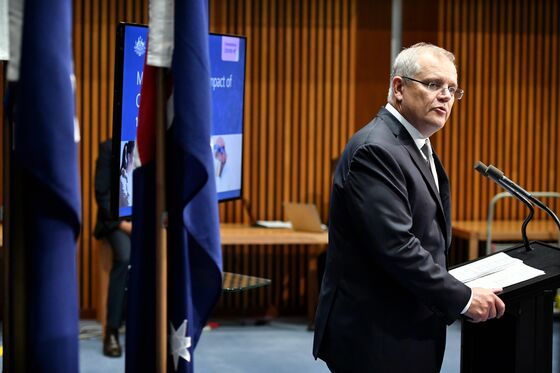 "I'd like to see the industry and broader superannuation funds playing a more active role in dealing with the economic issues that we're dealing with at the moment," he said.
The plea comes as Australia begins pumping an unprecedented amount of stimulus into the economy in a bid to avert falling into a crippling long-term recession. It's pledged more than A$320 billion in fiscal and monetary measures, including an A$130 billion jobs-rescue plan to subsidize wages and keep struggling businesses afloat.
The government has also relaxed rules to allow people hit by the epidemic to dip into their retirement savings early. Pension funds expect up to A$50 billion will be given to those taking advantage of the scheme, causing liquidity fears at the worst affected funds.
The most pressing issue is Virgin Australia Holdings Ltd. that's suspended from trading amid discussions over a potential financial restructuring. It had asked the government for a A$1.4 billion loan to weather the crisis after stopping virtually all services as authorities restricted domestic and international travel to slow the virus' spread.
While the government wants two commercially viable airlines, which would include Virgin's main Australian competitor, Qantas Airways Ltd., Morrison said it will only offer support on an industrywide basis and won't "get in the way of a commercial solution." Instead, pension funds including TWUSUPER, the scheme that looks after A$5.5 billion in retirement savings for transport and logistics workers, should recapitalize the airline, he said.
"Its own workers have been paying in to industry funds and there are funds out there, in these super funds that could be investing in a number of companies," Morrison said. "I appreciate that comes in a different risk premium, but this is their own contributors that are involved here."
TWUSUPER didn't immediately reply to a request for comment outside normal business hours. Industry Super Australia, the body that represents 15 union-aligned not-for-profit pension funds, declined to comment.