House Panel to Review Biden, Trump Decisions: Afghanistan Update
(Bloomberg) -- The U.S. knows of about 1,500 Americans who are still in Afghanistan, Secretary of State Antony Blinken said Wednesday. He gave the estimate a day after President Joe Biden rebuffed allies urging him keep U.S. troops in Afghanistan past his Aug. 31 deadline. 
With the U.S. sticking to its withdrawal timetable, evacuations must end within the next few days to allow enough time to get remaining troops out. Fears for people whose ties to outside powers leave them vulnerable are growing after more reports of reprisals and a threat by the Taliban to stop Afghans from traveling to the airport.
The U.S. and its allies, meanwhile, have debated the kinds of steps Taliban leaders must take before the new rulers can earn political recognition or have aid released to them. 
Tuesday's Group of Seven meeting was mostly focused on evacuations and security, but leaders also discussed withholding crucial foreign assistance as a way to pressure the Taliban regime into guaranteeing the security of foreigners and Afghan citizens. 
Key stories and developments:
World Bank Pauses Disbursements to Afghanistan After Takeover
The Taliban Must Deal With These Leaders to Avoid Civil War
China Eyes $1 Trillion of Minerals With Risky Bet on Taliban
Biden Resists Afghan Deadline Pressure But Seeks Backup Options
U.S. Tells Refugee Aid Groups to Get Ready for 50,000 Afghans
Lawmakers Say Flew to Kabul, Want U.S. Pullout Deadline Extended
All items are in Eastern Time:
Meeks Says Panel to Review Biden, Trump Decisions (4:41 p.m.)
The head of the House Foreign Affairs Committee said his panel will review "the policies that led to the Taliban's reestablishing control of the country, including those that drove the Trump Administration's February 2020 agreement, and how this will impact the United States' broader Afghanistan and counter-terrorism strategy."
Representative Gregory Meeks of New York made the comments following two days of classified briefings on the situation in Afghanistan. 
"It is not how you start, but how you finish, and I know history will judge what happens over the coming days as we evacuate those Americans who wish to leave and all those Afghans who supported our efforts in Afghanistan over the past 20 years," Meeks said in a statement. --Billy House
Blinken Says U.S. Knows of 1,500 Americans Remaining (2:50 p.m.)
The U.S. knows of about 1,500 Americans who are still in Afghanistan but doesn't believe all are seeking to leave the country, Secretary of State Antony Blinken said Wednesday. 
He told reporters that the U.S. continues to be "relentless in our outreach," citing 20,000 emails and 45,000 phone calls attempting to reach Americans.
Turkey Says It's Starting Its Troop Evacuation (1:30 p.m.)
Turkey started withdrawing its soldiers from Afghanistan after earlier talks with the Taliban on its proposal to keep safeguarding the country's main airport, a further sign of the rapid deterioration of security on the ground.
"The evacuation of Turkish Armed Forces personnel has started following various contacts and evaluation of the current situation" on the ground, the Defense Ministry said in a statement.
The Taliban's capture of Kabul scrapped plans for predominantly Muslim Turkey to take over security at the country's main airport under a U.S.-backed mission. -- Selcan Hacaoglu
Taliban Say Afghan Citizens Can Fly After U.S. Deadline (1:20 p.m.)
Taliban spokesman Suhail Shaheen tweeted Wednesday that Sher Mohammad Abbas Stanikzai, a senior leader of the group, assured the German ambassador that Afghan citizens "with legal documents" will be able to travel on commercial flights after the U.S. deadline to end its air evacuation on Aug. 31.
Taliban officials said earlier that Afghan citizens aren't being allowed to go to the Kabul airport -- where they could seek to depart on U.S. and allied evacuation flights -- because of the fragile security situation. -- Muneeza Naqvi
Pentagon says 11,200 evacuated by U.S. in 24 hours (11:25 a.m.)
The Pentagon said U.S. military aircraft evacuated 11,200 people from Afghanistan in the last 24 hours. An additional 7,800 people departed on allied aircraft, Army Major General William Taylor told reporters Wednesday. Since evacuations began, about 88,000 people have been brought out of Afghanistan by the U.S. and allies, Taylor said.
In addition, Taylor said that overnight the U.S. conducted a helicopter operation outside the Kabul airport that brought fewer than 20 Americans to safety.
Pentagon spokesman John Kirby said the U.S. remains in "daily communication" with the Taliban over who should be let into the airport. "We have been nothing but open with the Taliban about who we expect them to let in," Kirby said. 
Asked if this will be the largest U.S. airlift ever, which would exceed the evacuation from Vietnam, Kirby said "we're not competing with history."-- Peter Martin and Tony Capaccio
EU officials to hold emergency meeting (10:29 a.m.)
European Union home affairs ministers will have an emergency meeting Aug. 30 to discuss developments related to Afghanistan, the European Commission announced. 
The talks could cover issues including migration, security and assistance for neighboring countries, a spokesperson for the Slovenian EU presidency said earlier in the week. -- Jasmina Kuzmanovic
Pelosi backs sticking to Aug. 31 deadline (9:54 a.m.)
House Speaker Nancy Pelosi backed President Joe Biden's decision to stick to an Aug. 31 withdrawal timetable, despite calls from other Democratic lawmakers for the U.S. to extend the deadline. 
"Obviously we made a promise and we want to honor it," Pelosi told reporters Wednesday, adding, though, that she got the impression from a meeting with Democratic House members Tuesday that many of them wanted to see the U.S. stay longer. 
"The judgment about leaving is a judgment that the president has made and he has to balance the equities about what is the threat to our military and the people at the airport versus the advantage of staying" -- Billy House and Erik Wasson
Read more: Pelosi Says Lawmakers' Afghanistan Trip Wasn't a Good Idea
Indian, U.K. foreign ministers in contact (8:24 a.m.) 
Indian Foreign Minister Subrahmanyam Jaishankar said he'd spoken with his U.K. counterpart, Foreign Secretary Dominic Raab on Wednesday. 
"Our conversation focused on developments in Afghanistan," Jaishankar tweeted. -- Tiago Ramos Alfaro 
NYT journalists arrive in Mexico City (8:16 a.m.)
Mexican Foreign Relations Minister Marcelo Ebrard and a former New York Times bureau chief, Azam Ahmed, welcomed Afghan journalists who worked for the newspaper, as well as their families, in Mexico City on Wednesday morning.
"This morning I received 124 correspondents, reporters and staff who worked in various media in Kabul and have requested a humanitarian, refugee or asylum visa from the Government of Mexico," Ebrard tweeted. "I gave them the warmest welcome." 
Click here for the New York Times report. -- Eric Martin
Merkel Says Taliban is Afghanistan's new reality (7:30 a.m.)
Angela Merkel said Germany would continue efforts to protect people in Afghanistan even after its military evacuations -- which have rescued 4,600 people -- are halted.
She said the West needed to accept that the Taliban is now in charge and that Germany would talk with the group to try to protect people, adding that NATO allies need to continue efforts to ensure the country doesn't again become a safe haven for terrorist groups.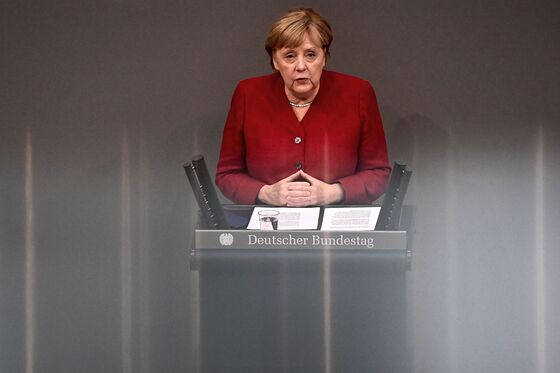 "It's clear that the Taliban are the reality in Afghanistan," the chancellor said in a speech to the Bundestag on Wednesday. "This new reality is bitter, but we need to come to terms with it." -- Patrick Donahue
G-7 leaders debated withholding aid (7:20 a.m.)
While Tuesday's virtual G-7 meeting was mostly focused on evacuations and security, officials also debated the kinds of steps Taliban leaders must take before the new rulers can earn political recognition or aid would be unblocked. Sanctions were implemented years ago against Taliban leaders and various affiliated entities. -- John Follain, Maria Tadeo and Jennifer Jacobs
Xi, Putin vow to oppose 'external interference'  (6:30 a.m.)
China is willing to increase communication with Russia and other countries over Afghanistan, President Xi Jinping told Vladimir Putin in a phone conversation Wednesday, according to the People's Daily newspaper.
China encourages all parties in Afghanistan to distance themselves from all kinds of terrorist organizations, Xi said. China and Russia should step up cooperation against external interference, he said.
With an eye on the country's vast mineral wealth and preventing terrorism from spilling over the border, Chinese authorities are embracing the Taliban's return to power. A Taliban delegation recently met with the Chinese ambassador in Kabul.
Germany looks past military evacuations (4:00 a.m.)
Chancellor Angela Merkel will address the German parliament later on Wednesday as the country shifts its attention to evacuating people after military flights cease ahead of the Aug. 31 deadline.
"When this evacuation mission ends, then of course a phase will follow for which preparations are already being made very intensively," Merkel said at a press conference late Tuesday. "It's about how we can ensure that local workers and people in need of protection can still leave the country," she said, adding that it remains to be seen what role civilian flights will play.
With the U.S. set to withdraw its forces, Germany is expected to join other allies in ending its evacuation flights, though Merkel didn't specify a date. Her statement to the Bundestag will therefore be closely watched for signs that Europe is willing to break away from the U.S.'s lead in Afghanistan. -- Chris Reiter
French evacuations likely to end soon (3:44 a.m.)
Evacuations will probably wrap up by the week's end, junior minister for European Affairs Clement Beaune told Cnews TV.
France has flown about 2,000 people out of the country since mid-August, the vast majority of whom are Afghans with ties to France, he said. -- Ania Nussbaum
U.K. says more than 11,000 evacuated (3 a.m.)
U.K. Foreign Secretary Dominic Raab said the U.K. had evacuated about 2,500 people before the collapse of government authority in Kabul, and that the "late surge to the door" means now that over 11,000 have been taken out of Afghanistan.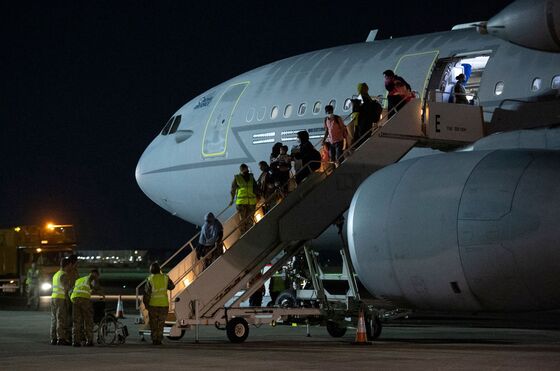 Raab said that almost all of the "mono" British nationals – those without dual nationalities – have now returned. "We're left with the very complex cases, which sometimes means large family units, of whom some are nationals, some aren't, some are documented, some aren't." -- Alex Morales
An underwhelming G-7 statement (3 a.m.)
It was perhaps inevitable that the statement that emerged from a virtual emergency G-7 meeting on Tuesday had little in terms of concrete steps, with a vague warning that "we will judge the Afghan parties by their actions, not words."
"In particular, we reaffirm that the Taliban will be held accountable for their actions on preventing terrorism, on human rights --  in particular those of women, girls and minorities -- and on pursuing an inclusive political settlement in Afghanistan."
The sense by European officials was that Biden's mind was already made up and there was never any real debate on an extension. -- Flavia Krause-Jackson
With assistance from Bloomberg