Talk of U.S. Military Intervention in Venezuela Suddenly Gains Traction
As Venezuela slides toward dictatorship, collapse, triggering a migration crisis, support for military rule is approached openly.
(Bloomberg) -- When President Donald Trump said a year ago that the U.S. was considering a "military option" for Venezuela, hardly anyone in Washington thought it was a good idea.
Today, as Venezuela slides toward dictatorship and collapse, triggering a millions-strong migration crisis, support for such a move is being discussed openly. The notion of using force to topple the government of President Nicolas Maduro is gaining adherents -- although it remains a distinctly minority view.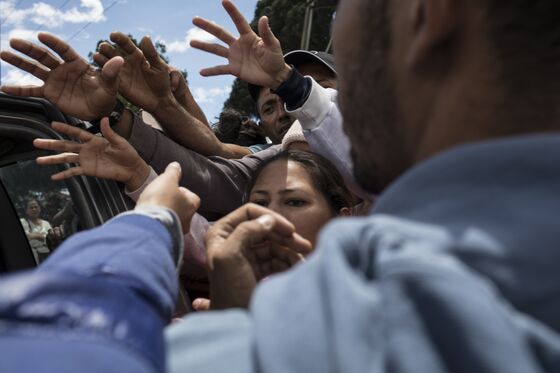 Marco Rubio, a Republican senator from Florida, said last month that for years he sought a peaceful solution to Venezuela, but now there's a "very strong argument" that it's a security threat to the region and the U.S. that calls for the use of the American military.
This month, speaking in Cucuta, the Colombian border town that's the biggest crossing point for migrants, the secretary-general of the Organization of American States, Luis Almagro, said military intervention shouldn't be ruled out, though he later suggested he'd been misunderstood.
Trump himself hasn't walked anything back. On Tuesday at the United Nations, he told reporters who asked him about military intervention that he had no intention of broadcasting his plans, adding, "It's a regime that frankly could be toppled very quickly by the military, if the military decides to do that."
The following morning, he indicated that he'd be willing to meet with Maduro at the UN this week if it would "save lives".
Fernando Cutz, who served as adviser on South America until last year on the National Security Council, said at Washington's Wilson Center on Monday that a multilateral military intervention could be the best solution for Venezuela.
Part of what is driving the changing conversation is that the Venezuelan military, long viewed as the backbone of government support, is showing widening cracks of dissent. In the past year, there have been several minor military attempts to overthrow Maduro, including by use of an armed drone at a military parade.
Some prominent Venezuelan exiles are also backing the idea. Opposition leader Antonio Ledezma has called for "humanitarian intervention" while professor Ricardo Hausmann, a Harvard economist who served as the nation's planning minister in the 1990s says that a solution to the crisis is "contingent on regime change."
In turn, the government has stepped up repression, using the coup attempts and perceived threat of an attack as a pretext for jailing opposition leaders.
Adding to a sense that Washington may be warming to intervention, security hawks with an interest in Latin America are taking positions in the administration. Mauricio Claver-Carone, an opponent of rapprochement with Cuba, is expected to be named senior director for Western Hemisphere Affairs at the National Security Council. Jose Cardenas, who's being considered for a position in the State Department, wrote an op-ed in June titled "It's Time for a Coup in Venezuela."
Of course, U.S. military intervention has often gone poorly and comes with enormous historical baggage. Centuries of such action have bred hostility in Latin America and any Washington-led move to topple Maduro would face opposition from Venezuela's neighbors. Just this month, governments from the so-called Lima Group, including Brazil, Mexico, Peru and Chile, issued a statement rejecting the use or threat of force in Venezuela. Some have backed other attempts to squeeze the Maduro government through sanctions on top officials and bringing a case to the International Criminal Court.
'Rebirth of Interference'
At the same time, almost none of Venezuela's neighbors try to defend the legitimacy of its government any longer.
"There has been a shift in terms of accepting that it is a dictatorship," Argentine President Mauricio Macri said Monday, in a Bloomberg interview in New York, noting that he opposes military intervention. "Everybody accepts that it is no longer a democracy."
Within the U.S., there is plenty of opposition as well. It would "lead to a great deal of concern over a rebirth of United States interference in Latin America, and is far from clear it solves any of your refugee and population problems," said Anthony Cordesman, who holds the Arleigh A. Burke Chair in Strategy at the Center for Strategic and International Studies in Washington.
David Smilde, a Venezuela expert at Tulane University in New Orleans, argues against intervention but says if Trump feels he needs an important foreign policy victory with re-election coming up, he may decide to "get this ball rolling."
Francisco Rodriguez, a Venezuelan economist who took a break this year from his Wall Street job at Torino Capital to help the campaign of an opposition leader, agrees, saying Trump has plenty of incentives to intervene in Venezuela because military actions tend to raise presidential approval ratings. The links of the Maduro government to drug trafficking and terrorist groups give him the pretext. Military intervention is still unlikely, but "the probability has grown," Rodriguez said.
Colombia has received about 1 million Venezuelan migrants in less than two years, a more intense rate of migration than the 1.9 million Syrians who fled to Turkey over six years, President Ivan Duque said in New York on Monday. Duque labels the Maduro government "a full dictatorship," but his government has sent mixed signals on military intervention.
Francisco Santos, Colombia's new Ambassador to Washington, said this month that Colombia wants a "collective answer" to the crisis, rather than "unilateral military operations," but that "all options must be considered." Duque then appeared to contradict this, saying that he didn't have a "warlike" spirit when it comes to Venezuela.
Duque's predecessor, Juan Manuel Santos, who left office last month, said he wasn't averse to the idea of a coup in Venezuela, according to a report in The New Yorker.
Hausmann of Harvard rejected the argument that a military intervention would be a bloodbath.
The armed forces of Venezuela are "going to collapse," he said. "They have no operational capacity, they are a useless force. They are an occupation army, they are no military threat to anybody."
Others are less sanguine. Cordesman said that in the 1989 U.S. invasion of Panama, dictator Manuel Noriega's alienation of the local elites and armed forces meant that "a very limited amount of force" was needed to topple him. An invasion of Venezuela would be very different, he said.
"You need to have a very strong group of people who can credibly take over, and it's not clear that there's a faction in the Venezuelan military or security services that wants that," he said. "So you're talking about essentially going in and somehow replacing the entire structure of governance and hoping that somehow somebody is going to back you."
Still, Tulane University's Smilde noted: "Given the lack of democratic alternatives, and given the fact that what was once a nuisance is now a regional migration crisis, it's not surprising that this talk that has existed for a long time is now becoming more widespread."
--With assistance from Toluse Olorunnipa and Andrew Rosati.
To contact the reporter on this story: Matthew Bristow in Bogota at mbristow5@bloomberg.net
To contact the editors responsible for this story: Vivianne Rodrigues at vrodrigues3@bloomberg.net, Ethan Bronner, Robert Jameson