Turkish Lira Slides as Isbank Fallout Dilutes Rate-Hike Support
Turkish Lira Falls in Thin Liquidity Amid Emerging-Market Losses
(Bloomberg) -- The Turkish lira led declines across emerging-market currencies for a second day as concern over President Recep Tayyip Erdogan's expanded grip over the economy diluted the impact of last week's larger-than-expected interest-rate increase.
The lira weakened more than 3 percent Monday, compounded by low volumes, according to an Istanbul-based currency trader who asked not to be named as the person is not authorized to speak to the media. Erdogan said the leading opposition party's stake in Turkiye Is Bankasi AS -- the nation's largest listed lender by assets -- should be transferred to the Treasury, spooking investors who saw the move as another power grab.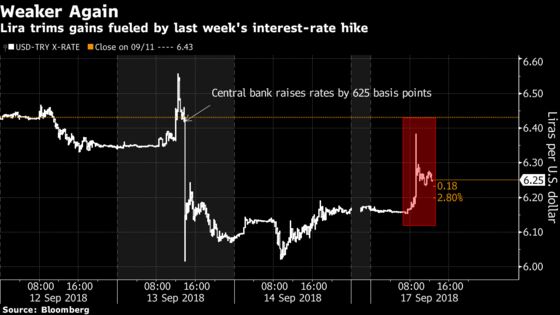 "It's the only bank he can't control because of their ties to the CHP," said Yuval Polushko, a currency trader a Spectra FX Solutions in London, referring to the Republican People's Party, which holds a 28.09 percent stake in Isbank. While it's "very tough to call the lira at the moment," there is still some upside in dollar-lira "when you consider how, despite the rate hike," the lira hasn't managed to break through 6 per dollar, he said.
The lira slid 1.5 percent to 6.2607 per dollar as of 12:55 p.m. in Istanbul. It touched 6.0168 on Sept. 13, its strongest level since Aug. 27, after the central bank raised its one-week repo rate by 625 basis points to 24 percent.
Attention turned to the government's medium-term program, due to be announced Thursday, for further signs on the direction of economic policy. Investors are looking for authorities to commit to a tighter fiscal program that will help narrow the economy's twin deficits.
Isbank Falls on Erdogan's Call for Share Transfer to State
The lira's decline Monday pared a rally last week of almost 4 percent, fueled by the central bank's move, which was lauded for reaffirming its independence and shielding the currency from an emerging-market rout that knocked off 40 percent of the lira's value this year.
Still, cracks in that argument began to appear as Erdogan resumed his criticism of the monetary authority Friday, saying his patience over higher borrowing costs has limits.
"Investors are questioning the next steps," said Guillaume Tresca, a strategist at Credit Agricole SA in Paris. "Is it the beginning of a new monetary cycle with an independent central bank or just a one-off move?"
To contact the reporter on this story: Constantine Courcoulas in Istanbul at ccourcoulas1@bloomberg.net
To contact the editors responsible for this story: Ven Ram at vram1@bloomberg.net, Keith Jenkins, Scott Hamilton