Little Relief in Sight as Emerging Stocks Slide Near Bear Market
There seems to be no sign of halting the downtrend.
(Bloomberg) -- The rout in emerging markets showed few signs of abating, even as some of the worst-hit currencies took a breather, as an index of stocks slipped toward bear territory and a basket of currencies traded near its lowest since May 2017.
The MSCI Emerging Markets Index of shares extended its slide to 19.7 percent from a January peak. Among the worst-hit stock markets were Saudi Arabia and Indonesia, where benchmark indexes tumbled by the most in about two years. The Argentina peso and Turkish lira, which have led global losses this year, eked out gains as the nations took measures to curb the damage.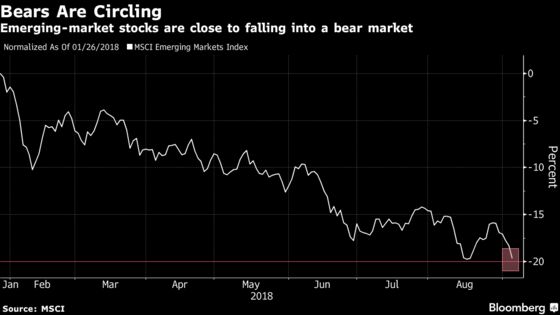 The declines added to concern that investor anxiety is beginning to infect markets whose economies are more robust than others. The negative tone was set Tuesday by a U.S. manufacturing report that boosted the odds of further Federal Reserve rate increases and a strengthening dollar, and South African data showing the economy entered into a recession in the second quarter.
It's "no longer just about EM fundamentals," Sameer Goel, the head of macro strategy for Asia at Deutsche Bank AG in Singapore, said in a Bloomberg TV interview with David Ingles. It's "increasingly about contagion, which largely happens because of cross-holdings and the pressure of redemptions."
HIGHLIGHTS:
MSCI Emerging Markets Currency Index fell 0.2 percent
MSCI Emerging Markets Index slid 1.7 percent to 1,022.33
CBOE Emerging Markets ETF Volatility Index eased
Risk premium on EM sovereigns stable at 375bps: JPMorgan indexes
Emerging Stocks Are Close to Falling Into a Bear Market: Chart
Contagion or Not, These Emerging Markets Hold Key to Selloff
2018's Only Winning EM Currency Is Close to Joining Losers Club
Algebris Says Emerging-Market Pain Isn't Over Amid Contagion
Here's How You'll Know the Sharks Have Left EM Waters: Macro Man
Deutsche Bank Says These Four Events Could Stave Off EM Collapse
"We're not yet ready to enter into these markets," said Meenal Patel, EMEA head of FX, commodities & rates at JPMorgan Private Bank in London. "The market is very much focused on those currencies with large amounts of external debt."
September is unlikely to provide much relief to emerging markets, James Lord and his colleagues at Morgan Stanley in London wrote in a note, staying short on currencies from Brazil, Mexico, South Africa, Russia, Indonesia, India and the Philippines against the dollar, euro and yen.
"It has to get a lot worse before it gets better," said Kay Van-Petersen, global macro strategist at Saxo Capital Markets. "When you get full contagion, everything gets thrown out, and we're not there yet."
ARGENTINA:

Merval Index increased 4.5 percent to 28,861.50
Peso gained 1.3 percent to 38.40 per dollar
Front end of Argentine dollar debt is attractive with yield more than 10%, according to Credit Suisse trading strategist Kasper Bartholdy
IMF Director Christine Lagarde is said to have promised to expedite funds to government, Argentine journalist Marcelo Bonelli reported
Argentine Default Risk Jumps to Highest Since May 2016: Chart

BRAZIL:

Ibovespa advanced 0.7 percent to 75,251.06
Real gained 0.7 percent to 4.1321 per dollar
10-year local-bond yield declined nine basis points to 12.48 percent
Two major pollsters frustrated expectations for fresh voter data by suspending or canceling poll releases
Market-friendly presidential candidate Geraldo Alckmin accused of illegal campaign finance, Jota reports citing lawsuit

MEXICO:

Mexbol index dipped 0.5 percent to 48,618.98
Peso gained 0.4 percent to 19.329 per dollar
10-year local-bond yield gained two basis points to 8.037 percent, highest on record
Uncertainty about trade deal's future remains high, pressuring peso on top of unfavorable macro environment, Commerzbank said
Nafta Talks Restart as Trump, Congressional Clock Boost Pressure

Click for market news on ANDES
TURKEY:

Borsa Istanbul 100 Index dipped 0.4 percent to 92,790.99
Lira gained 1.3 percent to 6.5831 per dollar
If the central bank fails to deliver an adequate amount of monetary tightening next week, that may spur further lira weakness, said Phoenix Kalen, a strategist at Societe Generale SA in London
President Recep Tayyip Erdogan said no invitation for a bilateral talk with Donald Trump at UN summit in New York later this month

SOUTH AFRICA

FTSE/JSE Africa All Share Index dipped 1.4 percent to 57,102.13
Rand declined 0.6 percent to 15.4322 per dollar, weakest in more than two years
9-year local-bond yield gained gained one basis point to 9.227 percent, highest in more than eight years
"The rand is one of the most traded currencies in emerging markets, so its vulnerability lies there more than anything else," Finance Minister Nhlanhla Nene told Bloomberg
Ruling party said it's concerned about losing support after economy plunged into a recession last quarter
Stock outlook in second half may be brighter, said Patrice Rassou, head of equities at Sanlam Investment Management in Cape Town
South Africa Targets Structural Reform to Revive Lagging Economy

RUSSIA:

MOEX Russia Index dipped 0.6 percent to 2,321.33
Ruble declined 0.2 percent to 68.2225 per dollar
10-year local-bond yield advanced nine basis points to 8.89 percent, highest in about 21 months
Government axed bond sale amid market volatility
Russian Rate Hike in Play as Ruble Revs Up Inflation at Last

Click for market news on POLAND and HUNGARY
CHINA:

Shanghai Composite Index fell 1.7 percent to 2,704.34
Offshore yuan gained 0.1 percent to 6.8443 per dollar
10-year local-bond yield gained two basis points to 3.635 percent
Donald Trump may proceed with tariffs after public comment period ends Thursday, said White House Press Secretary Sarah Sanders
U.S. trade deficit with China climbed to a record
Investors See Bargains in Depressed China Convertible Bonds
China ETFs See Most Inflows Since 2015 as Stocks Top Value Chart
PBOC Is Said to Have Drained Short-Term Liquidity in August
China Mulls Extending Shale Gas Subsidies to Boost Energy Output

INDIA:

Sensex Index dipped 0.4 percent to 38,018.31
Rupee declined 0.3 percent to 71.763 per dollar, weakest on record; one-month dollar/rupee NDF briefly rose above 72 before trimming gains
10-year local-bond yield fell one basis point to 8.0522 percent
Nation probably overestimated manufacturing output while calculating economic growth that topped 8 percent last quarter, according to a member of the central bank's rate-setting panel
Central bank has room to spend up to $30 billion to protect currency, according to Nomura Holdings
Rupee Woes to Deepen as India Braces for External Headwinds

Click for more on markets in ASIA
--With assistance from Yvonne Man, Harry Suhartono, David Ingles, Ravil Shirodkar and Juliette Saly.
To contact Bloomberg News staff for this story: Lilian Karunungan in Singapore at lkarunungan@bloomberg.net;Yumi Teso in Bangkok at yteso1@bloomberg.net;Ben Bartenstein in New York at bbartenstei3@bloomberg.net
To contact the editors responsible for this story: Tomoko Yamazaki at tyamazaki@bloomberg.net, Alec D.B. McCabe, Justin Carrigan
With assistance from Editorial Board
Get Your
Daily Newsletter
Get market moving news, top news & compelling perspectives
---