Facebook and Twitter to Testify on Russia as Google Is Spurned
Google has insisted that Alphabet CEO Page and Google CEO Pichai wouldn't be the best officials to appear.
(Bloomberg) -- Executives from Facebook Inc. and Twitter Inc. are expected to tell members of Congress that they have stepped up efforts to detect and remove accounts that violate their policies after Russian-linked hackers used social media to meddle in the 2016 election.
Facebook deleted more than 270 accounts in April linked to the Internet Research Agency, a so-called troll farm with links to Russia's military intelligence unit, that company's Chief Operating Officer Sheryl Sandberg said in advanced testimony to the Senate Intelligence Committee. These accounts are in addition to the 470 similar accounts and pages that Facebook removed between June 2015 and August 2017, she said.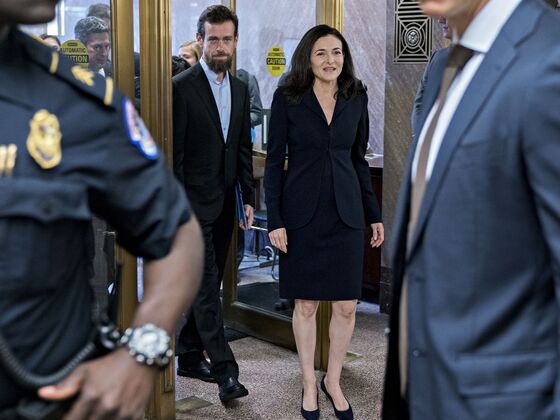 Twitter has removed a total 3,843 accounts for possible affiliation with the Internet Research Agency, according to CEO Jack Dorsey's prepared testimony for a House Energy and Commerce Committee hearing scheduled for later Wednesday. This came after the February indictment of a dozen individuals who had been employed by the St. Petersburg-based agency under Special Counsel Robert Mueller's continuing investigation.
The Intelligence Committee had invited Larry Page, chief executive officer of Google's parent Alphabet Inc., or Google CEO Sundar Pichai to the hearing Wednesday to appear alongside Dorsey and Sandberg. But the panel's leaders rejected Google's offer to settle instead for Chief Legal Officer Kent Walker, who the Mountain View, California-based company had said would be "an appropriate witness for this hearing."
The hearing will set the tone for the coming two months as tech companies and the U.S. government awkwardly collaborate to fight foreign influence campaigns ahead of November's midterm elections, which will determine control of Congress. Social medial platforms have become a venue for spreading messages seeking to broaden divisions in the U.S., but the crackdown on accounts has prompted concerns that some are being deleted because of political leanings.
"Twitter does not use political ideology to make any decisions, whether related to ranking content on our service or how we enforce our rules," Dorsey said in advanced testimony. "We believe strongly in being impartial, and we strive to enforce our rules impartially. We do not shadowban anyone based on political ideology. In fact, from a simple business perspective and to serve the public conversation, Twitter is incentivized to keep all voices on the platform."
Despite Google's absence from the witness table, the company on Tuesday posted what it called prepared "testimony" from Walker on social media companies' efforts to thwart election meddling in advance of the midterms.
Walker's prepared testimony lists the four new types of disclosure the company promised concerning election advertising in his last congressional appearance in the fall of 2017. Those include databases listing election ads on Google Search, YouTube and across the web, as well as a verification program and disclosures on political ads.
Senator Mark Warner, the top Democrat on the Intelligence Committee, said in a tweet Tuesday that Dorsey and Sandberg will testify and "Larry Page should be there, too. It's not too late for @Google to step up."
Tomorrow the Senate Intelligence Committee will hold an important hearing on the social media companies' responses to foreign influence operations.
@jack
will be there.
@sherylsandberg
will be there. Larry Page should be there, too. It's not too late for
@Google
to step up.
Sent via Twitter Web Client.
View original tweet.
Warner also criticized a letter Pichai sent to several senators last week explaining why the company can't answer detailed questions about its plans to return to China.
"Any effort to get back into China could enable the Chinese government in repressing and manipulating their citizens," Warner said in a statement on Tuesday. "Google owes the public some answers about its reported plans."
In his Aug. 31 letter, Pichai wrote that "Google's tools could help to facilitate an exchange of information and learning that would have broad benefits inside and outside of China." However, the CEO said it was "unclear" whether the company would or could release a search service in China.
"Should we have something to announce in the future, we would be more than happy to brief you and your staff on those plans," the letter concluded.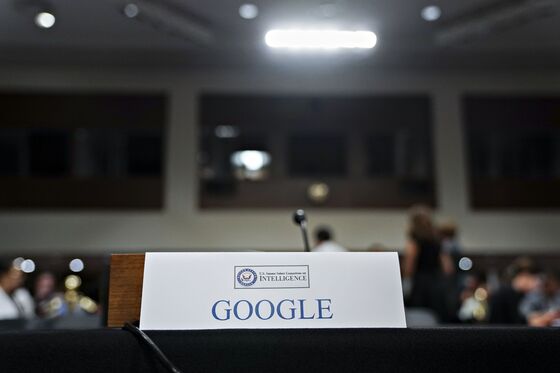 For Wednesday's hearings, the likely outcome of the sparring is a stalemate -- and Google testimony that no one will deliver. Lawmakers from both sides of the aisle have increased pressure on technology companies on Russian interference in the 2016 presidential campaign and other election meddling as well as issues including alleged anti-conservative bias and antitrust questions.
Google said in a statement that Walker will be in Washington on Wednesday, "where he will deliver written testimony, brief members of Congress on our work, and answer any questions they have."
"We had informed the Senate Intelligence Committee of this in late July and had understood that he would be an appropriate witness for this hearing," Google said.
In her prepared testimony for the Intelligence Committee, Sandberg highlighted efforts by Facebook to prevent election interference, including the use of artificial intelligence to detect "bad content" and "bad actors," removing fake accounts and implementing stricter policies for advertising.
"We were too slow to spot this and too slow to act," Sandberg said of Facebook's performance in 2016. "That's on us. This interference was completely unacceptable. It violated the values of our company and of the country we love."
On Tuesday, the Washington Post published a guest column by Facebook CEO Mark Zuckerberg in which he highlighted some of the same points as Sandberg's testimony and stressed cooperation with law enforcement and government. "It's an arms race, and it will take the combined forces of the U.S. private and public sectors to protect America's democracy from outside interference," he wrote.
In prepared testimony for a hearing later Wednesday of the House Energy and Commerce Committee, Twitter's Dorsey emphasized his company's role as a"global town square" and the importance of a diversity of voices.
"We know the way to earn more trust around how we make decisions on our platform is to be as transparent as possible," Dorsey said. He said the "Twitter platform itself does not take sides," even as President Donald Trump and some Republicans are asserting a bias against conservatives on social media platforms.
Dorsey said Twitter's data scientists did a study of all tweets sent by House and Senate members for the 30 days ending Aug. 13. While Democrats on average sent more tweets and had more active followers, after adjusting for that, he said, " a single tweet by a Republican will be viewed as many times as a single tweet by a Democrat, even after all filtering and algorithms have been applied by Twitter."
In Walker's testimony, the Google lawyer also focuses on security measures that the company rolled out in the past year, such as a tool to prevent email phishing scams and a program, from the Alphabet unit Jigsaw, to protect political campaigns from adversarial cyber-attacks.
Walker has assumed increasing responsibility at Google, where the lawyer oversees the company's sprawling legal and policy efforts. Earlier this summer, Google promoted Walker to oversee a larger portfolio, including the units that monitor security and abuse on its services, what Google calls "trust and safety."
Walker's ascent came under the tenure of CEO Pichai, who has focused more on Google products and shied away from addressing political issues. Eric Schmidt, Google's former CEO and chairman, was far more willing to be the company's political ambassador. He previously testified before the committee. Schmidt stepped down from his role as chair of Google parent Alphabet last year.
--With assistance from Selina Wang and Alyza Sebenius.
To contact the reporters on this story: Ben Brody in Washington at btenerellabr@bloomberg.net;Mark Bergen in San Francisco at mbergen10@bloomberg.net
To contact the editors responsible for this story: Sara Forden at sforden@bloomberg.net, Elizabeth Wasserman, Larry Liebert