France's Macron Wades Into the Swedish Election
France's Macron Says Putin's Dream Is 'Dismantling' of Europe
(Bloomberg) -- French President Emmanuel Macron weighed in on Sweden's looming election, condemning the nationalist candidate who threatens an upset in next weekend's vote.
"This person is not compliant with your story and your values," Macron told Sweden's SVT Television in an interview broadcast on Sunday.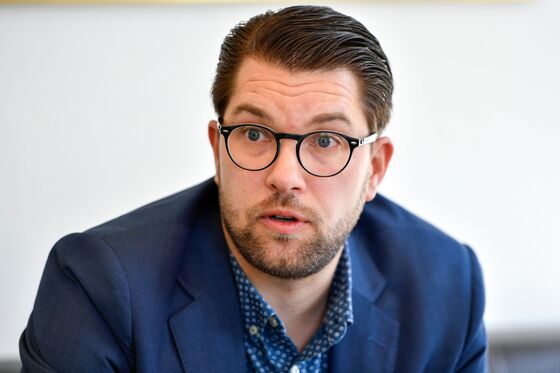 The 40-year-old French leader was referring to a statement by Sweden's nationalist figure and chief of the Sweden Democrats, Jimmie Akesson, who declined to differentiate between Macron and Russian President Vladimir Putin in an earlier radio interview.
Asked later to respond to Macron, Akesson said on Swedish Television program Agenda that Putin "is more or less a dictator," while Macron is an "EU federalist, who speaks badly about the nation state and everything I stand for."
Sweden's general election on Sept. 9 could rewrite the political rule book with the rise of the Sweden Democrats, a nationalist party with roots in the country's white supremacy movement. Despite having been ostracized by the mainstream parties, the group's message of halting immigration has resonated with voters after a record inflow of foreigners over the past few years.
"I think it's for your voters and your people to react to that. I think it says a lot," Macron said of Akesson's stance on Putin. The Swedish politician "doesn't know the right ranking of values and interests," Macron said.
The French president has fanned controversy by commenting on domestic politics before, most recently in Italy where he clashed with Deputy Prime Minister Matteo Salvini over the latter's anti-immigration stance. Macron is now focusing much of his attentions on next year's elections to the European Parliament, saying last week that Salvini and Hungarian Prime Minister Viktor Orban were right to see him as the main opponent in their bid to bring trigger a nationalist wave of support.
In his interview, Macron said that Putin's vision is to dismantle Europe, and that Sweden's eastern neighbor doesn't share the same human rights values as the rest of the Continent.
"I do respect Vladimir Putin and I am one of the leaders who says we need to construct a new security and defense architecture with Russia. We need this discussion with Russia," Macron said. "But Putin's dream is the dismantling of the European Union."
To contact the reporter on this story: Helene Fouquet in Paris at hfouquet1@bloomberg.net
To contact the editors responsible for this story: Alan Crawford at acrawford6@bloomberg.net, Hari Govind
Get Your
Daily Newsletter
Get market moving news, top news & compelling perspectives
---