Mueller Probe Shadows Kavanaugh as Democrats Press Questions
(Bloomberg) -- Special Counsel Robert Mueller's investigation will hang over next week's Senate hearing for Brett Kavanaugh, who may help decide the Russia probe's fate if he's confirmed to the U.S. Supreme Court.
Democrats, making a longshot bid to derail President Donald Trump's second nominee to the high court, say they will press Kavanaugh on writings and comments that hint at how he might rule on issues affecting Mueller's probe of interference in the 2016 election.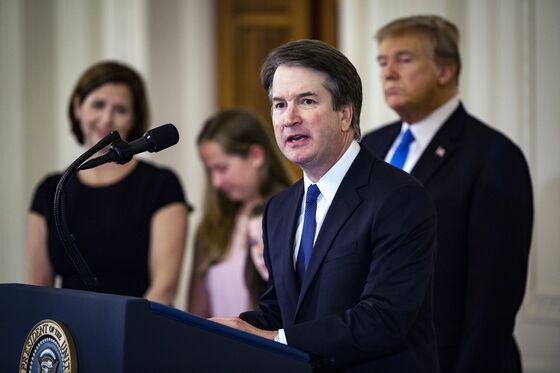 Those comments include doubts Kavanaugh once expressed about the 1974 Supreme Court decision that forced President Richard Nixon to turn over secret White House tape recordings. Kavanaugh has also called on Congress to pass legislation to shield sitting presidents from criminal investigations while in office.
Kavanaugh's Senate Judiciary Committee hearing, set to start Tuesday, comes as Mueller's investigation and a separate probe by federal prosecutors in New York put increasing pressure on Trump. On Aug. 21 prosecutors won the conviction of former Trump campaign chairman Paul Manafort on tax and bank-fraud charges and secured a guilty plea from the president's former personal lawyer, Michael Cohen.
The prospect that the Supreme Court might eventually rule on key issues in the investigation is putting the focus on Kavanaugh's extensive record, which in places can appear contradictory. Many Democrats say Kavanaugh's views on presidential investigations are grounds for opposing his confirmation.
"At this moment in our nation's history, the Senate should not confirm a man to the bench who believes that presidents are virtually beyond accountability, even in criminal cases," Senate Democratic leader Chuck Schumer of New York said on the Senate floor the day after the Manafort and Cohen developments.
Democrats, though, lack the votes to block Kavanaugh's confirmation without Republican defections in the Senate, which the GOP controls 50-49. Republicans want to confirm Kavanaugh before the new high court term begins Oct. 1. Kavanaugh worked as a lawyer in President George W. Bush's White House before becoming a federal appeals court judge in 2006.
Kavanaugh's questions about the Nixon tapes ruling came during a lawyer roundtable discussion almost two decades ago. The ruling, which led to Nixon's resignation to avoid impeachment, unanimously rejected his claim that executive privilege protected him from having to release the tapes to a special prosecutor.
"Maybe Nixon was wrongly decided -- heresy though it is to say so," Kavanaugh said in a discussion published by The Washington Lawyer in 1999. "Maybe the tension of the time led to an erroneous decision."
He offered a different perspective in a 2016 Catholic University Law Review article. He listed the Nixon ruling and three other decisions in saying that "some of the greatest moments in American judicial history have been when judges stood up to the other branches, were not cowed, and enforced the law."
Kavanaugh almost certainly will be asked to explain the apparent inconsistency.
"There are various ways by which these two sets of remarks could be reconciled," said Ilya Somin, a constitutional law professor at George Mason University's Scalia School of Law. "Or you could just say it's possible that he's changed his mind over time. The answer seems like it could be pretty important."
Kavanaugh will also face questions about a 2009 law review article in which he suggested Congress should insulate the president from criminal investigations while in office. The article didn't explicitly say whether, in the absence of action by Congress, a president would have to comply with a subpoena or submit to an interview with a prosecutor.
"What he advocated was that Congress pass laws," Somin said. "If Congress has to pass laws, that suggests that he doesn't necessarily believe that the Constitution by itself precludes such investigations."
Some Kavanaugh critics say they worry he would embrace what has become known as the "unitary executive theory," which in its most far-reaching form says that all executive branch power lies with the president.
That would meant the president "can't have committed obstruction of justice virtually no matter what he does," said Neil Kinkopf, a law professor at Georgia State University. "The implications for the Mueller probe are immediate and dramatic."
Others say there's no reason to think Kavanaugh would go that far. Ed Whelan, president of the conservative Ethics & Public Policy Center, said Kavanaugh's approach is "quite conventional," similar to views expressed by Democratic-appointed Justice Elena Kagan.
"It's an allegation that's obviously designed to link Kavanaugh to the problems that President Trump is facing," Whelan said. "But there's nothing in Kavanaugh's record and nothing in any supposed relationship between the White House and Kavanaugh that substantiates that."
To contact the reporter on this story: Greg Stohr in Washington at gstohr@bloomberg.net
To contact the editors responsible for this story: Joe Sobczyk at jsobczyk@bloomberg.net, Laurie Asséo, Justin Blum