Trump Doubles Down on Donald Trump: John Micklethwait
The president gives his presidency a grade of A-plus.
(Bloomberg) -- To the outside world, Donald Trump is in a bit of a bind.
Prosecutors are creeping closer, with his own lawyer, Michael Cohen, cooperating. It looks like the Republican president will lose control of the House to Democrats in midterm elections, potentially unleashing an impeachment effort. He's still losing staff -- this week, the White House counsel. His legislative agenda is stalled. And businesses are terrified by the prospect of a trade war, especially with an ever-more-powerful China.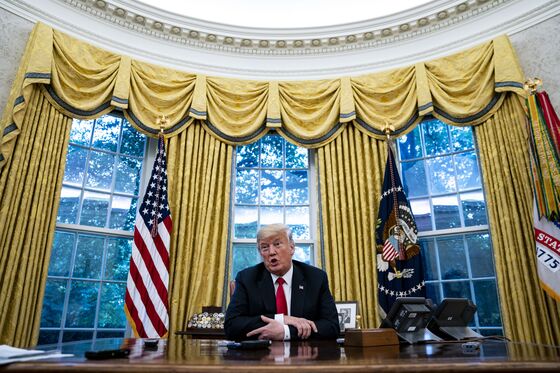 Surely it is only a matter of time before he must retreat.
The view of the man sitting behind the Resolute desk in the Oval Office could not be more different. The president of the United States awards himself an A-plus. He is presiding over an economic boom. The Robert Mueller investigation is "illegal," and impeachment isn't possible because they can't "impeach somebody that's doing a great job," he said Thursday in an interview with Bloomberg News. "The level of love" at his rallies "is just a beautiful thing to watch."
And replacing White House counsel Don McGahn? Not a problem. "I can tell you this: Everybody wants the job, everybody wants it."
Given his success, policy-wise, the only rational answer in Trump's eyes is more of the same. Take trade. In Trump's telling, Mexico has already been corralled into line; Canada is next. China will get whacked and whacked and give in, because the U.S. is stronger. And the Europeans -- "almost as bad as China, just smaller" -- are next: Their offer of zero tariffs on cars is "not good enough," Trump said.
From his perspective, far from blundering around the world with his wrecking ball, the president has been tolerant in the extreme.
"I have greater patience than any human being in the world," he said of his negotiations with North Korea. He delayed clobbering the Chinese with tariffs for a whole year, to see if they would mend their ways and help pressure Pyongyang to give up its nukes.
Various people have let him down -- Germany's Angela Merkel, Turkey's Recep Erdogan. He has kept on his attorney general, Jeff Sessions; Trump just wishes he'd do a better job, especially in pursuing the Democrats, who are far more in hock to Russia than anyone else, according to the president.
In a world where other countries are manipulating their currencies, the only currency that matters in Trump's world is the president's own approval. It is hardly surprising to him that almost all the Republicans he endorsed won their 2018 primaries. And his prescience stretches to his opponents: He saw the young socialist candidate in the Bronx, Alexandria Ocasio-Cortez, and immediately knew she would win.
His Helsinki summit with Vladimir Putin was a great success because he knows it was: Any other interpretation is fake news.
To Trump's critics, both at home and abroad, this is yet more evidence of a narcissist who has escaped from reality -- and will sooner or later face his comeuppance. That may indeed happen: There are plenty of elephant traps for Trump to fall into. But there are two reasons, too, why it may take a long time -- much longer than his opponents expect.
The first is that behind the braggadocio, there are real achievements that a half-fair critic must recognize. The economy is indeed close to a record run, and so is Wall Street. On trade, he is close to a new Nafta with both Mexico and Canada. In foreign policy, the parochial ingénue who was expected to focus on domestic concerns out of ignorance has become a figure of consequence. North Korea no longer publicly threatens the U.S. with destruction. Europe is spending more on defense. Many business people desperately hope that he will get China to open its markets.
Despite scandal and legal troubles, Trump's approval rating among Republicans is indeed high.
The second problem is that, regardless of whether Trump's view of the world is hokum, Trump plainly believes it -- and so he will keep doing more of it. China will get hit by tariffs on $200 billion worth of goods next week, and the Europeans will probably get their own medicine soon thereafter. The consequences may be benign, or foul. But this is a president who believes that the only way past his difficulties is to put his foot further down on the accelerator. He is a moving target for his critics.
In 1980, in the dark days of her prime ministership, with riots in the streets and a string of eminent economists and even a substantial portion of her own cabinet calling on her to change course, Margaret Thatcher issued the following riposte: "To those waiting with bated breath for that favorite media catchphrase, the U-turn, I have only one thing to say. You turn if you want to. The lady's not for turning."
Thatcher would be horrified by much of what the U.S. president is doing -- from his trade war to his shenanigans with Stormy Daniels. But the sentiment is the same. This president is not for turning.
--With assistance from Margaret Talev and Jennifer Jacobs.
To contact the reporter on this story: John Micklethwait in Washington at micklethwait@bloomberg.net
To contact the editors responsible for this story: Alex Wayne at awayne3@bloomberg.net, Kevin Whitelaw
Get Your
Daily Newsletter
Get market moving news, top news & compelling perspectives
---