Turkish Lira Whipsaws as Traders Return From Holiday Break
The currency dropped as low as 6.0375 per dollar in early Asian trading on renewed concern the nation's economy will worsen
(Bloomberg) -- Turkey's lira whipsawed before rebounding against the dollar on Monday, shattering last week's relative calm when local markets were shut for holidays.
The currency dropped as low as 6.0375 per dollar in early Asian trading on renewed concern the nation's economy will worsen amid a feud with the U.S. and a deepening current-account deficit. The lira then reversed its losses to trade 0.4 percent higher against the greenback as at 7.43 a.m. in Sydney. The currency has slumped slumped 18 percent in August.
"We do not think that Turkey is out of the woods yet," Jose Wynne, a portfolio manager at hedge fund Man GLG, wrote last week in a note to clients. The bounce in the nation's assets from the nadir on Aug. 13 was "mostly driven by an engineered technical squeeze in the Turkish lira as opposed to fundamental developments," he said.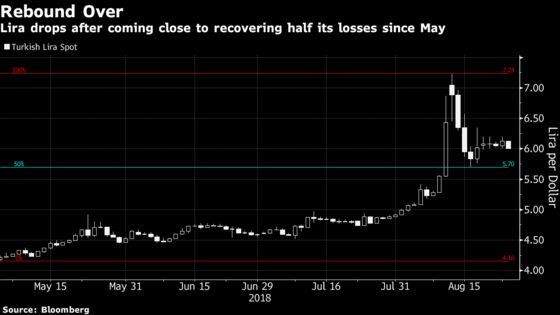 The lira has been the whipping boy of investors dismayed over the local economy and sanctions imposed by the U.S. following the imprisonment of an American pastor. While the central bank has raised interest rates by 5 percentage points since April to stabilize markets, it may need to boost them a lot further to stem the rout, according to Societe Generale SA.
The turmoil is part of an "explicit economic attack" by Washington, according to the government of President Recep Tayyip Erdogan, which has resisted pressure to keep raising borrowing costs in order to support economic growth.
Turkey's 10-year bond yields climbed to a record 21.5 percent earlier this month as investors dumped the nation's debt. Five-year credit-default swaps -- the cost to insure the bonds against default -- surged to 573 basis points before dropping to 477 basis points on Friday, CMA data showed.
To contact the reporters on this story: Ruth Carson in Sydney at rliew6@bloomberg.net;Michael G. Wilson in Sydney at mwilson176@bloomberg.net
To contact the editors responsible for this story: Tan Hwee Ann at hatan@bloomberg.net, Bob Brennan, Daniel Taub