The Complex Calculations Behind Merkel's ECB Strategy
The Complex Calculations Behind Angela Merkel's ECB Strategy
(Bloomberg) -- The biggest barrier to Jens Weidmann's candidacy for the European Central Bank has a name: Manfred Weber.
Weber, a Bavarian who leads the largest bloc in the European Parliament, is said to be preparing a bid to replace Jean-Claude Juncker when he stands down as European Commission president next fall. The problem for Weidmann, the current Bundesbank chief, is that convention dictates Germans can't occupy two of Europe's most senior posts at the same time.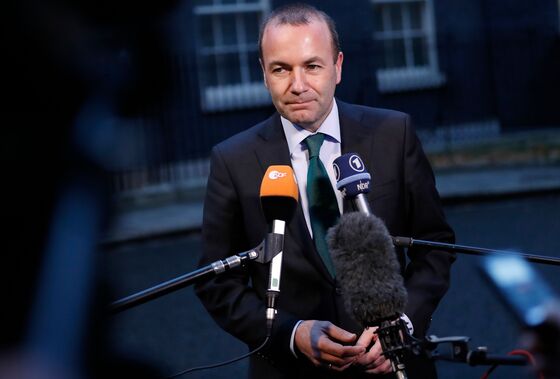 Chancellor Angela Merkel has concluded it's more useful to Germany to secure the commission post than the top ECB job, according to people familiar with her thinking, confirming a report in Handelsblatt on Wednesday.
Yet Weber, a member of Merkel's Bavarian sister party, isn't a shoo-in, according to the people, who asked not to be identified discussing internal party deliberations. Some in her Christian Democratic Union favor Peter Altmaier, a Merkel confidant who is Germany's economy minister.
It's a sign that jockeying by the European Union's governments, its political factions and Europe's leaders is heating up. Their choices will influence the EU's course for years to come on everything from monetary policy to how it deals with populist challengers.
In fact, Germany's shift away from Weidmann was under way six months ago, according to the people. It's coming to the fore now because the selection of candidates to head the commission opens in early September, one of them said.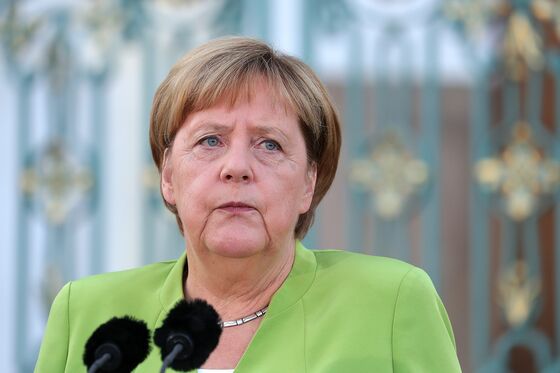 Merkel, asked about the race on Thursday, framed her reply in the context of whom the European People's Party, the umbrella body which includes her CDU, will nominate as its candidate for commission president. That post and the ECB presidency are up for grabs in the fall of 2019, after elections to the European Parliament in May.
"The discussion about upcoming personnel decisions in connection with the European Parliament election is slowly starting now," Merkel said in Tbilisi. "There's been no decision whatsoever, and the post of European Central Bank president comes up only much later."
Merkel has reason to hedge her bets: she and her Bavarian allies are fresh from a clash over migration that led to a coalition rift in June. While Weber and Altmaier are broadly pro-European, they've differed in tone on refugee policy and come from opposite sides of the recently patched-up divide.
Weber, 46, declined to comment when asked about his ambitions. He signaled a possible bid last week, telling the Welt am Sonntag newspaper that "I'll be giving some thought to whether I throw my hat into the ring." Altmaier, 60, who once worked for the European Commission in Brussels, hasn't commented publicly.
The European People's Party is likely to need the support of liberal parties to install the next European Commission head. If the math doesn't come together, Germany might shift its sights back to Weidmann and the top ECB post, one of the people said.
The commission, the EU's executive body, is responsible for policies from trade and energy to regulation on behalf of the bloc's 500 million people. As populists including Steve Bannon seek to turn the European election into a populist beachhead, the calculation in Berlin may be that having a German in charge at a time of disruption ranging from U.S. protectionism to Russian aggression outweighs the ECB chief's powers.
According to one of the people familiar with the government's thinking, it might be better for Germany if a non-German takes over at the ECB but pursues the same policy. That could indicate a fellow northern European. Finland's Erkki Liikanen or Olli Rehn, Estonia's Ardo Hansson, and Klaas Knot of the Netherlands are among the names mentioned by economists.
If Merkel holds back, French President Emmanuel Macron might gain more room to push candidates from his country, such as Bank of France Governor Francois Villeroy de Galhau or ECB Executive Board member Benoit Coeure.
Weidmann, who was formerly Merkel's chief economic adviser, "ticks all the boxes" -- except that he's German and has opposed the ECB's asset-buying program, Carsten Brzeski, chief economist at ING Diba in Frankfurt, told Bloomberg Television. As a result, his candidacy would run into "much opposition from the southern European countries."
In a coalition with the liberal Free Democrats, Merkel might have come under more pressure to champion Weidmann for the ECB. But in her current tie-up with the Social Democrats, the chancellor "has less interest in getting this grand prize," said Brzeski.
"This is why the presidency of the European commission entered the game," he said.
--With assistance from Matthew Miller and Arne Delfs.
To contact the reporter on this story: Birgit Jennen in Berlin at bjennen1@bloomberg.net
To contact the editors responsible for this story: Alan Crawford at acrawford6@bloomberg.net, Tony Czuczka
Get Your
Daily Newsletter
Get market moving news, top news & compelling perspectives
---