Trump Complains Powell Hasn't Been Cheap-Money Fed Chair
The Federal Reserve has raised rates five times since Trump took office, including twice this year under Powell, and Trump is sad.
(Bloomberg) -- President Donald Trump said he expected Jerome Powell to be a cheap-money Fed chairman and lamented to wealthy Republican donors at a Hamptons fundraiser on Friday that his nominee instead had raised interest rates, according to three people present.
The Federal Reserve has raised rates five times since Trump took office, including twice this year under Powell. The president nominates the Fed's chairman and other governors in Washington, but the agency is independent and has historically frustrated presidents by raising borrowing costs without regard for politics.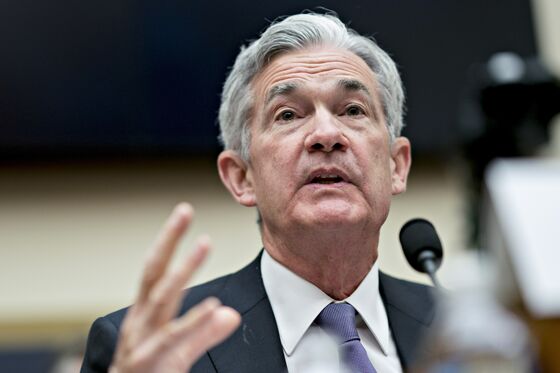 The private remarks to donors are the most personal criticism of Powell's performance to emerge so far. The people who described the comments asked not to be identified because the fundraiser was closed to the public.
The dollar, as measured by the Bloomberg Dollar Spot Index, weakened. Trump repeated the criticism on Monday in an interview with Reuters, asserting that other countries have been helped by their central banks' actions during trade disputes with the U.S.
"During this period of time I should be given some help by the Fed. The other countries are accommodated," he told the news service. He said he would keep up his criticism of the central bank if it continued to raise rates.
He also accused China and the European Union of manipulating their currencies as he tries to wrestle concessions from two of the U.S.'s largest trade partners. The euro led gains against the dollar among the Group-of-10 currencies, with traders saying funds were forced to cover short positions in Asia trading.
"I think China's manipulating their currency, absolutely. And I think the euro is being manipulated also," Trump said in the interview with Reuters.
The president's accusation, presented without explanation or substantiation in the Reuters report, conflicts with the findings of his own administration. The Treasury Department in April stopped short of naming China, the EU or any other country as a currency manipulator in a semi-annual report on foreign-exchange policy. The U.S. hasn't officially accused another country of currency manipulation since 1994.
Trump's jabs at the fundraiser built on an attack he leveled at Powell's Fed in July, when he pronounced himself "not thrilled" with the rate increases. That broadside, in an interview with CNBC, broke with a more than two-decade-old norm of presidents avoiding comments on monetary policy out of respect for the Fed's independence.
Even as Trump complains, the Fed is moving more slowly to raise interest rates than it has in previous economic expansions. Rates are low by historical standards given an unemployment rate below 4 percent and, in recent months, accelerating economic growth.
Powell and his colleagues have justified a cautious approach toward increasing rates by pointing to sluggish inflation, which has shown few signs of jumping significantly past the Fed's 2 percent target.
The Fed last raised rates in June, to a target range of 1.75 percent to 2 percent. That's seen by most economists as below the so-called neutral rate of interest by about 1 percentage point, meaning the Fed is still adding fuel to U.S. growth rather than restraining the economy.
The Fed has penciled in two more interest rate increases this year, according to projections it updated in June. Investors see a 90 percent chance that the Fed will raise rates at its September meeting.
White House spokesman Hogan Gidley and Federal Reserve spokesman David Skidmore declined to comment.
About 60 people attended Trump's fundraiser at the Southampton home of Howard Lorber, the chairman of hot dog company Nathan's Famous. Guests included Chicago Cubs co-owner Todd Ricketts; John Catsimatidis Jr., the son of Red Apple Group Chairman John Catsimatidis; Republican National Committee Chairwoman Ronna Romney McDaniel; Commerce Secretary Wilbur Ross; Treasury Secretary Steven Mnuchin; White House Chief of Staff John Kelly; and senior White House aides Jared Kushner and Dan Scavino.
Trump held a discussion with a small group and then made remarks to a larger audience over a dinner of salad with chicken in a tent in Lorber's yard. It was a humid night and Trump joked that Lorber could have afforded better air conditioning, according to one of the people.
An RNC spokeswoman said the event raised about $3 million for the Trump Victory Committee, which benefits both the president's campaign and the Republican Party.
--With assistance from Christopher Condon, Jennifer Epstein and Tan Hwee Ann.
To contact the reporters on this story: Jennifer Jacobs in Washington at jjacobs68@bloomberg.net;Saleha Mohsin in Washington at smohsin2@bloomberg.net
To contact the editors responsible for this story: Alex Wayne at awayne3@bloomberg.net, ;Malcolm Scott at mscott23@bloomberg.net, Bill Faries
Get Your
Daily Newsletter
Get market moving news, top news & compelling perspectives
---