Bridge Disaster - Italy's Moment of Truth
Bridge Disaster - Italy's Moment of Truth
The tragedy of modern Italy, so beautiful yet so decrepit, can be told through its bridges.
Italians love to point to the Romans as the first engineers – the country boasts some of the world's oldest viaducts. It's a source of national pride that blinded the nation to the reality of today, where decades of neglect led to a moment of reckoning.
The collapse of the Morandi bridge in Genoa, leaving 43 dead, was followed by the usual mud-slinging, including within a tenuous ruling coalition and more importantly, to soul-searching. Meant to last 100 years, the bridge was hated more than loved – everyone who crossed it felt unsafe.
The foundations of the bridge had always been shoddy. Poor materials were used and there are whispers of mob involvement. Built during a construction boom, it required constant fixes but none worked. In their anger, Italians look for someone to blame, be it the Benetton billionaires or governments past or present. In fact, it was a collective failure.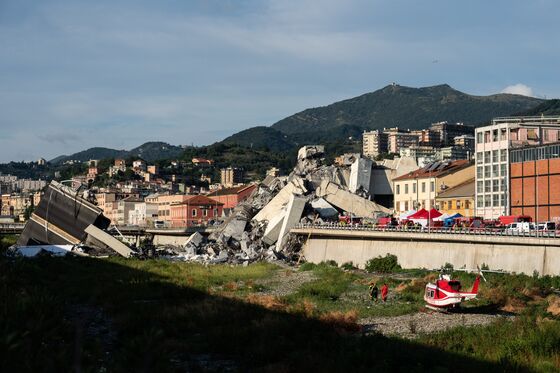 Sounding the alarm | More than 90 percent of business economists said in a new survey that tariffs imposed by Donald Trump's administration are having "unfavorable consequential impacts" on the U.S. economy. The report comes ahead of the Federal Reserve's annual policy symposium in Jackson Hole, Wyoming, and a frenzy of testimony over Trump's levies on Chinese goods. Beijing is preparing to send officials to the U.S. to try to restart talks.
Venezuela's mega-devaluation | Nicolas Maduro carried out one of the greatest currency devaluations in history over the weekend – a 95 percent plunge that will test the capacity of an already beleaguered population to stomach even more pain. Pressure is mounting on the president to right the ship as calls for his overthrow grow six years after he took over for the late Hugo Chavez.
Power outage | Australian Prime Minister Malcolm Turnbull's government tumbled in an opinion poll, sending him scrambling to revamp a divisive energy plan amid rising speculation about a possible challenge to his leadership before next year's elections. Turnbull has been urged by some lawmakers to abandon Australia's Paris Agreement emissions target and boost support for the coal industry – infighting that threatens to stoke political chaos.
Uneasy liaison | Seoul's plan to open a liaison office in North Korea this month is highlighting differences with Washington over the speed of rapprochement with Pyongyang. The bureau is among the new initiatives supported by South Korean leader Moon Jae-in, who is working to build on his historic April meeting with Kim Jong Un. But it might also violate United Nations and U.S. sanctions, South Korea's Choson newspaper reported today.
"Truth isn't truth" | Trump's lawyer Rudy Giuliani made the comment yesterday when discussing why he doesn't think it's a good idea to allow the president to sit for an interview with Special Counsel Robert Mueller in the probe into election meddling by Russia. It provided instant fodder for Trump's detractors ahead of a critical week that could bring a verdict in the trial of his former campaign chairman, Paul Manafort.
And finally … Mahathir Mohamad's trip to Beijing was supposed to be all about mending fences after he bashed China on his way to winning Malaysia's election in May. Yet the 93-year-old prime minister threw a curveball after Premier Li Keqiang asked for his view on trade during a joint press appearance. Instead of the usual platitudes about the need to fight protectionism, Mahathir warned of a "new version of colonialism" if poor countries can't compete with the rich – a criticism that resonates throughout Asia, and which China has sought to counter.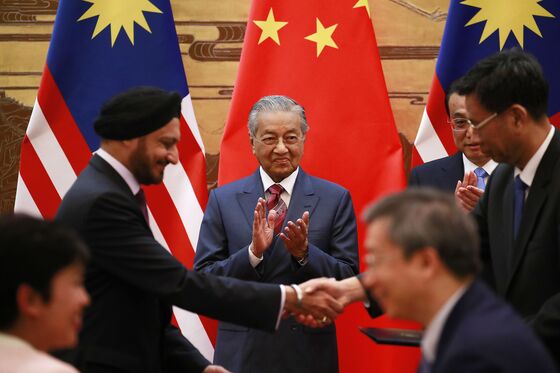 --With assistance from Karen Leigh and Daniel Ten Kate.
To contact the editor responsible for this story: Karl Maier at kmaier2@bloomberg.net