Turkish Lira Jumps as Regulator Curbs Bank Swap Transactions
(Bloomberg) -- The Turkish lira rallied after the nation's banking regulator limited lenders' swap transactions, a move that is likely to deter short-selling in the battered currency.
The Banking Regulation and Supervision Agency, or BDDK as it is known in Turkey, cut the limit on lenders' swap and swap-like transactions to 25 percent of shareholder equity, from 50 percent. That follows a series of steps by Turkish authorities to stem a slide in the currency to a record low on Monday.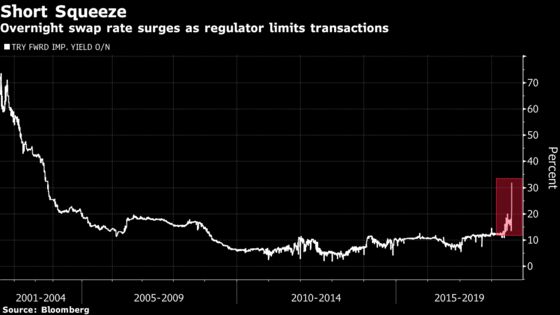 The latest move limits funds' access to lira liquidity in the offshore swap market and makes it harder for them to borrow the currency from local lenders and short it. The rate on overnight dollar-lira swaps surged more than 12 percentage points to 34.5 percent, the highest level since 2003.
"They are killing offshore lira liquidity to stop foreigners shorting the lira," said Timothy Ash, a strategist at BlueBay Asset Management in London.
The currency jumped as much as 7.3 percent to 5.8828 per dollar, adding to a rally on Tuesday to curb this month's losses to around 20 percent. Turkey's 10-year bond yield slid 52 basis points to 20.85 percent.
On Monday, the central bank lowered the amount commercial lenders must park with the regulator and eased rules that govern how they manage their lira and foreign-currency liquidity.
To contact the reporter on this story: Constantine Courcoulas in Istanbul at ccourcoulas1@bloomberg.net
To contact the editors responsible for this story: Ven Ram at vram1@bloomberg.net, Neil Chatterjee, Scott Hamilton