Erdogan Stays Defiant as Turkey Slips Toward Financial Crisis
As Turkey crisis deepens, bankers are set to review the impact of shocks.
(Bloomberg) -- Turkish President Recep Tayyip Erdogan is showing no signs of backing down in a standoff with the U.S. that rattled markets. As investors worry about Turkey sliding toward a full-blown financial crisis, the big question now is how far the pain may spread.
"I call out to those in the United States. It is a shame. You are trading a strategic NATO ally for a pastor," Erdogan said Saturday during a rally in the Black Sea port of Ordu, referring to the U.S. decision to sanction Turkey for its imprisonment of an American priest. "You cannot tame our people with threats."
A plunge in the lira on Friday sent tremors through global markets as tensions flared between the NATO allies. At one point, the currency fell as much as 17 percent against the dollar, fanning fears that the financial tumult could infect Europe and faraway emerging markets.
As investors brace for the currency to start trading again in Asia, all eyes will remain on Erdogan on Sunday after he gave a series of defiant speeches over the last two days. The next stop on his post-election tour of the country is Trabzon, according to state-run Anadolu Agency, where he is likely to speak.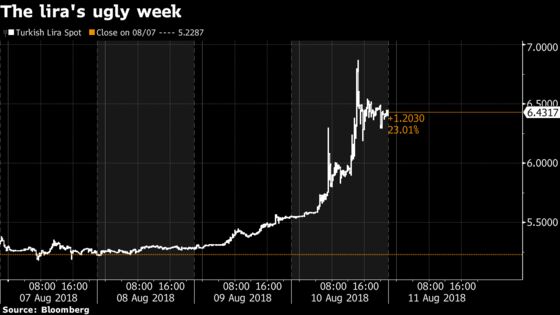 The most immediate issue for Turkish policy makers is the financial system, which is exposed to interest- and exchange-rate shocks. Four people with knowledge of the matter said the banking regulator had scheduled calls with some banks on Saturday after asking them to study the potential impact. The regulator, known as BDDK in Turkish, said there was no meeting scheduled for Saturday and that the reviews were routine.
"This is a textbook currency crisis that's morphing into a debt and liquidity crisis due to policy mistakes," said Win Thin, a strategist at Brown Brothers Harriman & Co. in New York. "The way things are going, markets need to be prepared for a hard landing in the economy, corporate defaults on foreign currency debt, and possible bank failures."
While the trigger for the stunning debacle was new U.S. sanctions on Turkey, many investors say the $900 billion economy was already headed toward a cliff. Years of a growth-at-all-costs policy bias have left its companies saddled with hundreds of billions of dollars in foreign debt, runaway inflation and one of the world's largest current-account deficits.
The knock-on was instant. With the turmoil in Turkey fueling contagion fears, investors shunned riskier assets and sought safety in developed nations' bonds. Treasuries and bunds rallied. South Africa's rand, the Argentine peso and global stocks fell. The euro sank as much as 1.2 percent to the weakest in a year against the U.S. dollar amid concern about European exposure to Turkish banks.
Interest rates are a "tool of exploitation," Erdogan said in a second speech on Saturday in Rize. "We are aware that the issue is not the dollar, euro, gold ... These are the bullets, cannon balls, missiles of the war started against us."
Investors worry that Erdogan is standing in the way of interest-rate hikes needed to stabilize the currency and some are now saying that only extreme measures could bring Turkey back from the abyss. Previously taboo topics like an international bailout or the imposition of capital controls are now being discussed in Turkish and international financial circles.
There were signs of alarm among Turkish citizens. Visits to three different bank branches in Istanbul on Friday indicated that requests for foreign-currency withdrawals had increased. It's not unusual for branches not to have enough foreign exchange on hand for large withdrawals, and tellers at the branches said they were awaiting cash to be delivered from headquarters to meet demand.
If they were intended to calm markets, speeches on Friday by President Erdogan and another by his son-in-law, the newly appointed economic czar, had the opposite effect. Erdogan was defiant about resisting what he calls a financial attack and requested that citizens exchange their dollars and euros for liras instead. Berat Albayrak, the minister, gave a presentation largely devoid of figures or specifics.
In the wake of the U.S. doubling tariffs on Turkish steel and aluminum on Friday, Erdogan wrote a New York Times op-ed cataloging his grievances and threatening to walk away from their decades-old alliance. "Failure to reverse this trend of unilateralism and disrespect will require us to start looking for new friends and allies," he wrote.
Ibrahim Kalin, Erdogan's spokesman, tweeted on Saturday that the U.S. is "facing the risk of completely losing Turkey."
The financial turmoil is showing signs of spilling over into the rest of the economy. Turkey's private companies have borrowed heavily in foreign currencies and now sit on a pile of debt equivalent to about 40 percent of yearly economic output. Over the past year, several of the nation's largest and most respected conglomerates have requested restructurings of billions of dollars in foreign debt, and more are sure to follow.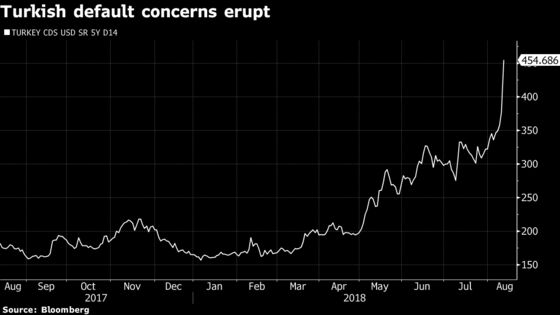 "The key to any hope of Turkish stability is the ability for banks to roll over syndicated loans," said Paul McNamara, a money manager at GAM UK in London. "So far, that's been absolutely fine."
Still, banking shares slid 6.4 percent on the Turkish stock exchange on Friday, bringing their decline this year to 37 percent. Investors are now betting that they'll be hit by a toxic cocktail of slowing growth, rising bad loans and markedly higher interest rates.
Investors now believe that Turkey's central bank will have to flout Erdogan's desires and announce a significant increase to its benchmark 17.75 percent benchmark rate just to stop the currency's free-fall as it touches levels that had been unimaginable even a month ago.
"Seems like a complete crash, so they need to act now," said Morten Lund, a strategist at Nordea Bank AB in Copenhagen. "The lira will keep falling if they don't hike rates."
On the U.S. side, Trump tweeted his analysis of the situation after new tariffs on steel and aluminum were announced: "Our relations with Turkey are not good at this time!"