Italy Builds Defenses Against Speculators Amid Budget Talks
Italy Is Building Defenses Against Speculators Amid Budget Talks
07 Aug 2018, 11:00 AM IST
(Bloomberg) -- Matteo Salvini's message: investors are welcome in Italy but speculators better take a hike.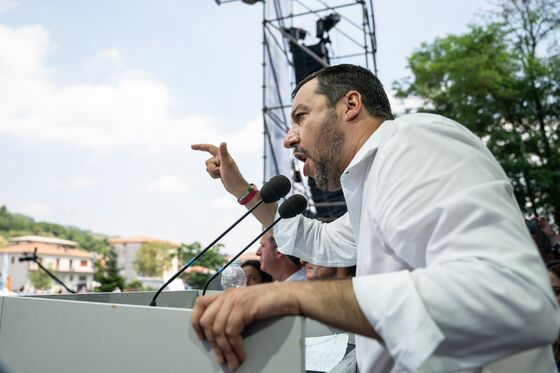 "The Italian economy is sound, so we will block" speculative attempts to influence growth trends, the country's outspoken deputy premier said in an interview with newspapers including La Repubblica and La Stampa, without elaborating further. The next budget law will include measures aimed at easing fiscal pressure, which will attract foreign investments, Salvini said.
Italian bonds dropped last week, with 10-year yields touching their highest level in more than a month on Friday on concerns that the government may boost spending. That would put Premier Giuseppe Conte's cabinet on a collision course with European Union partners.
Budget talks began in Rome Friday and a follow-up meeting is set for Aug. 8, according to La Repubblica. The government is expected to set new public-finance targets by Sept. 30, and to submit a draft budget to the EU for review by Oct. 15.
Discussions will be key to gauging whether Finance Minister Giovanni Tria -- a university professor with no previous political experience -- will be able to withstand pressure from Conte's political sponsors to deliver on electoral promises.
While Tria has pledged to keep the deficit within the EU's limit of 3 percent of gross domestic product, Salvini said the government will try to live within the rule even though it "is not the Bible."
In an interview published Monday, Infrastructure Undersecretary Armando Siri said "if we go to Brussels with a strong plan for growth, I'm convinced we'd have the support of our partners" within the European Union.
"It's in their interest to have a strong Italy that is growing," Siri told the newspaper La Stampa.
Italian news media reported there were growing tensions within the two-party coalition over construction of a major gas pipeline and a high-speed rail connection to France. Deputy Premier Luigi Di Maio later said on a TV program he is "very confident" of finding a solution.
The FTSE MIB benchmark stock index was up 0.2 percent at 9:11 a.m. in Milan while the yield on Italy's 10-year bonds fell slightly to 2.91 percent.
The coalition has advocated populist economic policies that could cost more than 100 billion euros ($116 billion). Budget limits may force the government to exclude some of the planned measures, creating internal tensions over the allocation of resources. While the Five Star movement's priority is a citizen income aimed at helping the poor, the League wants a flat tax and limits on immigration.
Cabinet Undersecretary Giancarlo Giorgetti, a representative of the League who was at the Friday meeting, said in an interview with Italian daily La Stampa published Saturday that he is confident that both a flat tax and a citizen income will be included in the law.
The two measures will be developed in accordance with budget-balance rules and common sense, he said. The government won't choose only one of the two, he was cited as saying: "Both or nothing."
The outcome of Friday's meeting confirms that the government's spending plans are "compatible" with current budget targets, according to Tria.
--With assistance from Maria Ermakova and Ross Larsen.
To contact the reporters on this story: Sonia Sirletti in Milan at ssirletti@bloomberg.net;Kevin Costelloe in Rome at kcostelloe@bloomberg.net;Chiara Albanese in Rome at calbanese10@bloomberg.net
To contact the editors responsible for this story: Fergal O'Brien at fobrien@bloomberg.net, ;Dale Crofts at dcrofts@bloomberg.net, Jana Randow, Keith Jenkins
Get Your
Daily Newsletter
Get market moving news, top news & compelling perspectives
---