Turkey on Trump Blacklist as Sanctions Spell Trouble for Economy
President Recep Tayyip Erdogan urged the public to deploy all that money in defense of the country.
(Bloomberg) -- "Under the pillow.'' That's where Turks can find the weapons to fight back against American sanctions, according to their president.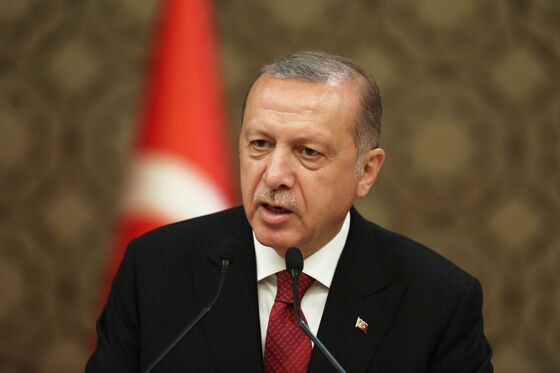 The local idiom describes where Turkish savers supposedly stash their foreign currency. On Friday, two days after the U.S. imposed unprecedented penalties on its NATO ally, President Recep Tayyip Erdogan urged the public to deploy all that money in defense of the country.
"Bring out the dollars, the euros and the gold,'' he said. "Turn them into liras. Show your local and national resistance against the entire world.''
Erdogan knows where his economy, heavily reliant on foreign financing, is most vulnerable. But it's not clear what he can do to shield it from the wrath of Donald Trump.
Enraged by Turkey's detention of an American pastor on terrorism and espionage charges, the U.S. president imposed sanctions Wednesday on two of Erdogan's cabinet ministers. Even that largely symbolic step was enough to send investors fleeing for the exit. There's a widespread expectation that tougher measures are on the way. On Saturday, Turkey responded by freezing the assets of two U.S. cabinet secretaries.
It's all happening to an economy that was already in the high-risk category, after running hot for years. The lira had plunged more than 20 percent even before Trump's sanctions. Companies that gorged on dollar borrowing are struggling to repay their debts. Inflation is getting out of control.
"The country is now firmly stuck in a vicious cycle"

Ziad Daoud, chief Middle East economist, Bloomberg Economics
Absent a diplomatic breakthrough that results in the release of pastor Andrew Brunson, analysts expect further American actions that could impose more direct economic costs.
The U.S. could follow the pattern it applied in Russia, and blacklist "major industrialists who are supporting Erdogan,'' according to Richard Nephew, an expert on energy sanctions at Columbia University in New York.
Likely targets would include some of the builders of Erdogan's "crazy projects'' -– more than $200 billion of investment in airports, bridges and a new shipping canal, which the president is relying on to sustain growth. They could find themselves frozen out of international markets.
Turkey's plan to buy missile-defense systems from Russia is set to incur a separate raft of American sanctions. Then there's state-owned lender Halkbank, which faces penalties after one of its executives was jailed in the U.S. for busting Iran sanctions.
"A fine in line with previous violations could be billions of dollars,'' enough to trigger a run on the lira, said Max Hoffman, an associate director at the Center for American Progress.
In other circumstances, "the Turkish government likely would have swallowed its pride and paid the fine, to maintain access to U.S. financial markets,'' he said. "In the context of the Brunson sanctions, that calculus may change.''
Erdogan and his ministers insist they'll never bow to Trump's pressure. In a speech Saturday in Ankara, Erdogan said that he gave instructions to freeze all assets of the U.S. justice and interior ministers in Turkey, "if they have any." Turkey's Ministry of the Interior is responsible for protection of the homeland and public order. The U.S. equivalent is the Department of Homeland Security.
In the same speech, he urged the U.S. not to lets its political issues infect the economy. "We do not want to play a lose-lose game. To extend political and judicial issues to the economic dimension damages both sides," Erdogan said after calling the U.S. sanctions "absurd." A few hours earlier, U.S. Secretary of State Michael Pompeo had said he's hopeful that Turkey will release Brunson in the coming days.
"The real danger lies in the mentality of both leaders, who have strongman tendencies,'' said Brian O'Toole, a nonresident senior fellow at the Atlantic Council in Washington. "Belligerent actions by one could quickly escalate with the other.''
Watching nervously for signs of escalation will be Turkey's central bank. Governor Murat Cetinkaya has already delivered 500 basis points of tightening this year to shore up the lira. But he shocked investors last month by deciding no further hikes were needed.
Erdogan, who vowed to take more direct control over monetary policy after his re-election in June, is a fierce opponent of high rates. But with the American sanctions, "the lira is likely to fall further, strengthening the case for interest-rate hikes,'' according to Jason Tuvey, an economist at Capital Economics in London. "Given the context of Turkey's large current-account deficit and dependence on foreign capital inflows, there is a real risk of more severe macro stress.''
Consumers wouldn't be the only casualty of a disorderly depreciation. Several major industrial groups have already applied to restructure debt worth tens of billions of dollars, prompting banks to come up with a rulebook for similar requests in the future.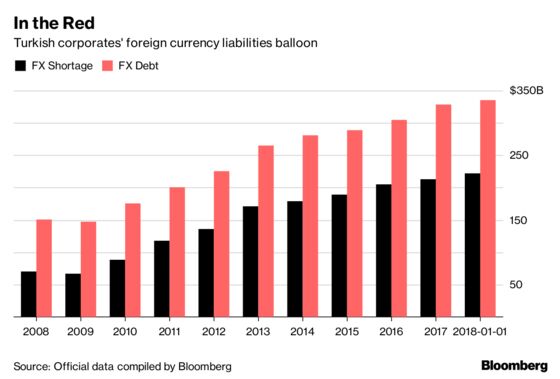 Turkish banks themselves have about $100 billion of foreign debt coming due in the next 12 months, according to Inan Demir, an economist at Nomura International in London. They'd normally be expected to roll those obligations over, he said. But in a scenario where Halkbank gets a massive fine, and the government resists paying it, "the rollover ratio will be much lower.''
America's ability to inflict more economic pain is so evident, and Erdogan's domestic position is so secure, that the Turkish leader may prefer to back down, according to the CAP's Hoffman. "It's very possible he will try to make a quiet deal, in which he promises to release Brunson at the next hearing in exchange for relief from further sanctions,'' he said.
Nomura's Demir said it may be too late. Sanctions imposed by the U.S. last week were at the mild end of the spectrum -- but still, in the market's view, "a critical threshold was passed.'' And even if there's no further diplomatic deterioration, the lira's current level and the balance-sheet problems it creates could keep investors away.
It's "not a foregone conclusion" that Turkey's market woes will morph into an economic crisis, he said. But it's "a big risk.''
To contact the reporter on this story: Onur Ant in Ankara at oant@bloomberg.net
To contact the editors responsible for this story: Benjamin Harvey at bharvey11@bloomberg.net, Ben Holland, Sarah McGregor