Manafort Sure Spent Money But Were Those His Offshore Accounts?
(Bloomberg) -- Jurors in the Paul Manafort fraud trial may have come away from the first week of testimony with a vivid impression of him as a man who spent vast sums on luxurious houses, landscaping, and clothes, and who gave lenders phony documents as he grew desperate for cash.
But prosecutors for Special Counsel Robert Mueller, who charged Manafort with bank and tax fraud, hadn't provided much direct evidence through Friday to back their claims that he controlled the foreign shell companies that funded those purchases. Prosecutors accused Manafort, President Donald Trump's former campaign manager, of failing to report those accounts on his tax returns or file required reports with the U.S. Treasury Department.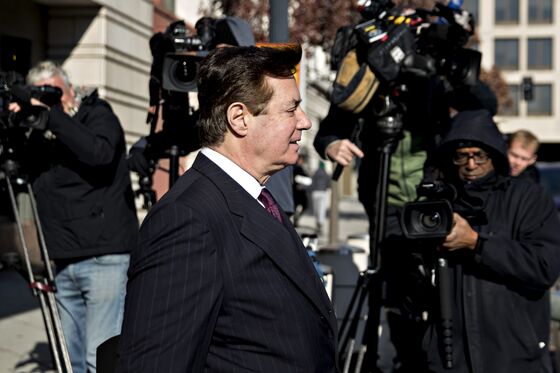 When testimony resumes next week, Manafort's lawyers will get a chance to deliver on their promise to show that his former right-hand man, Rick Gates, was the true criminal. Gates pleaded guilty and is expected to be Mueller's star witness. Jurors heard about Gates on Friday from Cynthia Laporta, an accountant who testified under an immunity grant.
She said she knew that Gates was using phony backdated loan documents to help his boss lower his taxes and borrow from banks as his financial strength eroded. Many of those machinations took place in 2016, when Manafort was Trump's campaign manager. Laporta said she created a $900,000 loan that disguised income in that amount and helped Manafort save up to $500,000 in taxes.
"I had a couple of choices,'' Laporta told jurors in federal court in Alexandria, Virginia. "I could have refused to file'' the tax return, potentially exposing her accounting firm to the risk of litigation. Or, she could have called Manafort and Gates liars, she said. But "Mr. Manafort was a longtime client of the firm and I didn't think I should do that either. I very much regret it."
In several instances, Laporta said she put up little resistance to documents she admitted were phony and were intended to help Manafort lower his taxes or obtain loans. She could get battered on cross-examination, and she's not alone. Prosecutors have said four other professionals who helped Manafort with his finances may testify with immunity grants.
But the trial's highlight will be Gates's testimony. He spent a decade with Manafort at his political consulting firm in Ukraine and followed him to the Trump campaign. Prosecutors said Manafort made $60 million as a political consultant in Ukraine from 2010 to 2014, and Gates helped him hide much of that income from the Internal Revenue Service through accounts in Cyprus and other tax havens.
In his opening statement, Manafort's attorney Thomas Zehnle cast Gates as the true villain, a man who stole money and dealt with the accountants and bookkeepers while Manafort was plying his trade around the world.
"The problem was Rick Gates was not giving these professionals the full story,'' Zehnle said. "Rick Gates had his hand in the cookie jar and he couldn't take a chance that his boss might find out. So if he told the accountants and bookkeepers the truth, his embezzlement would be discovered and the jig would be up.''
But the financial professionals who helped Manafort, including his bookkeeper and Laporta, said Manafort was the one in charge, insisting on giving final approval. Laporta said she didn't know whether Manafort had control of specific foreign accounts that prosecutors say are at the heart of the fraud.
In his opening statement, Assistant U.S. Attorney Uzo Asonye urged jurors to keep their eyes squarely on Manafort. He told the panel to observe how the machinations helped Manafort live in seven homes and wear such fineries as a $21,000 watch and a $15,000 ostrich coat.
"Shell companies don't create themselves,'' Asonye said. "Neither do fake loans. Bank records don't falsify themselves. The evidence will show that Paul Manafort orchestrated these crimes. He submitted the false tax returns. He willfully failed to declare his foreign bank accounts. He committed bank fraud.''
A wild card in the trial could be U.S. District Judge T.S. Ellis III, a 78-year-old appointee of President Ronald Reagan. He expressed little patience with Manafort's prosecution before the trial began, saying Mueller only wanted to get him to rat out Trump.
During the trial, he's shown even less patience with Mueller's prosecutors, repeatedly imploring them to pick up the pace and saying more than once than he wants to get home. He's expressed open disdain at how they're presenting their case, and he's said he wants them to finish in two weeks, a remarkably swift pace.
The Manafort case is U.S. v. Manafort, 18-cr-83, U.S. District Court, Eastern District of Virginia (Alexandria).
--With assistance from Andrew Harris and Daniel Flatley.
To contact the reporter on this story: David Voreacos in federal court in Newark, New Jersey, at dvoreacos@bloomberg.net
To contact the editors responsible for this story: Jeffrey D Grocott at jgrocott2@bloomberg.net, Joe Schneider, Elizabeth Wollman