Italian Economic Growth Slows to Weakest in Almost Two Years
Italian Economic Growth Slows to Weakest in Almost Two Years
(Bloomberg) -- Italy's economic growth slowed to the weakest pace in almost two years, possibly spelling trouble for the populist government's costly projects.
Gross domestic product expanded 0.2 percent in the three months through June, down from 0.3 percent in the first quarter, statistics agency Istat said Tuesday in a preliminary report in Rome. The latest figure matched the median estimate of 26 analysts in a Bloomberg survey.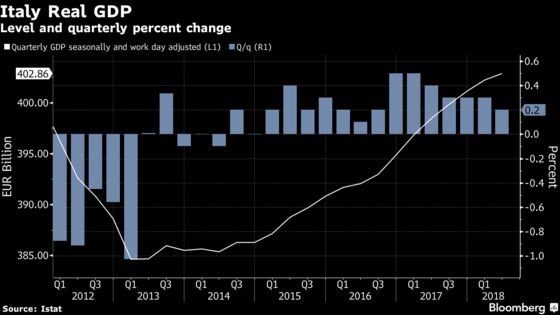 It was the lowest quarterly growth since the third quarter of 2016. Istat said foreign trade was a drag on economic expansion while domestic demand supported it.
Italy is still trailing behind the euro area as a whole, which itself slowed to 0.3 percent growth in the second quarter, according to figures released earlier in the day.
Political leaders in Rome will work out a budget after the summer vacations, with tensions among the governing parties expected to flare up. Italy's draft budget plan is due in Brussels by mid-October for a review by the European Union.
In another potential trouble spot, Istat said the Italian unemployment rate rose to 10.9 percent in June from 10.7 percent the month before.
Deputy Premiers Luigi Di Maio and Matteo Salvini have insisted on pressing forward with their plans for lower taxes and more income support for the poor. Finance Minister Giovanni Tria says he supports those plans while insisting the country must live within its financial means.
Full implementation of the government's program could cost as much as 126 billion euros ($148 billion) in its first year, according to Carlo Cottarelli, a former International Monetary Fund executive.
Italy has suffered from years of near-stagnation and the European Commission confirmed earlier this month it expects the country to have the slowest growth rate in the 19-nation euro region this year and next.
--With assistance from Andre Tartar, Giovanni Salzano and Dan Liefgreen.
To contact the reporters on this story: Kevin Costelloe in Rome at kcostelloe@bloomberg.net;Alessandro Speciale in Frankfurt at aspeciale@bloomberg.net
To contact the editor responsible for this story: Fergal O'Brien at fobrien@bloomberg.net