Trump's Deregulators Emboldened by Kavanaugh Supreme Court Pick
Trump's Deregulators Emboldened by Kavanaugh Pick for High Court
(Bloomberg) -- Trump administration officials were putting the finishing touches on a strategy to roll back car pollution standards when they received a boost from an unexpected source: the Supreme Court.
The announced retirement of Justice Anthony Kennedy, a swing vote on the court, and the plan to replace him with a reliable conservative in Brett Kavanaugh, energized the regulators. They plan to go with the boldest option, including a challenge to California's ability to set its own limits, according to people familiar with the deliberations.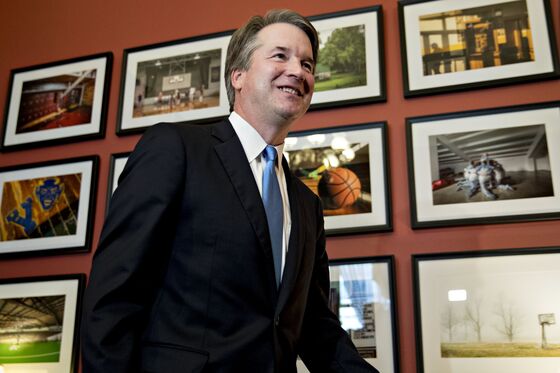 Similar conversations are going on at agencies across the government as they develop plans to dial back Obama-era rules governing everything from the environment to labor relations. Political appointees are growing more confident of prevailing in court and contemplating being more aggressive as a result, according to the people.
Their optimism is rooted in the expectation that Kavanaugh will be confirmed to the Supreme Court and bring with him the same willingness to rein in regulations that has marked his judicial career. During his tenure on the U.S. Court of Appeals for the District of Columbia Circuit, which hears most lawsuits challenging federal agencies, Kavanaugh has voted to restrain regulators that stray beyond their congressional mandates.
"The likelihood of Justice Kavanaugh on the Supreme Court is affecting how political appointees in federal agencies think about the deregulatory agenda right now," said Mike McKenna, a Republican energy strategist. "It is expanding their sense of the possible, and it is enforcing and reinforcing their confidence that more aggressive actions are likely to withstand judicial scrutiny."
The first evidence of this new attitude may be the Trump administration's coming proposal to revoke California's authority to regulate automobile greenhouse gas emissions and slam the brakes on federal rules boosting fuel efficiency. The proposal amounts to a frontal assault on the nation's most populous state as well as one of former President Barack Obama's signature efforts to combat climate change.
The White House was already reviewing a draft of the vehicle standards proposal by the time Kennedy announced his retirement June 27, and the major thrust of the measure has not been altered by subsequent interagency negotiations. But inside the Transportation Department and the Environmental Protection Agency, officials believe Kavanaugh's nomination gives them more room to maneuver.
"It has increased their level of confidence," said Myron Ebell, director of the Competitive Enterprise Institute's Center for Energy and Environment. "Kavanaugh has been a very sane voice on regulatory restraint for a very long time on the court, and I don't see that he's going to change his views on things."
The new dynamic -- or, really, the prospect of it -- also could entice businesses to challenge more regulations in federal court. "It will embolden the business community to challenge existing regulations and increase the burden and risk for pro-labor, pro-consumer and pro-environment administrations to issue new protections in the future," said Jordan Barab, who previously was a deputy assistant secretary at the Occupational Safety and Health Administration.
To be sure, Kavanaugh's confirmation in the narrowly divided Senate is not guaranteed, nor are any of his future votes on questions over the legitimacy of federal rules.
But Kavanaugh's record on the U.S. Court of Appeals for the District of Columbia Circuit indicates he is willing to restrain federal agencies when they are acting without Congress's explicit instruction -- and likely to give them a long leash when it comes to removing regulations. He is a staunch advocate of the separation of powers, ensuring that administrative agencies stay within their constitutional bounds.
In cases where former President Barack Obama's agencies strained the bounds of legislative authority, a narrower approach by the Trump administration could be bolstered by the high court.
It isn't a slam dunk, though.
Jody Freeman, a Harvard environmental law professor and an architect of the Obama administration's fuel efficiency pact with California, said it's not clear how Kavanaugh would view key legal questions around the fuel economy rollback.
"I don't think we have enough of a record on Kavanaugh's views of state powers and federalism to be confident about how this particular challenge would come out," she said.
At the National Labor Relations Board, which sets precedents dictating what employees have workplace organizing rights and what kinds of worker protests are protected, Republican appointees could "shift labor law violently to the right" secure in the knowledge that a Supreme Court majority with Kavanaugh would uphold them, said Michael Duff, a University of Wyoming law professor and former agency attorney.
The new legal landscape could discourage regulators at the Occupational Safety and Health Administration from pro-labor moves, while emboldening employers to challenge the agency's enforcement, said Deborah Berkowitz, a former chief of staff there.
"It would encourage employers to challenge every single thing regarding worker safety and health right up to the Supreme Court," she said. "It would encourage employers that don't want to provide safe conditions to thumb their nose at OSHA and the law and just start challenging every agency action."
David Lopez, who was general counsel of the Equal Employment Opportunity Commission and is now incoming co-dean at Rutgers Law School - Newark, said "I know everyone in that town who practices law at the highest level knows who's on the court, and they count the votes on the court."
For pro-business appointees at agencies seeking to loosen regulation, "It certainly would not be unreasonable for them to think they have a little bit more latitude in terms of what they do."
The idea is just beginning to take hold in some federal agencies, but business lobbyists and some activists are already looking for ways to exploit Kavanaugh's nomination.
For instance, Ebell and other conservatives could highlight the shifting legal landscape as they push the EPA to revisit and reverse its landmark conclusion that greenhouse gas emissions endanger public health and the environment, a ruling that provided the legal foundation for rules stemming them.
The message is that "better times are around the corner in terms of some of these court decisions," Ebell said. "Over the coming months if Kavanaugh is confirmed, I think we will have a stronger argument to go to the EPA and say, 'You really need to consider the endangerment finding.'"
With Kavanaugh on the court, "some Obama rules will get a hard look if deference goes away," said Michael Lotito, co-chair of the Workplace Policy Institute at the management-side law firm Littler. However, he said, the process for rule-making either to reverse old rules or to create new ones will be "cumbersome and time-consuming -- as they should be."
--With assistance from Ari Natter and Ryan Beene.
To contact the reporters on this story: Jennifer A. Dlouhy in Washington at jdlouhy1@bloomberg.net;Josh Eidelson in Washington at jeidelson@bloomberg.net
To contact the editors responsible for this story: Jon Morgan at jmorgan97@bloomberg.net, Elizabeth Wasserman