Pakistan Heads Into Its Most Controversial Election in Years
(Bloomberg) -- Pakistanis are voting today in a closely fought election that will determine the course of the nuclear-armed nation central to U.S. anti-terrorism efforts and China's global infrastructure ambitions.
Surveys show none of the top three parties winning a majority, paving the way for horse-trading to form a government after results come in late tonight. Pakistan's powerful military -- which has ruled for much of the nation's history -- has faced accusations during the campaign of intimidating critics and reporters to elect a pliant government. It has denied the allegations.
The morning's voting was marred by a bomb blast near a polling station in Quetta that killed 31 people and injured about 70, Waseem Baig, spokesman for Sandeman Provincial Hospital in Quetta said by phone. In a second attack in Balochistan, the military said a convoy on election duty was hit, killing three soldiers and one poll worker, while local media reported a grenade attack in Hyderabad and an explosion in Larkana.
The army deployed around 370,000 troops and a heavy military presence could be seen across Karachi, Pakistan's largest city and financial hub, where soldiers stood guard inside and outside polling stations.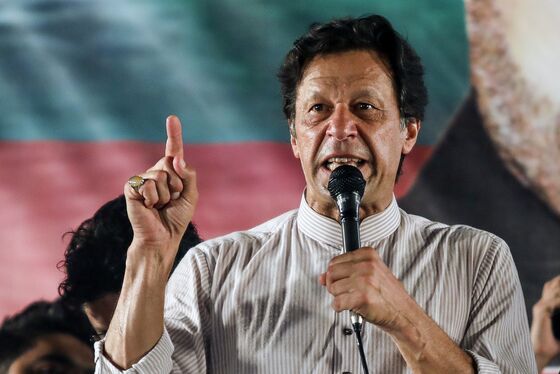 Imran Khan, the celebrated former cricketer turned anti-corruption crusader, had the momentum heading into the election, and is seen as the military's top choice for prime minister despite his denials. His main rival is a party helmed by former Prime Minister Nawaz Sharif, who has clashed repeatedly with the military over the years and was jailed this month on corruption charges, which he is appealing.
"For 30 years I have seen my country go backward," said Nadir Khan a 50-year-old IT businessman who traveled from Australia to vote for Khan's PTI. "I'm not expecting things to change overnight, but he will change the course of the country -- I wanted someone to shake up the system and he has done it already."
No matter who triumphs, Pakistan's next leader will need to grapple with the generals over control of foreign policy and national security -- two areas that determine relations with the U.S. and China. They must also deal with a mounting economic crisis: four currency devaluations since December have made it likely the next government will need to seek another International Monetary Fund bailout.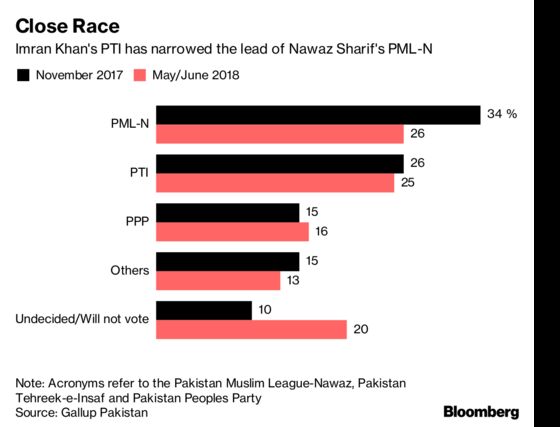 "While the army will continue to retain control, a pliant civilian government, which it will get in Khan, will allow it to have nearly unchecked power," said Shailesh Kumar, Asia director with political risk firm Eurasia Group. "This is consequential given that relations with India -- and the world -- are at all time lows, and could be a catalyst for further bad behavior, and in turn cause additional security challenges in the region."
Pakistan's army has long worried that a civilian government could make overtures to India and Afghanistan, ultimately reducing the need for a powerful military -- and the largesse that comes with it. Under President Donald Trump, the U.S. has suspended military aid amid allegations Pakistan's army supports proxy groups striking inside India and Afghanistan, complicating America's longest war.
Pakistan's military denies those claims and has sought to keep ties with the U.S. from deteriorating further: It still allows the American military overland access to Afghanistan, for instance. Even so, any party that wins is likely to shift ever closer to China, which has offered more than $60 billion to finance Pakistan infrastructure projects.
Vote counting is likely to stretch into the early-morning hours. There are 270 seats parliamentary seats out of 342 up for grabs, with 60 seats reserved for women and 10 for minorities. A party or coalition needs 136 seats to form government.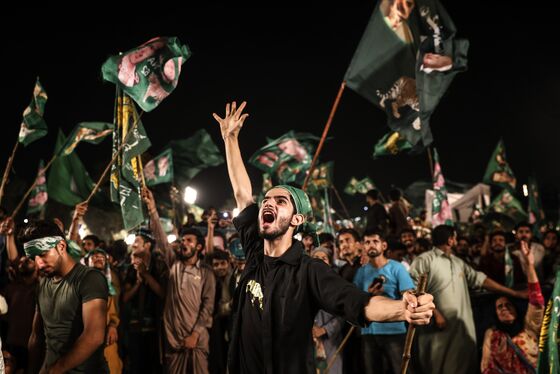 A Gallup Pakistan poll in early July showed Khan closing the gap with Sharif's party, which is campaigning on its record of boosting infrastructure spending, improving security and reducing power cuts. Khan has pledged to turn Pakistan into an "Islamic welfare state" by building five million affordable homes within five years, while raising tax collection and improving the business environment.
"If you asked me six months ago, I would have said Imran Khan has no chance of winning" but it's now a "neck-to-neck election," said Mattias Martinsson, a money manager overseeing a total of $420 million of assets at Stockholm-based Tundra Fonder AB. Khan represents uncertainty for investors, particularly if he comes down hard on businesses, he added, but in the long run change might be beneficial for the country.
Pakistan's rapidly deteriorating finances will be top of the agenda for the next government. The currency -- the worst performer in Asia -- has been devalued 15 percent since December. The central bank has raised interest rates, the current-account gap has widened by 43 percent in the last fiscal year and foreign-exchange reserves are dropping.
"The economy is facing extreme stress," said Asad Umar, a member of Khan's party favored to be finance minister if he forms a government. "There is a need for urgent structural reforms."
Short terms measures include going to the IMF or seeking fresh funds from China, Umar said, while boosting industry and agriculture over the long term. Miftah Ismail, a former finance minister from Sharif's party, said in an interview he would tap the bond market first before going to the IMF.
Khan's party -- Pakistan Tehreek-e-Insaf, or Movement for Justice -- has struck a chord with voters in part due to its track record governing the northwestern province of Khyber Pakhtunkhwa.
"PTI should be given a chance," said Syed Qasim, 23, a security guard in Karachi. "The schools, education and health system there are the best now."
Still, future civilian-military clashes are inevitable and will limit a new government's ability to enact reforms, according to senior diplomats in Pakistan who asked not to be identified to discuss sensitive matters. They said the military's meddling heading into the election has been unprecedented since the end of army rule in 2008. An army spokesman didn't respond to a phone call or email request for comment.
"The current military crackdown in Pakistan appears intended to limit the ability of any civilian actors to challenge the military's autonomy or its policy goals," said Paul Staniland, an associate professor at the University of Chicago who has written about Pakistani politics.
To contact the reporters on this story: Ismail Dilawar in Karachi at mdilawar@bloomberg.net;Kamran Haider in Islamabad at khaider2@bloomberg.net;Chris Kay in Karachi at ckay5@bloomberg.net;Iain Marlow in New Delhi at imarlow1@bloomberg.net
To contact the editors responsible for this story: Ruth Pollard at rpollard2@bloomberg.net;Daniel Ten Kate at dtenkate@bloomberg.net