Trump's War of Words With Iran Shines Spotlight on Vital Oil Route
(Bloomberg) -- The war of words between U.S. President Donald Trump and his counterpart in Iran over oil exports and sanctions is shining a spotlight on the narrow, twisting conduit for about 30 percent of the world's seaborne-traded crude.
The Middle East's biggest oil exporters rely on the Strait of Hormuz, the passage linking the Persian Gulf with global waterways, for the vast majority of their crude shipments -- some 17.5 million barrels a day.
Should a regional conflict block that bottleneck, three of the largest Gulf Arab crude producers have pipeline networks that would potentially enable them to export as much as 4.1 million barrels via alternative outlets, according to Bloomberg calculations. Even so, this amount of oil, if sent by pipeline, would be less than a quarter of the total that typically sails on tankers through Hormuz.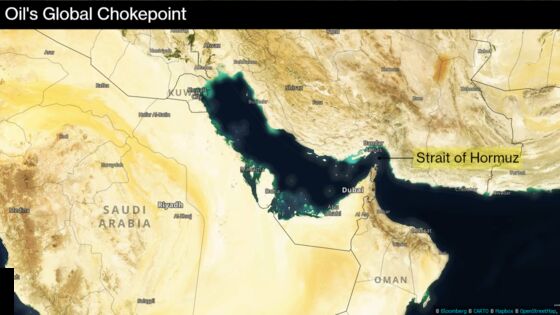 Iran has renewed threats to block the Strait since the U.S. announced its plan to reimpose sanctions and cut shipments from OPEC's third-largest producer to zero from about 2.5 million barrels a day now. The U.S. president warned Iranian President Hassan Rouhani to "never, ever threaten the United States." Trump's tweet came hours after Rouhani warned the U.S. against endangering Iranian oil exports and called for improved relations with neighbors, including rival Saudi Arabia.
Saudi Arabia and the United Arab Emirates, two of America's closest friends in the Middle East and geopolitical adversaries of Iran, both have pipeline networks that bypass Hormuz. Iraq has one operational pipeline to a Turkish port on the Mediterranean Sea. All four countries are members of the Organization of Petroleum Exporting Countries and depend on the Strait to export their oil.
Read about why the Strait of Hormuz is a key link in global oil markets.
The total capacity of pipelines that could be used instead of Hormuz is about 7.1 million barrels a day, though some of that capacity is currently taken up by oil sent to export markets or domestic refineries. Saudi Arabia and Abu Dhabi, the capital of the U.A.E., are each using less than half of the respective pipeline capacities, while a link from northern Iraq is about two-thirds utilized, Bloomberg data show.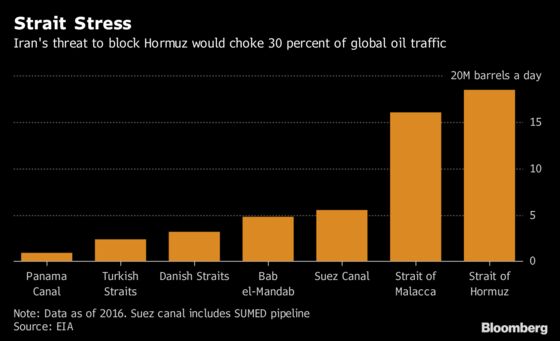 "Actual export capacity that avoids the Strait is limited," said Jaap Meijer, managing director and head of equity research at investment bank Arqaam Capital Ltd. in Dubai. Any attempt to close shipping lanes out of the Gulf and into Hormuz would likely cause oil prices to spike, he said.
Benchmark Brent crude rose 0.2 percent to $73.17 a barrel at 12:15 p.m. in Dubai, extending this year's gain to 9.4 percent.
State oil giant Saudi Arabian Oil Co., known as Aramco, can pump as much as 5 million barrels a day to the kingdom's Red Sea coast via the 1,200 kilometer (746-mile) East-West pipeline, built in the 1980s to transport crude from eastern fields located close to the Persian Gulf.
Aramco has exported an average of 650,000 barrels a day from the Red Sea port of Yanbu this year, according to ship-tracking data. The company also operates four refineries that can process as much as 1.4 million barrels a day. Supplies to the refineries and shipments to Yanbu indicate that Aramco is using at least 2.05 million barrels a day of capacity along the East-West pipeline.
Abu Dhabi, with about 6 percent of the world's crude, exports some of its oil through a 1.5 million barrel-a-day pipeline to the Indian Ocean port of Fujairah. The link spans some 400 kilometers from Abu Dhabi's desert oil fields and across the Hajar mountains to Fujairah, which lies outside the Strait of Hormuz. State-run Abu Dhabi National Oil Co. has exported 626,000 barrels of crude a day on average through the pipeline so far this year, according to ship-tracking data compiled by Bloomberg.
Iraq, OPEC's second-biggest producer after Saudi Arabia, pumps about 90 percent of its oil from fields in the country's south and ships it by tankers through the Gulf. The country can also supply mainly European buyers via a pipeline from northern fields to port of Ceyhan, Turkey.
It can pump about 600,000 barrels a day through this pipeline, which passes through and is controlled by Iraq's semi-autonomous Kurdish region. The link currently exports at only about two-thirds of its capacity due to a dispute over oil revenue between Kurds and the federal government in Baghdad. Iraq is working to repair a separate pipeline from its northern fields that was put out of operation during fighting against Islamic State militants.
Iran, meanwhile, is seeking to ship its own oil from a port outside the Hormuz chokepoint. It aims to start crude exports from a planned terminal on the island of Jask, in the Gulf of Oman, in 2020.
--With assistance from Julian Lee and Christopher Sell.
To contact the reporter on this story: Anthony DiPaola in Dubai at adipaola@bloomberg.net
To contact the editors responsible for this story: Bruce Stanley at bstanley5@bloomberg.net, Claudia Carpenter, Helen Robertson