Turkey to Be Transformed as Erdogan Sworn in With Vastly Expanded Powers
Erdogan will cap his years-long drive to transform Turkey's government today.
(Bloomberg) -- Recep Tayyip Erdogan was sworn in as an executive president with vastly expanded powers, capping his years-long drive to transform Turkey's government.
Erdogan, modern Turkey's longest-serving ruler, took the oath of office Monday at parliament, where onlookers showered his arriving Mercedes with flowers. He marked the inauguration of his country's new presidential system with a grand reception attended by foreign dignitaries, before unveiling the members of his cabinet.
"We're leaving behind a system that has forced our country to pay a great price due to political, social and economic chaos in the past," Erdogan said. "In the new era, Turkey will move forward in every field from democracy, basic rights and freedoms to the economy and great investments." The first cabinet meeting will be held on Friday.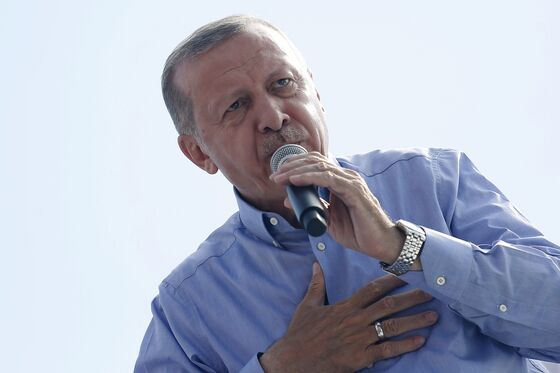 The coronation of the presidential office as the nexus of political power takes place at a critical juncture. The 64-year-old president, who has governed since 2003, won a mandate in the June 24 elections to govern with sweeping new powers on the platform that a powerful presidential office would ensure stability in turbulent times. Those times have already arrived, with the economic boom he's presided over threatening to turn into a bust, and a crackdown on dissent gaining new momentum.
The Turkish lira has weakened 17 percent against the dollar this year and capital has fled as Erdogan fought with his own central bank. At the center of the quarrel is the president's demand for a greater say over monetary policy and his insistence -- against economic orthodoxy -- that interest rates need to be lowered to tamp down inflation that's more than triple the government's 5 percent target. Shortly before Erdogan assumed office, the government amended the central bank law to reduce the governor's role in making appointments.
The uncertainty over who'll steer monetary-policy making has pushed up the government's borrowing costs, with yields on benchmark lira notes hovering near the highest levels since the global financial crisis erupted a decade ago.
On the political front, the emergency rule Erdogan declared after a July 2016 coup attempt has brought mass purges of political opponents and a crackdown on dissent. Many independent and opposition news sources have been eliminated, and Turkey has become the world's biggest jailer of journalists.
On Sunday, Erdogan fired more than 18,600 people from government jobs for allegedly posing a security risk to the state. The sweeping dismissals brought to about 130,000 the number of people purged from Turkey's civil service since the failed coup, shortly before the state of emergency is set to expire.
"The latest vast round of purges is a further confirmation that there won't be any meaningful normalization of Turkish politics for the foreseeable future," according to Teneo Intelligence Co-President Wolfango Piccoli. The government's vow to end the state of emergency is a "meaningless development" because the new presidential system will allow Erdogan to continue to rule by fiat as he's done over the past two years, he added.
"Turkey is firmly set to become a political basket case," Piccoli said. "It is a question of time until this will take the country's economy down."
Prime Minister Binali Yildirim said emergency rule wouldn't be extended after July 18, but that may be a technicality. As head of the executive branch, Erdogan will have the power to issue decrees with the force of law, prepare the budget subject to parliament's approval, dissolve parliament and call for new presidential and parliamentary elections, and appoint high-level officials, including ministers and some top judges. While emergency rule would no longer exist, the president would be able to declare something similar, by giving authorities powers to restrict basic rights and freedoms.
The purge on Sunday was surprising in its magnitude and "will be seen by many as hallmarks of an authoritarian regime where dissent will not be tolerated," Ghanem Nuseibeh, founder of London based political risk consultants Cornerstone Global Associates, said by email. "This will worry foreign investors as it significantly raises the level of political risk in Turkey."
--With assistance from Tugce Ozsoy.
To contact the reporter on this story: Selcan Hacaoglu in Ankara at shacaoglu@bloomberg.net
To contact the editors responsible for this story: Lin Noueihed at lnoueihed@bloomberg.net, Amy Teibel, Cagan Koc