Judgment Day for Merkel's Bloc as Bavarian Rebels Seek a Way Out
Merkel Faces Crunch Time in Showdown on Migrant Policy
(Bloomberg) -- The fate of German Chancellor Angela Merkel's ruling bloc is due to be decided Monday as a coalition dispute over migration policy reaches its endgame.
Merkel and leaders of her Christian Democratic Union and counterparts from their Bavarian sister party will hold talks at 5 p.m. in Berlin in an effort to broker an 11th-hour compromise after separate discussions that dragged into the early morning hours failed to end the standoff.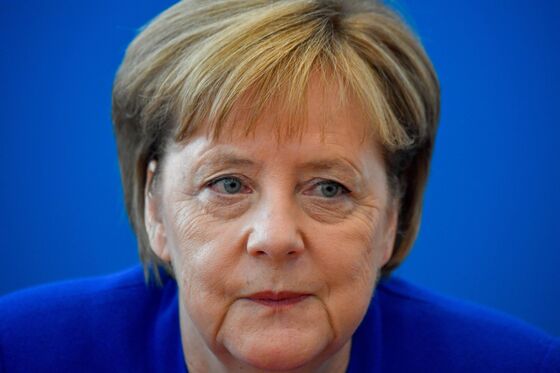 Interior Minister Horst Seehofer, who heads the Bavarian Christian Social Union, said he had proposed resigning from Merkel's cabinet but put that threat on hold to allow for more talks with the CDU in the hopes of reaching an understanding "for the sake of the country" and the coalition government.
Without a compromise, both sides risk a historic breakup of the party bloc that's governed Germany for most of the time since World War II. That would escalate a political crisis that could leave Merkel without a parliamentary majority and throw the CSU into the political wilderness ahead of a regional election in the fall. With the stakes so high, senior CDU members urged the Bavarian party to pull back from its brinkmanship.
Bavarian premier Markus Soeder, who has spearheaded the CSU's hard line, said the goal isn't to bring down Germany's government but to press for policy changes from the inside.
"None of us wants to put the government as such in question," Soeder said at an event in Bavaria, Spiegel Online reported.
More than two-thirds of German voters back Merkel's pro-European stance on migration and 67 percent view Seehofer's maneuvering as irresponsible, according to a June 28-29 Forsa poll for broadcaster RTL published Monday. Seehofer's approach didn't even have a majority among CSU voters.
"They need to get their act together," Daniel Guenther, the CDU premier of Schleswig-Holstein state, said on ARD television of the Bavarian party. "Germany has been holding its breath for two weeks because of this internal conflict. We finally need to start looking to the future."
Investors seemed to believe Merkel will survive, with the euro's 0.32 percent drop against the dollar as of 10:48 a.m. local time in Berlin broadly in line with the moves of other developed-economy currencies against the greenback. The euro was little changed against the pound.
The last-ditch attempt at an agreement follows a day of drama Sunday that ended with Merkel's party rallying behind the chancellor and the migration plan she helped negotiate with fellow European Union leaders last week. That backing raised the pressure on the CDU's Bavarian ally -- one of three coalition parties -- to back away from a full-blown government crisis.
As Merkel's party leadership met in Berlin, Seehofer encountered dissent in Munich in a meeting with the board of his CSU party, with divisions emerging over whether to pursue his plan to start turning away asylum seekers at the border in defiance of the chancellor. After some eight hours of negotiations, Seehofer offered to quit his cabinet and party posts, while others asked him to stay, Deutsche Presse-Agentur reported, citing unnamed participants.
"All other steps will be decided after the discussion" with Merkel's party, Seehofer told reporters after the CSU meeting ended shortly before 2 a.m. on Monday.
The source of the impasse is a migration plan hatched by Seehofer to take unilateral action to turn back migrants who have been registered first in another EU country. Merkel rejects such a move as a threat to Europe's passport-free travel area that could undermine the whole EU.
"We clearly decided we don't want to jeopardize, with unilateral border rejections, what we've achieved in Europe," Elmar Brok, a senior European lawmaker and CDU board member, told DLF public radio on Monday.
With the number of migrant arrivals dramatically down from the 2015 peak, there is speculation in Germany that the impasse is a conservative attempt to oust Merkel rather than tackle asylum and refugee flows.
Merkel reaffirmed her opposition to one-sided national measures against migration in a ZDF television interview earlier Sunday, and said she wanted to keep her Christian Democrat-led bloc together.
"I'd like the CDU and CSU to continue working together because we're a success story for Germany," she said. "We share the goal of reducing the number of arriving migrants."
The dispute is nevertheless the latest sign of rising political risk and fraying alliances in Europe's biggest economy since support for Merkel's bloc tumbled to an almost 70-year low in a national election last year. After the inconclusive ballot, Merkel needed two tries and almost six months, a postwar record, to stitch together her fourth-term government.
Polls suggest public support is waning for the CSU's stance and the regional leaders promoting it. Last week, an FG Wahlen survey said 91 percent favor European solutions on migration, an endorsement of Merkel's line and a snub to Bavaria's nationalist push for unilateral border measures.
Bavaria became a migration flashpoint during Europe's refugee crisis in 2015 and 2016 as the main entry route to Germany. Gains by the far-right, anti-immigration Alternative for Germany party, or AfD, have returned the topic to the CSU's agenda ahead of a state election in October.
--With assistance from Chad Thomas, Lukas Strobl and Patrick Donahue.
To contact the reporters on this story: Arne Delfs in Berlin at adelfs@bloomberg.net;Oliver Sachgau in Munich at osachgau@bloomberg.net
To contact the editors responsible for this story: Alan Crawford at acrawford6@bloomberg.net, Tony Czuczka, Richard Bravo
Get Your
Daily Newsletter
Get market moving news, top news & compelling perspectives
---