Turkey Votes on Erdogan Future as Challengers Call Foul Play
As Turkey Votes, Challengers Say Irregularities Mar Polling
25 Jun 2018, 09:17 AM IST
(Bloomberg) -- Hours into Sunday's presidential election, Turkey's main opposition parties complained that voting has been marred by irregularities to favor incumbent Recep Tayyip Erdogan.
Sadi Guven, head of the country's election board, said a probe is under way into allegations of irregularities during voting in the town of Suruc near the southern border with Syria, according to Hurriyet newspaper. "There are complaints coming from the east and the southeast," Kemal Kilicdaroglu, head of the main opposition Republican People's Party, or CHP, said after voting in the capital Ankara.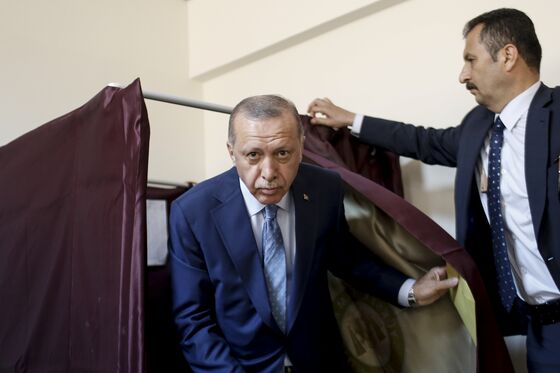 The vote, one of the most critical in Turkey's modern history, will determine who wins the newly powerful post of executive president and select a new parliament. The leading challenger to Erdogan, who has ruled since 2003, is the CHP's Muharrem Ince, a 54-year-old former physics teacher. Erdogan will have to clear 50 percent to avoid a runoff in two weeks.
Irregularities reported by the media range from alleged mass casting of ballots on behalf of others to blocking access for officials of the CHP and pro-Kurdish HDP party to polling stations. Turkey has also blocked some elections observers from the Organization for Security and Cooperation in Europe from entering the country, and on Sunday started legal action against 10 Europeans that officials said were introducing themselves as observers without accreditation.
"So far, there has been no serious problem" during voting, Erdogan said after casting his ballot in Istanbul. His nationalist ally Devlet Bahceli said he was not aware of complaints but said the interior ministry has taken every kind of precaution for a "healthy election."
"The era of winning elections by trickery and fraud is over," Ince said on Twitter.
Fatih Dulgeroglu, a local governor in the heavily Kurdish east, said scuffles broke out as some members of the Kurdish HDP party said they were being prevented from voting. He did say security officials were deployed in two villages to ensure that HDP officials could safely reach the polling stations. In Sanliurfa province, near Syria, video circulating on social media of a man trying to cast a stack of ballots in his hand has fueled tensions that reportedly triggered fist fights.
The HDP needs at least 10 percent of the vote to win seats in parliament, a bloc that could threaten the ruling AK Party's majority. Deputy Prime Minister Bekir Bozdag warned voters Saturday against voting for HDP to avoid backing "the party of the PKK," a separatist Kurdish group, branded as a terrorist organization by the U.S. and EU for its decades-old war for autonomy in the country's southeast.
"Isn't the party called HDP the party of the PKK? Isn't it the continuation of the PKK?," Bozdag said. "If HDP has deputies in parliament that means the PKK will have representation in the parliament."
At a voting station in Seyrantepe, a working-class district of Istanbul that typically favors Erdogan, election monitors from the CHP said they were compiling their own count nationwide. If it doesn't tally with the officially announced results, said Bektas Ozcelik, 58, "then we're ready to exercise our right to object. Wouldn't you?"
He said there were no plans to call supporters into the streets. But a younger aide said the party made a mistake by not doing that last year, when there were claims of irregularities during Erdogan's narrow victory in a referendum to expand the presidency's powers.
Most voters at the Seyrantepe ballot station, a primary school, said they were backing another Erdogan term. "People forget what it was like before," said Vahap Karayilan, 63, who runs a freight trucking business. "The water got cut off, the garbage wasn't collected." Karayilan recalls taking his elderly father to hospital in those days and standing in line all night. "Now we call, we get appointment, we go and it's all sorted out," he said. "Our hospitals are shiny and new."
In the capital, Ankara, voters at a primary school in the Cankaya district said the lines were longer than usual. Cigdem Akin, a 38-year-old homemaker, said she hadn't felt this excited about an election since she started voting. She didn't say who she'd voted for -- but it clearly wasn't Erdogan. "When other candidates are talking at rallies, the media cut the broadcast off halfway through," she said. "It wasn't in line with a democratic system."
To contact the reporters on this story: Selcan Hacaoglu in Ankara at shacaoglu@bloomberg.net;Firat Kozok in Ankara at fkozok@bloomberg.net;Ben Holland in Istanbul at bholland1@bloomberg.net
To contact the editors responsible for this story: Benjamin Harvey at bharvey11@bloomberg.net, James Hertling