Crowded California Primary Field Pits Democrat Against Democrat
Crowded California Primary Field Pits Democrat Against Democrat
(Bloomberg) -- Democrats are facing a potentially destructive California primary vote Tuesday for an unlikely reason: too many viable candidates are running for the same U.S. House seats.
The state's unusual primary rules -- all candidates, regardless of party, appear on the same ballot and the top two vote-getters advance to the general election -- mean multiple Democrats could split the vote in some districts and allow two Republicans to face off in November.
Democrats are energized in opposition to President Donald Trump. They're focusing on seven Republican-held districts that Hillary Clinton carried in 2016 -- and trying to avoid disaster in three of them. California is key to the party's bid to win control of the House, whose 435 seats are all up for grabs in November.
"If the blue wave doesn't crash on California's shores, where is it going to break?" said Thad Kousser, chairman of the political science department at the University of California San Diego.
Seven other states are also holding primaries Tuesday: New Jersey, Alabama, Iowa, Mississippi, Montana, New Mexico and South Dakota. But California is the only one where the results could prevent a party from competing on the November ballot for the House.
"It's hard to picture the Democrats and Nancy Pelosi retaking the House if she doesn't pile up wins in her home state," Kousser said, referring to the minority leader from San Francisco. "And there are all these possibilities of shutout."
Republicans aren't in danger of being excluded from any of California's competitive congressional races in November, strategists from both parties said. A number of districts only have one Republican candidate.
Democrats are most worried about being shut out in three southern California House seats otherwise viewed as winnable for their party. The Democratic Congressional Campaign Committee has spent or reserved $2.8 million in TV and radio ads in those three districts, according to a person familiar with the ad purchases.
The National Republican Congressional Committee is spending six figures statewide on digital ads aimed at turning out the GOP vote, said NRCC spokesman Matt Gorman, without giving specific numbers. He said they're targeting three categories: solid Trump supporters, Mandarin-speaking voters and Korean-speaking voters. Last week, the NRCC's West Coast office in Irvine made 5,100 phone calls and knocked on 1,600 doors, he said.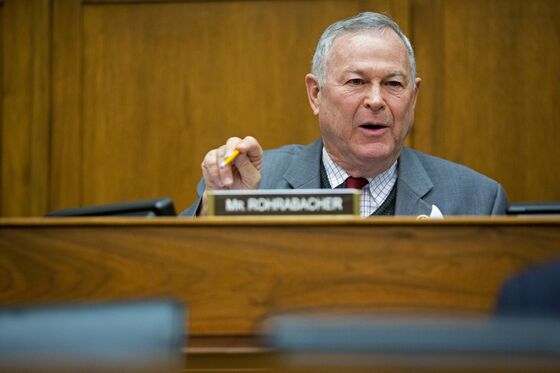 Democrats' biggest concern is the 48th district in Orange County southeast of Los Angeles, held by politically vulnerable 15-term Representative Dana Rohrabacher. Eight Democrats are on the primary ballot with no clear front-runner -- which may wind up sending Rohrabacher and his main Republican rival, Scott Baugh, to the general election.
Party leaders are divided on the race. The Democratic Congressional Campaign Committee backs Harley Rouda, a lawyer and real estate businessman, while the state party endorsed Hans Keirstead, a stem-cell biologist who immigrated from Canada.
A Democratic primary shutout in the district is "a possibility," said Aaron McCall, co-founder of the local chapter of the progressive group Indivisible. "We're doing everything we can to make sure it's not a reality." The group supports Rouda and is pressing its message that voting for anybody else is "going to risk the general election," he said.
The 39th district southeast of Los Angeles being vacated by retiring Republican Ed Royce is another top Democratic pickup opportunity that the party could lose if two Republicans get the most primary votes. The Fullerton-area seat has six Democratic candidates and familiar divisions: The DCCC backs Navy veteran Gil Cisneros, while a group founded by Senator Bernie Sanders supports businessman and workers-rights activist Andy Thorburn.
The district includes part of Orange County, which is Ground Zero for affluent voters who have traditionally preferred Republicans but dislike Trump. Hillary Clinton was the first Democrat to win the county since 1936.
"Part of what's going on is a reaction to Trump," said Christian Grose, a political science professor at the University of Southern California. "A lot of voters who are affluent and college-educated who lean Republican, especially in a diversifying electorate with more Hispanics and Asian Americans, are souring on the Trump Republican Party."
Democrats also are concerned about the 49th district north of San Diego, where Republican Darrell Issa is retiring. The Democrats have four candidates in the field and face the prospect that none of them may land in the top two for the November ballot.
"What we have is four unproven Democratic candidates and no clear front-runner. That's the problem. This is a recipe for disaster for Democrats," said Kousser.
In all, nine GOP-held California House seats are rated competitive by the nonpartisan Cook Political Report, including a Central Valley district held by Jeff Denham, a northern Los Angeles County seat held by Steve Knight, the Irvine-area district of Mimi Walters and a San Diego-area seat occupied by Duncan Hunter. One Democratic-held seat is rated competitive in a Sacramento County area represented by Ami Bera.
Republicans are eagerly anticipating the prospect of Democrats shutting themselves out of competitive House races and narrowing their path to the majority.
"California looks like it could be the biggest example yet of their base's white-hot hatred of President Trump preventing them" from maximizing their chances this fall, said Michael Steel, a consultant who served as an aide to former House Speaker John Boehner. "If this keeps up, the vaunted 'blue wave' could prove to be merely a ripple."
Also on Tuesday, California voters will choose nominees for governor and U.S. Senate. The favorite for governor is Democratic Lieutenant Governor Gavin Newsom, while Republican businessman John Cox is competing with Democrat Antonio Villaraigosa, a former Los Angeles mayor, for the second spot. A UC Berkeley poll released Wednesday showed Newsom with 33 percent, Cox with 20 percent and Villaraigosa with 13 percent.
The GOP risks a shutout for the U.S. Senate seat. A SurveyUSA poll on the primary released late May found Democratic incumbent Dianne Feinstein with 36 percent of the vote; 11 percent for liberal Democrat Kevin de León, the former state Senate president pro tempore; followed by Republican James Bradley at 9 percent.
Grose said a few shutouts in California House races won't necessary break the Democrats' hopes of regaining the House majority. "The landscape is so competitive all over the country that California is an important piece of the Democrats' path back to power, but it's not the essential piece," he said.
To contact the reporter on this story: Sahil Kapur in Washington at skapur39@bloomberg.net
To contact the editors responsible for this story: Joe Sobczyk at jsobczyk@bloomberg.net, Justin Blum, Laurie Asséo
Get Your
Daily Newsletter
Get market moving news, top news & compelling perspectives
---