Bolton Emerges as Potential Spoiler for Trump's Kim Summit
(Bloomberg) -- John Bolton's desire to turn North Korea into the next Libya isn't going over so well in Pyongyang, where Kim Jong Un's government has threatened to cancel upcoming talks with the U.S. in part because of the U.S. national security adviser's remarks.
Bolton drew the ire of the North Korean government for saying that the country's nuclear disarmament should follow the "Libya model" embraced by Muammar Qaddafi, who was later overthrown and killed in a U.S.-backed uprising.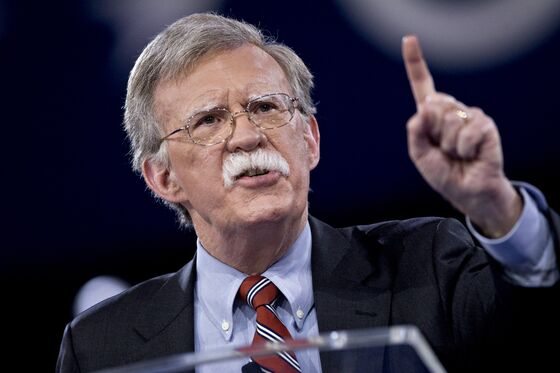 That history is well understood by Kim's regime. In a blistering statement Wednesday, North Korea's vice foreign minister and a top disarmament negotiator, Kim Kye Gwan, said his government felt "repugnance" toward Bolton.
"World knows too well that our country is neither Libya nor Iraq which have met miserable fate," he said in the statement, released by the state-run Korean Central News Agency.
The White House on Wednesday distanced itself from Bolton's remarks, while experts wondered why Bolton would make such an indelicate comparison just weeks before the planned June 12 meeting between Trump and Kim in Singapore.
"It pushes all the wrong buttons," said Joe Cirincione, president of Ploughshares Fund, which seeks to reduce and eventually eliminate nuclear weapons. "The diplomacy with North Korea is going very well and Bolton threw a spanner in the works. "
It may have been intentional. Bolton has long taken a hard line with North Korea, and had called for regime change in the country, rationalized preemptive military action and opposed direct talks with Kim's government before joining the White House last month.
Spokespeople for the National Security Council that Bolton leads didn't respond to questions about his remarks on Wednesday.
In recent weeks, Bolton has said on multiple occasions that the U.S. wants North Korea to follow Libya's model, which required complete nuclear dismantlement before Qaddafi received any benefits in return.
"Yes, I think that's what denuclearization means,'' Bolton said last month on Fox News when asked if North Korea would have to give up its entire nuclear program before any concessions by the U.S. "We have very much in mind the Libya model from 2003, 2004.''
Qaddafi was killed by NATO-backed rebels in 2011, two years after the last remnants of his nuclear program were removed. While U.S. officials have sought to make public assurances that they don't seek Kim Jong Un's ouster, Bolton's repeated references to Libya have undermined that message.
On Wednesday, White House Press Secretary Sarah Huckabee Sanders pointedly declined to endorse Bolton's remarks, distancing him from the president.
"There's not a cookie cutter model on how this would work,'' she told reporters. "This is the President Trump model. He's going to run this the way he sees fit.''
On Fox News Radio on Wednesday, Bolton said North Korea's statement singling him out was in line with previous protests by the Kim regime. He shot back at Kim Kye Gwan, saying he had been a negative force during the so-called Six Party talks more than a decade ago.
"He was always a problematic figure in those talks; that could be a sign that their thinking has changed, but on the other hand preparations for the meeting continue," Bolton said. "And the president is determined here to try and test this out."
The mixed messages are hurting efforts to reach a deal to denuclearize the Korean peninsula, said Bill Richardson, former U.S. Ambassador to the United Nations under President Bill Clinton.
"The North Koreans saw Qaddafi leave office. Kim Jong Un -- his main objective is to stay in office, to get security guarantees that we won't knock him off,'' Richardson said Wednesday on CNN.
Bolton, who served under President George W. Bush, has depicted the 2003 decision by Qaddafi to hand over his nuclear weapons to the U.S. as a blueprint to test whether Kim is genuine about denuclearization. Qaddafi entered a deal with the U.S. and the U.K. to have the elements of his nuclear program shipped out of the country in exchange for sanctions relief.
Bolton has acknowledged that the Libyan nuclear program was not as large or advanced as the North Korean program, but has said the clear willingness by Qaddafi to hand it over helped move the process along. A similar decision by Kim to completely give up his nuclear program would be useful for framing the upcoming talks, Bolton has said.
But the North Koreans have shown that they have other ideas. The Wednesday statement from Kim Kye Gwan scoffed at the "absurd'' comparison to Libya, saying that North Korea was a "nuclear weapon state.''
"This is not an express of intention to address the issue through dialogue,'' he said. "It is essentially a manifestation of awfully sinister move to impose on our dignified state the destiny of Libya or Iraq which had been collapsed due to yielding the whole of their countries to big powers.''
While the statement said the North Koreans would "reconsider'' meeting with the U.S., Trump said Wednesday that his administration had not been officially notified of any change in plans. He answered affirmatively when asked if he would continue to insist on the denuclearization of North Korea.
Comparisons to Libya's disarmament have long been anathema to the North Koreans, according to Robert King, a former U.S. special envoy for North Korean human rights who led a delegation to Pyongyang in 2011.
In a newsletter for the Center for Strategic and International Studies last month, King recounted his visit to North Korea at a time when the Arab Spring was taking shape. King's 2011 talks with North Korean officials, including Kim Kye Gwan, came just months before Qaddafi was killed by rebels. Kim Kye Gwan and other officials made clear they did not want to follow the Libyan dictator's path, he said.
"One thing is clear: if the United States is to make progress in the denuclearization of North Korea, it would be well to avoid any reference whatsoever to Libya,'' King wrote.
Cirincione said Bolton's repeated references to Libya show that he is in over his head and probably should take a back seat to other top aides in advance of the Singapore summit.
"Bolton is approaching this from this Neanderthal view of diplomacy that we pound people into submission and then expect their surrender," Cirincione said. "If the U.S. holds to that position, the summit will fail."
To contact the reporter on this story: Toluse Olorunnipa in Washington at tolorunnipa@bloomberg.net
To contact the editors responsible for this story: Alex Wayne at awayne3@bloomberg.net, Joshua Gallu