Top Trump Adviser Navarro to Take Part in China Talks After All
Trump's trade adviser Peter Navarro will take part in talks with China's envoy aimed at defusing the trade war.
(Bloomberg) -- President Donald Trump's trade adviser Peter Navarro will take part in talks this week with China's top economic envoy aimed at defusing a brewing trade war with the U.S., a White House official said, indicating a shift from earlier plans.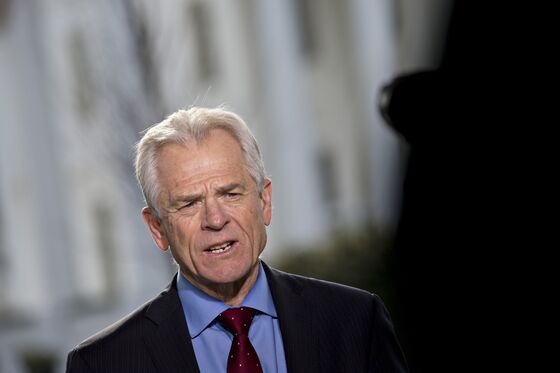 Navarro had initially been excluded from the negotiations with Chinese Vice Premier Liu He over concerns about his behavior on a trip to Beijing two weeks ago as part of the trade delegation, two administration officials said. It isn't clear why the administration decided to reinstate him in the talks or what role he'll play.
Navarro wasn't listed among the U.S. officials who will take part in this week's talks in a statement released by the White House earlier Wednesday. He had been listed as part of the delegation to Beijing, according to a statement issued at the time.
Following a Bloomberg News report Wednesday that Navarro had been excluded, the White House official -- speaking on condition of anonymity -- said that Navarro would indeed participate.
Isolation, Then Elevation
Navarro, 68, who once published a book entitled "Death by China," has long been hostile to the country. Navarro had previously been isolated by other senior officials before the president promoted him earlier this year.
Navarro didn't respond to a request for comment.
Treasury Secretary Steven Mnuchin will lead the talks with Liu in Washington on Thursday and Friday. U.S. Trade Representative Robert Lighthizer and Commerce Secretary Wilbur Ross will also participate. The White House official said Larry Kudlow, director of the National Economic Council, will attend as well.
The administration officials said Navarro wasn't a team player when the U.S. sent a delegation led by Mnuchin earlier this month to Beijing to meet with Liu. The officials would not elaborate on Navarro's behavior.
Trump has proposed at least $50 billion in tariffs on Chinese goods to punish the country for what he considers unfair trade behavior, including its acquisition of U.S. technologies. China has threatened to retaliate for the tariffs, which could be imposed after a public comment period ends May 22.
The outlook for avoiding a costly trade war between the world's two biggest economies looked grim after Mnuchin's China talks failed to make progress. But conditions have recently improved after Trump's shock reversal of a ban on China's ZTE Corp. accessing American technology. Beijing praised the move.
To contact the reporter on this story: Jennifer Jacobs in Washington at jjacobs68@bloomberg.net
To contact the editors responsible for this story: Alex Wayne at awayne3@bloomberg.net, Joshua Gallu
Get Your
Daily Newsletter
Get market moving news, top news & compelling perspectives
---