Moderna's Rich IPO Valuation Raises the Stakes for Investors
(Bloomberg Opinion) -- Moderna Inc. could have picked a better time to go public.
But in the teeth of a difficult market, the Cambridge, Massachusetts-based biotech pulled off the sector's biggest-ever IPO on Thursday, raising more than $600 million at a rich $7.5 billion valuation. Its shares were priced at $23 each, at the midpoint of the expected range.
That the firm managed this feat at all is an impressive demonstration of the resiliency of biotech hype, but it most likely won't go especially well for anyone but early backers.  At least that's what early trading on Friday suggests; Moderna's shares opened at $22 and fell from there. Every baby biotech is a bit of a lottery ticket, and that's especially true for Moderna. New investors are paying a high price to gamble.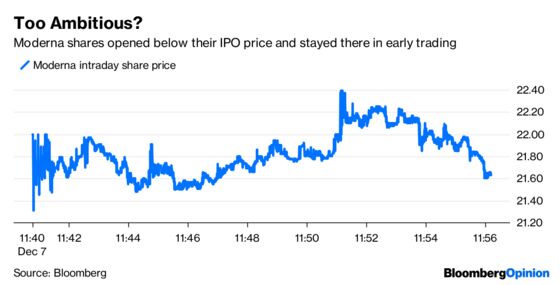 Moderna's valuation doesn't come out of nowhere. The firm is a pioneer in a novel class of messenger RNA-focused medicine with possible applications in vaccines, cancer and rare diseases. If the company can truly create a new class of drugs, it could more than justify high investor hopes. Extensive partnerships with big pharma giants Merck & Co and AstraZeneca PLC offer some validation, as does the more than $2.6 billion the firm has managed to raise while private. 
But the ratio of big promises to actual data is pretty extreme. The firm's drug candidates are in early stages of development; many haven't been tested in humans. There are still questions about the firm's scientific approach, commercial potential and the safety of its drugs, and they won't be answered for some time. 
It will be years before Moderna has a product on the market, and it will be burning boatloads of cash all the while. Early stage biotechs are expected to lose money; Moderna lost $255.92 million in 2017 and $243.3 million through the first nine months of 2018.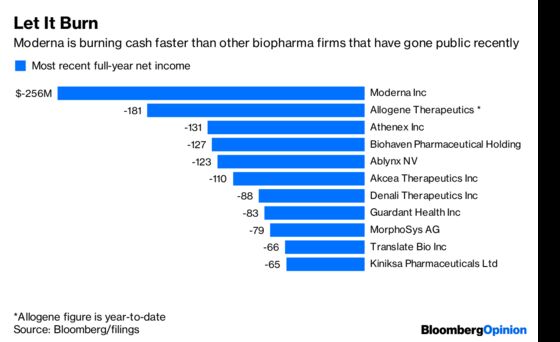 That's more than a number of biotechs that have been public for some time, many of which are introducing drugs, building sales teams and conducting more expensive late-stage trials.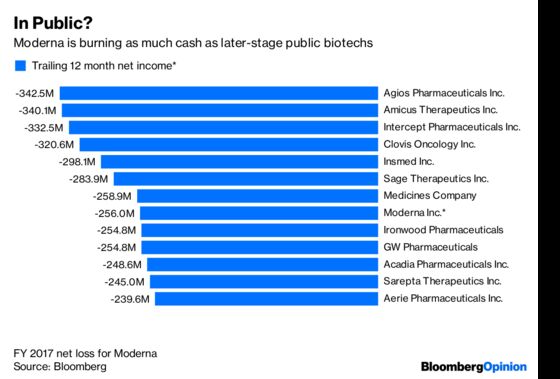 This is to be expected to some extent. Moderna has a large number of drugs for an early stage company, and it is actually discovering drugs instead of polishing up external assets on the cheap. But the firm may be trying to do too much, and its burn rate may escalate as its research advances. 
All will be forgiven if the drugs pan out, but biotechs that attempt to pioneer new categories of medicine have a particularly long and bumpy road to success. Moderna has already experienced some of this: Safety issues reportedly slowed down its rare-disease efforts and prompted greater near-term focus on prophylactic vaccines, a less commercially exciting area.
Alnylam Pharmaceuticals Inc. illustrates the roller coaster that may await Moderna investors. The firm is a leader in a different class of RNA-focused medicines. It was founded in 2002 and went public in 2004. After more than a decade of  setbacks and safety issues that sometimes caused sharp share price swings and saw other firms go belly up, Alnylam finally had its first medicine approved this year. With a number of other drugs possibly nearing approval, its market cap only narrowly outstrips Moderna's.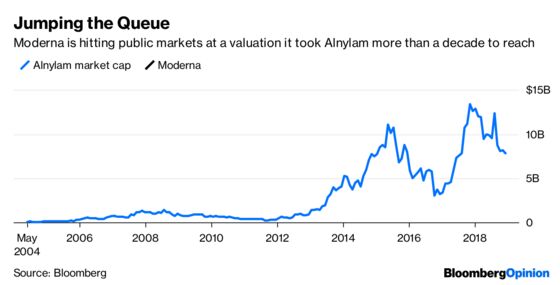 Alnylam quaintly raised just $34.5 million when it went public. But the recent trend toward richer biotech IPOs hasn't always gone well for retail investors. It puts a cap on returns for anyone who didn't get in early and leaves less room for error. Moderna takes this to an extreme.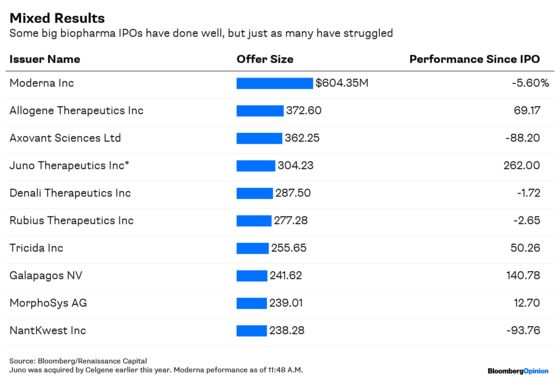 Moderna may prove its doubters in the long run and more than justify the hefty price investors are paying today. But it's likely to be a very long road, and the only sure winners are existing shareholders. 
According to Moderna'sSEC filings, they paid an average of $6.04 a share rather than $23.
To contact the editor responsible for this story: Daniel Niemi at dniemi1@bloomberg.net
This column does not necessarily reflect the opinion of the editorial board or Bloomberg LP and its owners.
Max Nisen is a Bloomberg Opinion columnist covering biotech, pharma and health care. He previously wrote about management and corporate strategy for Quartz and Business Insider.
View
Opinions
From Business And Policy Experts On BQ Prime