Fund Giant Shows M&A Isn't the Only Path to Growth
(Bloomberg Opinion) -- A further round of consolidation seems inevitable in Europe's fund management industry. But one firm that's so far been absent from deals is showing that organic growth offers an alternative route to bulking up.
DWS Group GmbH had record net inflows in the second quarter, boosting total assets under management to 859 billion euros ($1 trillion). That makes it only the second European standalone asset manager to reach the $1 trillion club, with Amundi SA leading the regional pack with $2 trillion.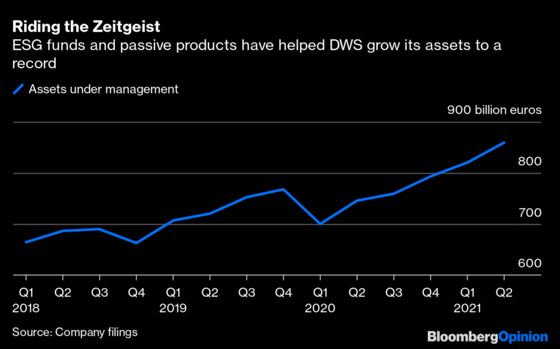 In the three years since making its stock market debut, after Deutsche Bank AG sold a 20% stake in the company, DWS has expanded both its passive management business and its range of environmental, social and governance funds, tapping surging client demand for both flavors of investment product.
Of the 19.7 billion euros of net inflows in the second quarter, dedicated ESG funds drew 4 billion euros. Passive products attracted 7.9 billion euros, compared with 4.5 billion in the active space. The firm is targeting net flows of 4% of assets over the medium-term, with all of its fund ranges expected to grow.
DWS was able to maintain its cost-to-income ratio below 61% in the second quarter, a big improvement on the mid-2020 figure of 65% and keeping it on track to meet its 2024 target for 60%. When I asked whether that was now a somewhat unambitious goal, Chief Financial Officer Claire Peel told me on Wednesday that it's designed to accommodate the need to invest in new technology and platforms in the coming years.  
The company's overall fee margin ticked higher in the second quarter to 28.1 basis points, up from 27.9 basis points in the first three months. That's a tiny increment, but every little bit helps given the relentless downward pressure on fees that the business of managing other people's money has been subject to in recent years.
And while DWS says it can continue to grow organically, it's poised to join the mergers and acquisitions fray. "We're looking to deploy capital for the right inorganic opportunity when it arises," Peel told me.  
The firm is among bidders that have submitted initial offers for Dutch insurer NN Group NV's asset management unit, Bloomberg News reported last month, along with UBS Group AG, Allianz SE and Assicurazioni Generali SpA. NN Investment Partners oversees about 300 billion euros, and its parent company said in April it's exploring options for the division. DWS has declined to comment.
The opportunity to grow by almost a third, with NN's life insurance premiums delivering the bulk of the assets, means DWS should probably be willing to outbid its rival suitors. With the transaction estimated to cost about 1.5 billion euros, it can afford to splurge and cement its membership of the $1 trillion club.  
This column does not necessarily reflect the opinion of the editorial board or Bloomberg LP and its owners.
Mark Gilbert is a Bloomberg Opinion columnist covering asset management. He previously was the London bureau chief for Bloomberg News. He is also the author of "Complicit: How Greed and Collusion Made the Credit Crisis Unstoppable."
View
Opinions
From Business And Policy Experts On BQ Prime