Silicon Valley Ad Business Gets a Lift from the Feds
(Bloomberg Opinion) -- Somewhere in Silicon Valley, a bunch of Facebook Inc. and Google ad salespeople must be rubbing their hands with glee.
The reason? Federal prosecutors in Manhattan have opened an investigation into the way advertising agencies buy media space, according to the Wall Street Journal. Shares in WPP Plc, Omnicom Group Inc, Publicis Groupe SA and Interpublic Group all fell on Thursday.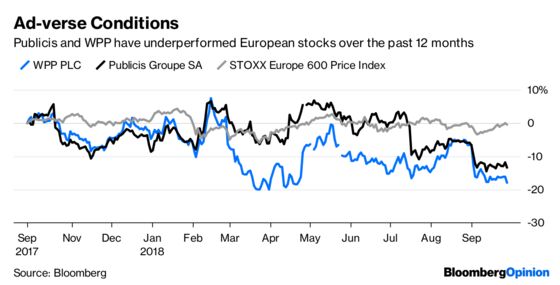 The accusation is that, because they buy so much advertising space, agencies secure a rebate from media outlets – but then fail to pass that discount onto their clients.
Media-buying is a huge money spinner for agencies, accounting for about 30 percent of agencies' profit, according to media consultant Alex DeGroote. Rebates alone may account for as much as 10 percent of revenue in some markets, he added.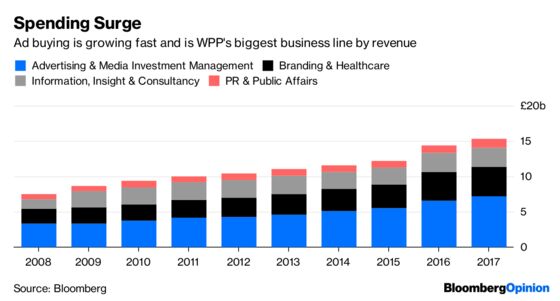 The risk for the ad agencies is that the probe gives Facebook and Alphabet Inc.'s Google a chance to wrest this lucrative business line away from them. The online giants have already started approaching brands seeking digital advertising directly. Now they can point out that the middle men might still be taking an unreasonable cut.
To make it worse, the industry seemed to have put this controversial practice behind it. Back in 2015, Jon Mandel, the former CEO of WPP's Mediacom unit told a conference in Florida that rebates were widespread practice in the ad industry. That prompted a study by the Association of National Advertisers, which seemed to verify the claims, and a wave of clients subsequently reviewed their contracts with their agencies.
The federal probe will foster further uncertainty that perhaps all is not yet resolved. The ANA study focused on digital ads, and the new investigation is likely to do the same, according to Ian Whittaker, an analyst at Liberum Capital.
Whether you view the martini glass as half-full or half-empty, the Mad Men's future operating margins are only going to come under even greater pressure.
To contact the editor responsible for this story: Edward Evans at eevans3@bloomberg.net
This column does not necessarily reflect the opinion of the editorial board or Bloomberg LP and its owners.
Alex Webb is a Bloomberg Opinion columnist covering Europe's technology, media and communications industries. He previously covered Apple and other technology companies for Bloomberg News in San Francisco.
View
Opinions
From Business And Policy Experts On BQ Prime