Congress, Don't Forget the Long-Term Unemployed
(Bloomberg Opinion) -- Lost in the latest economic headlines touting the rebound is the fact that some 1 million more workers last month were out of work for more than 26 weeks, joining a group referred to as the long-term unemployed. That historic jump offset some 40% of the decrease in the rest of the unemployed workers. Not only that, but 742,000 people applied for jobless benefits last week, more than the 700,000 economists forecast. Since March, initial unemployment claims have been higher than in any prior recession. Worst of all, initial claims edged up last week after declining for more than a month.
What's so important about 26 weeks? That's when regular jobless benefits end in most states (and even sooner in some). The Cares Act passed by Congress in March funded an additional 13 weeks of benefits, providing a lifeline for the millions of families who lost jobs and income due to the pandemic. Alas, this lifeline will soon be severed when the Cares Act expires. And with some 1 million new cases of Covid-19 reported weekly, it's safe to say that the economic outlook will be under pressure for some time despite the good news on the vaccine front.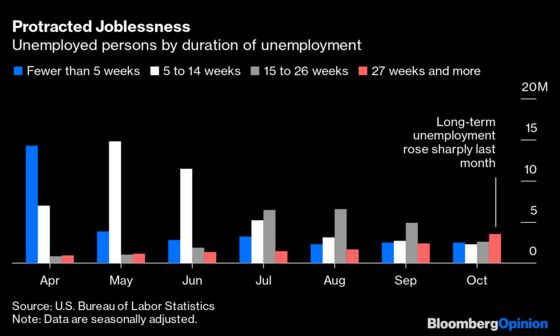 The Cares Act is working as intended for the 3.6 million people who have gone more than 26 weeks without a paycheck, and Congress should extend it. It is also working for the 9 million people like the self-employed who the Cares Act made eligible for benefits in the pandemic. They would have had no benefits and no income without the Cares Act.
It's wrong to think that generous jobless benefits keep unemployment high because workers prefer those benefits to a new job. Many unemployed workers will have to wait before jobs that use their skills and training return, and after a severe recession like this one that often takes more than 26 weeks. Research shows that longer durations of jobless benefits are particularly helpful for women, people of color and the less educated. These groups of unemployed often have lower savings, and without longer benefits may be forced to take jobs that are a bad match. We all benefit when people are in jobs that are a good match, as it increases aggregate productivity and growth.
The thing to realize is that we don't have a skills gap; we have a jobs gap. The unemployed in retail do not need to go to coding camp, as Rahm Emanuel, a high-ranking adviser in the Barack Obama administration, said recently. Most retail jobs will come back once the pandemic is under control and it's safe for people to go back to stores. Until then, those unemployed workers need financial support. Moreover, we know from the Great Recession, when long-term unemployment was even higher, that too little aggregate demand, not too few skills, is what keeps people out of work.
The stakes are high. Past experiences show that lasting unemployment is very damaging. Even 20 years later, a job displacement reduces a person's rate of employment by 5% to 10% on average, according to findings by Till von Wachter, a professor at the University of California at Los Angeles, and Jae Song, an economist at the Social Security Administration.
Congress can avert the coming train wreck by passing a new relief package immediately, authorizing additional weeks of benefits for the long-term unemployed. Lawmakers must also maintain the wider eligibility for benefits. These two programs cost $15 billion in September, according to the Bureau of Economic Analysis in September. It's taxpayer money well spent.
Now is also the time to fix structural problems in the unemployment insurance system so we do not need to wait for Congress to slap on billion-dollar Band-Aids in every recession. Unemployment insurance was created in 1935 during the depths of the Great Depression and is in desperate need of a refresh. Even most of its administrative systems — programmed in COBOL, for example — are out of date, delaying aid at crucial times to those most in need.
It's not a mystery how to fix the unemployment insurance system. The Georgetown Law and Poverty Center offered a comprehensive proposal in 2016 to support the unemployed, drawing on the input of many experts. The plan called for harmonizing programs across states, improving re-employment programs like work sharing, and providing benefits to workers typically not eligible. And in recessions, the duration of benefits should be tied to unemployment rates and not the whims of Congress.
Sadly, Congress is unlikely to act this year. So, when you ring in the new year, remember those families with unemployed workers who lost their lifeline. They won't have the money or the optimism to celebrate. 
This column does not necessarily reflect the opinion of the editorial board or Bloomberg LP and its owners.
Claudia Sahm is a former Federal Reserve economist and creator of the Sahm rule, a recession indicator.
View
Opinions
From Business And Policy Experts On BQ Prime