Has the Marlboro Man Gasped His Last?
(Bloomberg Opinion) -- There's no smoke without fire.
Philip Morris International Inc., the maker of Marlboro cigarettes, has cut its full-year profit forecast because of the impact of the currency crises in Argentina and Turkey.
It stressed that the change to guidance was caused purely by foreign exchange factors. And this is indeed a bit of an advanced warning about all of the global consumer goods groups, which report their third-quarter results over the next few weeks. They might be feeling the pain from emerging markets too. Turkey alone accounts for about 1 percent of most consumer staples sales, according to Duncan Fox of Bloomberg Intelligence.
But it's not as if Philip Morris — nor its big rivals British American Tobacco Plc and Imperial Brands Plc — were fighting fit before the developing market turmoil. Philip Morris shares have been under severe pressure since April, when it disclosed a slowdown in sales growth for its IQos devices (which heat rather than burn tobacco.)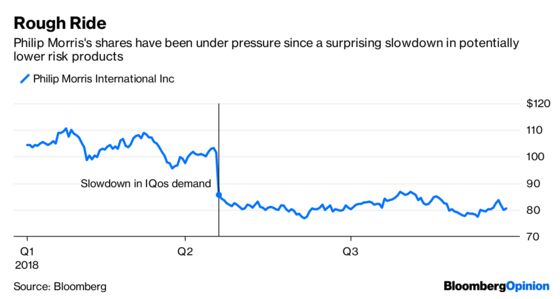 The threat from electronic cigarette startup JUUL Labs Inc. hasn't helped. It has already captured more than two-thirds of the market for its products in the U.S.
The tale of woe will be familiar to BAT, owner of the Lucky Strike and Dunhill brands. The British company has just announced the retirement of its CEO Nicandro Durante after a prolonged decline in its share price. For both it and Philip Morris, the existential problem is how they manage decline in the core cigarette business while finding ways to take on nifty upstarts in the e-cigarette and vaping world — not to mention the increasing acceptance of cannabis.
Until last year, tobacco stocks had performed strongly because of their generous dividend payments and the perception that they were a classic safe haven investment. What's more, the global decline in cigarette sales was moderating slightly. But the world is suddenly looking very different.
This year, the volume decline has accelerated. Analysts at UBS estimate a 4 percent reduction in global cigarette sales in 2018, double the average yearly drop over the past decade. Add in the threat from JUUL and its upstart ilk, as well as the chance of greater regulation of even lower risk tobacco products, and you can see why big company valuations have suffered.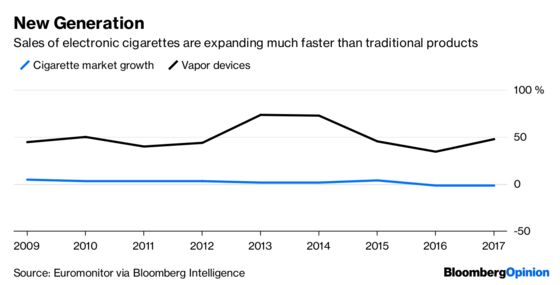 For Philip Morris, the most urgent matter is getting to grips with the iQos slowdown in Japan, after an initial surge in its popularity. The company tried to reassure investors on Thursday, saying that the IQos sales volumes were two years ahead of its forecast. It also said it had some promising new e-cigarette products in the works and is even teaming up with health industry partners. 
BAT is also trying to make ground in cigarette alternatives, aiming for more than 1 billion pounds of sales from its vapor and tobacco heating products this year. While it says it has fixed the capacity constraints that bedeviled production of its Glo heated tobacco device, it still needs to expand the product to new markets. Its main vapor brand Vype is also facing off against JUUL.
So even if the emerging market hit turns out to be short-lived, there are deeper troubles that need to be addressed. Investors have gone cold turkey on tobacco stocks this year. That abstinence could easily become permanent.
To contact the editor responsible for this story: James Boxell at jboxell@bloomberg.net
This column does not necessarily reflect the opinion of the editorial board or Bloomberg LP and its owners.
Andrea Felsted is a Bloomberg Opinion columnist covering the consumer and retail industries. She previously worked at the Financial Times.
View
Opinions
From Business And Policy Experts On BQ Prime