India Shoots the Wrong General in Lost War on Cash
(Bloomberg Opinion) -- When there's no trick left to defend a spectacularly failed experiment, blame Raghuram Rajan. 
If India's top policy think tank is to be believed, the reason economic growth faltered last year, reaching 5.6 percent in the June quarter after 7.6 percent nine months earlier, had nothing to do with the November 2016 ban on 86 percent of the country's cash. 
The decline had been in the making since early 2016 because, under Rajan's governorship of the Reserve Bank of India, the central bank devised "mechanisms to identify stressed and non-performing assets, which is why the banks stopped giving credit to industries," Rajiv Kumar, vice chairman of state-controlled NITI Aayog, said on Monday.
Kumar's premise seems to be that had Rajan not forced banks to make a clean breast of their bad loans, they wouldn't have faced a capital shortfall. What Kumar called the greatest deleveraging of commercial bank credit in India's history could thus have been avoided.
The political compulsion to defend demonetization is understandable. Recent central-bank data showed that 99.3 percent of the currency made worthless was eventually returned to banks. To the extent one of the stated goals of the exercise was to immobilize so-called black money – wealth that dare not join the formal banking system because it's ill-gotten – the draconian experiment came a cropper.
The opposition Congress Party, meanwhile, had always claimed that the ill-conceived move, as well as causing immense direct hardship, also cratered the economy. With general elections due next year, officials therefore have to  help the government deal with the charge that it sacrificed two percentage points of economic growth for … nothing.  
Hence the impulse to shift the blame to Rajan.
Leave aside the problematic idea implicit in Kumar's argument that it's somehow wrong for a banking regulator to make banks tell the truth. Focus instead on his factual claim about corporate deleveraging.
It happens that during the quarter that ended in September 2016, which is when Rajan abruptly left the RBI after one term, commercial credit by Indian banks expanded by 10.8 percent, the fastest growth in more than two years. The next quarter, after Prime Minister Narendra Modi outlawed most of India's cash, credit growth slowed to 4 percent. After a dead-cat bounce it stayed depressed for most of last year.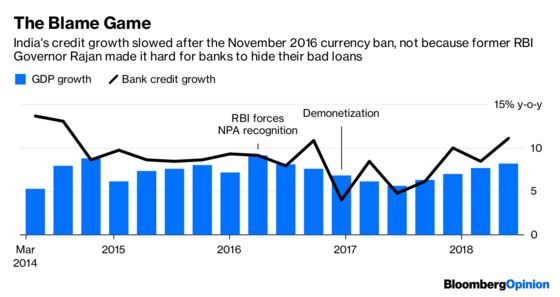 Kumar could well have argued that India's new GDP data are too unreliable to conclude that demonetization did cause a two-point slowdown. It would have been impossible to prove him wrong. But if deleveraging is his story, then banks' pulling back the supply of credit doesn't wash. It's more plausible that demand for credit slowed last year after the note ban – followed quickly by a botched goods and services tax – disrupted supply chains, hitting small businesses and exporters especially hard.
As for the charge that Rajan pushed India into an abyss of deleveraging, some state-run banks may have become zombies, but the market hasn't stood still.
Specialist lenders like AU Small Finance Bank Ltd., which received licenses under a category started by Rajan, are taking over retail credit. They're packaging and selling loans to state-run lenders, which still have large branch networks and deposits. Securitization markets wobbled last year after micro-finance loan portfolios were hit by demonetization. But with cash coming back into the economy, transactions doubled in the June quarter.
Even if the Modi government never admits that its war on cash was an all-round disaster, to use Rajan as a scapegoat is more than a little silly.
To contact the editor responsible for this story: Paul Sillitoe at psillitoe@bloomberg.net
This column does not necessarily reflect the opinion of the editorial board or Bloomberg LP and its owners.
Andy Mukherjee is a Bloomberg Opinion columnist covering industrial companies and financial services. He previously was a columnist for Reuters Breakingviews. He has also worked for the Straits Times, ET NOW and Bloomberg News.