Google's Targeted Ads Are Coming to a Billboard Near You
(Bloomberg Opinion) -- Google may be about to pair all that data it has on users' web browsing with the ads displayed on public billboards. Creepy? Maybe. Inevitable? Almost certainly.
The Alphabet Inc. unit is in talks in Germany about pushing into out-of-home advertising – billboards in stations, shopping centers and shop windows – according to WirtschaftsWoche. The move would be a precursor to similar expansion in the U.S. and the U.K., the magazine said.
That's unlikely to mean that a Google search for underwear as a gift for your partner will pop Calvin Klein ads on the digital billboard when you sit down at a bus stop. You can leave your copy of 1984 on the bookshelf for now.
But it could mean that, when a train full of Borussia Dortmund fans arrives at Munich's main station ahead of the Bayern Munich fixture, the advertising hoarding changes to show soccer cleats or beer, while on a Monday morning at rush hour it displays BMW ads for well-to-do commuters.
Google has been testing programmatic ad technology (in which trading algorithms bid against each other to secure digital space based on the target audience) for billboards since at least 2015. The technology is currently restricted mainly to web ads: Because Google, Facebook Inc. and others are able to track users' browsing behavior, they are better able to target publicity at them.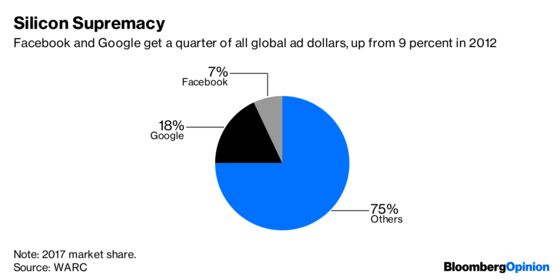 Because of Google's dominant position in mobile operating systems – Android runs on three-quarters of all the phones in Europe – it is also able to track users' locations. Privacy concerns mean it's unlikely to be able to target out-of-home ads at individuals, but it can pull demographic data on what kinds of people are in a given place at a given time.
Using cellular data for advertising hoardings isn't new: Carriers such as BT Group Plc already sell data to advertisers. Liberum analysts Annick Maas and Ian Whittaker meanwhile estimate that automation of digital-billboard purchasing could boost earnings at JCDecaux SA and Stroeer SE by as much as 66 percent.
Digital outdoor ad spending is growing at 15 percent annually, and will overtake traditional outdoor outlays by 2020, according to PwC. But Google is the 800-pound gorilla that's not yet in the room. It would give the company another major edge over Facebook, which doesn't have the same access to location-based mobile data. Mass-market consumer brands often still consider billboard ads a cost-effective option, because they can reach large numbers of people quickly.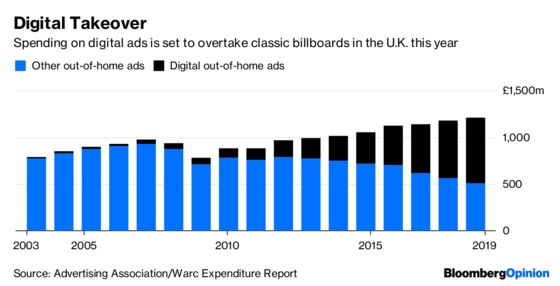 This is far from a done deal. The ad industry is aware of the threat posed by Google, and the most lucrative billboard locations – train stations and arterial roads – are leased on decades-long contracts. Ad firms might be wary of teaming up.
But there's one interesting possibility in London. Transport for London, which operates the city's trains and buses, estimates that it owns 40 percent of the British capital's outdoor advertising by value, and 20 percent of all outdoor ad value in the U.K.  The free Wi-Fi on London Underground enables better tracking of who is on the platform at any given time.
Those billboards are operated by Exterion Media Holdings Ltd., which has the contract for another six years. It was acquired by Platinum Equity for $225 million in 2013, meaning that after five years of private-equity ownership, the firm could be a prime target for Google. The main risk would be Google's willingness to stomach the maintenance costs of such an extensive network.
It's not quite 1984, but George Orwell would surely be taking notice.
To contact the editor responsible for this story: Paul Sillitoe at psillitoe@bloomberg.net
This column does not necessarily reflect the opinion of the editorial board or Bloomberg LP and its owners.
Alex Webb is a Bloomberg Opinion columnist covering Europe's technology, media and communications industries. He previously covered Apple and other technology companies for Bloomberg News in San Francisco.